By Musician and Marketing Consultant Solveig Whittle (@shadesofsolveig).
I first wrote about them in October 2012 on this blog, but the world now knows that a combination of strong, socially conscious messaging, a well-defined visual persona, an electrifying live show, and great music characterize the hip-hop duo Macklemore and Ryan Lewis. Amplified by impeccable marketing execution and excellent timing, they have become the poster child group for DIY indie artists around the world and put Seattle back on the map of music industry innovation.
Zach Quillen (@wexington), who began managing Macklemore and Ryan Lewis full time in 2012, was interviewed this past Saturday live and in person by Larry Mizell Jr. (@lar206), DJ from KEXP Seattle. This happened at Seattle's EMP Museum at the Pacific Northwest Chapter of The Academy's Songwriter's Summit 2014. I was fortunate enough to be in the audience.
As both a marketer and an indie musician, I was fascinated to finally hear Quillen talk in person about the details of marketing The Heist. I've been waiting to meet Quillen for almost two years, and I wanted to hear straight from the source what his biggest challenges and most difficult decisions have been. I was not disappointed.
There Has Always Been A Plan
My key takeaway? There is a plan. There has always been a plan. It's a plan you can trace back to the early 2000s, but the additon of Quillen brought music industry marketing expertise, experience and connections to the mix. The seemingly meteoric success of The Heist has been planned by Ben Haggerty, Ryan Lewis and Zach Quillen for years. Marketing for The Heist has been strategically thought out, considered, discussed, rehashed and then tactics executed boldly – with adaptations made on the fly as opportunities arose.
When he first met Ben Haggerty (AKA Macklemore) and Ryan Lewis, Quillen was working for the Agency Group Management and had been booking tours for artists like Wiz Khalifa and the Seattle hip hop group Blue Scholars. The duo was opening for the Blue Scholars, and what Quillen saw in the fans' reaction to Macklemore and Lewis gave him pause. Young girls were screaming. Kids were wearing "six different varieties" of T shirts. Shows were sold out within hours.
Touring, YouTube and Social Media
Quillen, impressed with the fervor of the #Sharkfacegang fans, took on managing the group. They unexpectedly sold out three consecutive shows at the Seattle Showbox at the Market in 2011. Quillen's promotional strategy was simple: touring, YouTube, and social media. He booked them on a 50-date US tour consisting only of relatively small venues, where they sold out quickly, creating buzz.
Macklemore and Lewis created two viral YouTube video hits (Same Love and Thrift Shop), following a formula similar to their prior successful videos And They Danced and Wing$. They also worked Twitter, Flickr, Instagram and Tumblr relentlessly – exploiting social media as online marketing tools in ways that were only beginning to emerge to engage with music fans and amplify the buzz created by their live performances.
Decisions 2012: Same Love Timing and Thrift Shop Radio Promotion
But the story I had not heard before is how two key consecutive marketing decisions worked together to propel the group to stardom: the timing of the release of Same Love and radio promotion of Thrift Shop. Plans and decisions made years earlier allowed the group and their team to pivot and take advantage of unexpected opportunities afforded by unexpected external events. Their unwillingness to sign to a major label, and their quick and creative thinking paid off, although it took a lot of [how do I say this?] balls.
"One version of Same Love had a Diana Ross sample on it. When we put Mary Lambert on it just sounded right." -@wexington #GrammyPNW

— Solveig Whittle (@shadesofsolveig) April 6, 2014
As Quillen said, "Now, looking back, Same Love seems like really brilliant marketing, but at the time, it was incredibly risky."
The first Heist single was My Oh My, released on December 21, 2010. It failed to chart and ended up as a bonus track on the album. The second single released was Wing$ on January 21, 2011. Wing$ has since charted, but it had little national visibility in 2012 and didn't break the Top 100 until May 2013. However, by April 2012, Wing$ had 3 M views on YouTube.
With the initial pre-earthquake tremors of digital success came the first of the major game-changing marketing tactics employed by Quillen.
"Same Love Was Never [Just] A Career Move"
Quillen noted during his interview that the timing of the release of the Same Love single and video have been criticized as jumping on the bandwagon of the same-sex marriage movement, but he notes that at the time, it was a very risky move.
Referendum 74 was a vote on a bill that would legalize same-sex marriage in the state of Washington, and it got increasing national attention during the second half of 2012. On June 12, 2012, state officials announced that enough signatures in favor of the referendum had been submitted and they scheduled the referendum to appear on the November 2012 ballot in the general election. The law was upheld by a margin of less than 10% and certified in December, 2012. [Almost a year later, in 2013, Same Love was further cemented in the public mind as the national anthem for marriage equality, as the US Supreme Court struck down the Defense of Marriage Act.]
The Same Love single was released July 18, 2012. Quillen emphasized that although the team did scramble to create the video, release the song and accelerate the marketing push barely a month after Referendum 74 was placed on the ballot, Same Love the song was "never a career move." Quillen said that both Same Love and Thrift Shop represented causes the duo felt strongly about. Watching the 2014 GRAMMY® broadcast you could see the group continues to use the platform of their success even on into 2014 to promote the idea of marriage equality. There is no question, though, that Quillen made the decision to promote Same Love earlier than originally planned in order to ride the wave of controversy that surrounded the same-sex marriage issue and Referendum 74.
According to Quillen, the team deliberately chose to promote Thrift Shop next in order to counter the "heaviness" of the Same Love track, in order to lighten the subject matter. "Anyone who knows Ben Haggerty knows there is nothing in-authentic about Thrift Shop. That's what Ben does. He is an inveterate thrift store shopper. But he also loves designer clothes. The irony is, he has spent $50 on a Tshirt," said Quillen.
By August 15, 2012, Thrift Shop had reached #15 on the Billboard Rap Singles Chart. The group was playing sold out shows to crazed fans across the country. A tweet October 11, 2012 by Ellen Degenerous congratulating Macklemore and Ryan Lewis on their #1 iTunes download status and led to their appearance on the television show later in the month. An appearance on Jimmy Fallon was scheduled for December 2012.
I can't believe the top album on iTunes is by a hip hop artist & has a song about marriage equality. I love this video http://t.co/uTw0oPeI

— Ellen DeGeneres (@TheEllenShow) October 12, 2012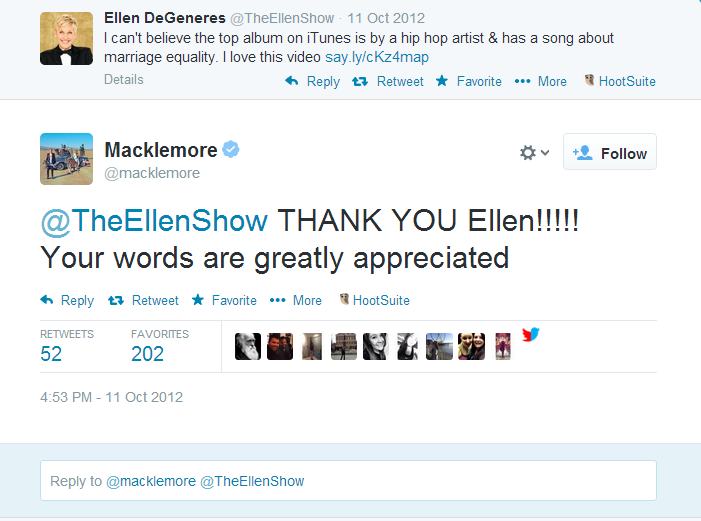 Hiring Warner's Radio Promotion Group A La Carte
Quillen's second brilliant marketing move happened in late 2012. Sales of The Heist were heating up on the Billboard charts. Thrift Shop ended up remaining on the Billboard Hot 100 at Number 1 for six non-consecutive weeks. The Billboard Hot 100 combines singles sales, radio airplay, digital downloads, and streaming activity (including data from YouTube and other video sites). The labels keep a pretty close eye on these numbers, especially YouTube views and digital downloads of unsigned artists. Although it was only getting minimal radio airplay, Rolling Stone listed the album at #2 in the Top 40 list in their October issue.
As Quillen tells the story, Macklemore and Lewis had a gig October 17, 2012 in Missoula Montana. To the surprise of Quillen and the team, that night, legendary music producer and executive L. A. Reid unexpectedly flew in to Missoula discuss their future. Reid, the chairman and CEO of Epic Records, a division of Sony Music Entertainment, told Macklemore and Ryan Lewis he wanted to sign them. He offered to put the full resources of Epic and Sony behind promoting The Heist – including radio promotion – in return for making a deal around their second album, said Quillen.
After much serious consideration of Reid's offer, however, the Macklemore team decided against signing with Reid. (Not long after that meeting, in January 2013, the hilarious video "Macklemore and Ryan Lewis Get A Record Deal" was posted to Funny or Die).
The discussion with Reid got Quillen thinking, though, about radio airplay. As Mizell explained during the interview, radio promotion is an insider business, where the major labels work closely with the stations to push singles for airplay. It's almost impossible to get a single on the radio without the support of a label's radio promotion team, and Quillen knew this. But the guys were not willing to sign with a label. How was Quillen going to get the type of radio airplay they needed?
Quillen had cut a deal with the distribution arm of Warner Bros., Alternative Distribution Group (ADA), earlier in 2012, to distribute The Heist. Because they were not signed to Warner, however, Quillen could not use the services of Warner's radio promotions arm. In November, after the meeting with Reid, Quillen asked Warner Bros. if he could pay the label's radio promotions department directly for their services, as he had paid ADA, to promote the album to radio. Warner said no at first, it had never been done for an artist who wasn't signed to their label. They soon reconsidered, however, and agreed to do radio promotion for Thrift Shop. It couldn't have hurt that several majors were offering to sign the group.
At this point, however, Quillen says, the team was almost out of money. Some money was coming in from touring, but after all that, it wasn't enough to do the radio promotion deal with Warner. They were just about to go to their friends and family (sound like a tech startup, anyone?) to beg for money. At the last minute, however, a licensing deal with a beer company came through, and brought in enough funds to pay for the radio promotion. Now they could really start pushing Thrift Shop on radio stations using the Warner radio promotions group. Even though it was designated hip hop on the charts, Thrift Shop quickly became more popular on alternative and pop radio stations than on traditional urban hip-hop stations, giving it broader exposure to a larger market of listeners.
Although some like Paul Porter of Rap Rehab have argued that this radio promotion deal with Warner disqualifies Macklemore and Ryan Lewis from being called indie musicians, it remains an innovative move.
A First For A Major Label Radio Promotions Department
This was the first time the radio promotion arm of a major label had ever agreed to promote a record as an a la carte service, Quillen said, without having signed the artist. This was a pivotal moment for Quillen in marketing The Heist. What is more remarkable, however, is that it also represents the first crack in the dike, the beginning of a revolutionary shift in the model for marketing singles and records. Only because of the groundwork work Quillen, Haggerty, Macklemore and their team had laid to create an avalanche of fan demand, though, could they command this kind of power. Only because the group had turned down several major label offers to sign were they also still free to continue calling the shots.
Now: @lar206 @kexp DJ interviews @wexington @Macklemore 's manager. #GrammyPNW http://t.co/FoQzLMTuyQ

— Solveig Whittle (@shadesofsolveig) April 5, 2014
Larry Mizell Jr. asked Quillen during the interview: What do you think is going to happen to the labels in the future? Quillen's answer was that he believes the future of label viability lies in more separation of these types of services such as radio promotion for hire.
Can't Hold Us Was Timed For Broader Appeal
In addition to revealing that the Same Love single and video release were moved up to coincide with current events, Quillen also described the rationale behind the timing of the marketing and promotional push for Can't Hold Us.
"Can't Hold Us really isn't about anything" (ie. not a specific message song), and so it was calculated to have a broader appeal. "Can't Hold Us connected with a wider audience. We worked to promote it at the descent of Thrift Shop," said Quillen. It was originally released August 16, 2011, but not really marketed until much later, after Thrift Shop. Benefitting from the momentum generated by Same Love and Thrift Shop, it charted on the Billboard Hot 100 for the week ending February 16, 2013 and peaked at No. 1 the week of May 18, 2013. It remained there for 5 consecutive weeks, becoming the longest running consecutive #1 of 2013.
The most recent Heist single, White Walls was released to Mainstream radio on October 8, 2013, and has since peaked at No. 15 on the Billboard Hot 100.
Three Years Crafting The Heist
Quillen stressed in the interview with Mizell that Macklemore and Ryan Lewis spent three years crafting the Heist. They wrote Can't Hold 'Em years before it was released, and released it years before it became a hit. What is significant here is that although Quillen, Haggerty and Lewis have a general release plan for each single from the album, the team was flexible enough and tight enough in their decision-making process to be able to jump on opportunities as they arose – something most labels cannot accomplish.
Quillen also stressed that Haggerty and Lewis were intimately involved in marketing strategy for the Heist. The pair are known for their work ethic – never resting on their laurels, always hustling, always optimizing. Both Haggerty and Lewis have overcome personal hardships in their personal and family histories, and it has injected them with both a relentless need to analyze the details and options, a desire to maintain control, but also a strong sense of teamwork and transparency.
The GRAMMY Controversy
Toward the end of the interview, Mizell asked Quillen what he thought of the GRAMMY controversy around The Heist being slotted in and winning the Hip Hop category. "They categorize an album based on what percentage of the songs on the album are hip hop. If you look at the album, most of the songs are hip hop," said Quillen.
"There's definitely more rapping on The Heist than on your typical Pitbull album," replied Mizell.