Bridge The Digital Divide: Connect With Fans Online, Meet Up Offline With Uberlife
There are so many ways for artists to connect with fans online. Tools like Facebook, Twitter, Instagram, and Path help people share their lives with others. But what about tools to connect with fans offline? Launching at SXSW, uberlife aims to bridge this digital divide by helping musicians meet up with their fans in offline settings.
This location based socializing app lets artists create "hangouts" for scheduled gigs or spontaneous, casual meet and greets while on the road or at festivals. To sign up, users can use Facebook or Twitter and can also connect their Last.fm accounts. Uberlife can be accessed through the iPhone app or with the mobile site on other mobile devices.
Uberlife uses "hangouts" to tell fans where the band is going to be and when, or where they are right now and whoever is free is invited to join. Then, fans can check in, upload photos and post comments to the hangout and follow each other afterwards to hang out again in the future. People will soon be able to share their hangout activities through Facebook and Twitter which helps in creating viral promotion around the band.
You can add tags to hangouts to match local uberlife users' interests and with Facebook likes and Last.fm bands. This helps to notify people that a hangout is taking place that they may be interested in. Also, users can follow others that they would like to hang out with and will be notified when the person creates a nearby hangout.
Are Stangers Following You?
If you're worried about strangers following you, users can only become friends on uberlife if they are following each other and they have attended the same hangout. According to crunchbase.com, "All users earn a Connector Score when they create hangouts and connect people in real life. When two people join a hangout and then follow each other in uberlife, the "creator" boosts their Connector Score by one."
Screenshots of uberlife: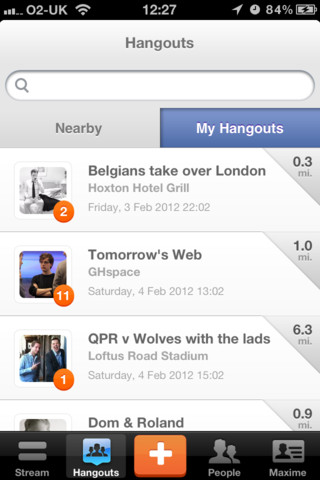 Uberlife makes it easy to connect with followers and fans instantly and frequently in offline interactions. In addition, bands can connect better with fans and build stronger relationships with them by holding hangouts in the real world. Also, uberlife makes hanging out easier, faster, and more fun. Anyone can use this app as well because uberlife simplifies the planning process and helps you find people to do things with when you want to do them. While most social apps today are for sharing moments of our lives with friends and networks, uberlife is about making those moments happen.
Uberlife At SXSW
According to uberlife, four bands at SXSW are already planning uberlife hangouts to meet up with fans. Furthermore, Uberlife generated approximately 7,000 sign-ups in their first six weeks (this includes a recent growth spike in advance of SXSW, where they're officially launching in the US). Of these users, 50% are from the U.S., plus 30% in the UK, 10% in Europe and 10% in Asia.
Uberlife is based in London with Sanchita Saha as CEO. To learn more about uberlife, click here. Also, check out the activities scheduled throughout SXSW, including uberlife's own Bands and Fans Hangout, plus meet-and-greets with Shiny Toy Guns and Gabriel and Dresden.
Uberlife offers an interesting way to bridge the digital world with the real world. Building strong relationships with fans is very important and this is another way to connect. What do you think of uberlife and connecting with fans offline?
Hypebot contributor Natalie Cheng (@ncswim881) is also the MusicThinkTank Community Manager. She is working toward becoming a music marketer.
Share on: