3 Branding Lessons From Music's Biggest Superstars
By Tyler Allen on Sonicbids Blog

They say it takes 10 years of dedication to become an overnight success. This phrase is largely due to all of the things that the public is blissfully unaware of. We acknowledge artists when they pop into the mainstream, but we're blind to the denied demos, poor image choices, and bad business deals that happened before they reached a worldwide stage. When looking at a lot of top artists throughout history, you begin to see that it wasn't always their talent that slowed their success. I mean, look at Decca's infamous rejection of the Beatles; it wasn't necessarily their playing ability.

While numerous factors can go into an artist's gradual rise to the top, it's fun for me, as a branding guy, to see the slight image and branding choices that have helped boost an artist's career. Whether these choices were a creative decision by the artist or a strategic move by the artist's team, there's no denying that they ultimately worked and aided the artist's journey to the top. So, without further ado, here are three branding lessons that we can learn from music's biggest superstars.
1. Rebrand yourself
"Hmm. What should I name myself?" *looks at neck* "Got it!" (Photo via vibe.com)
The corporate and music worlds often collide, namely in spokesperson, endorsement, and influencer deals that are meant to boost the corporation's marketing and demographic growth. 
Let's use Adidas as an example. Can you imagine Adidas signing an endorsement deal with a rapper named Tity Boi? The sneaker giant infamously canceled a deal with Rick Ross over a controversial song lyric, so I doubt they'd partner with an artist who has a pretty misogynistic and derogatory name. And what about this Tity Boi character partnering with Best Buy? Beats by Dre? Radio Shack? Seems unlikely, right?
Well, he did – but with his new name: 2 Chainz.
What a lot of people don't know (or have forgotten) is that 2 Chainz's career really took off in 2007 when he (then known as Tity Boi) released his track "Duffle Bag Boy," which featured hip-hop giants Lil Wayne, Birdman, and Juelz Santana. But who really remembers this as a Tity Boi track? It's more attributed to Lil Wayne.
Despite Tity Boi's talent, his big-name connections, and a pretty successful "underground" career, he just couldn't make it to the charts on his own. This all changed in 2011, however, when a name change and mixtape helped skyrocket his success and finally landed him on the Billboard charts as a solo artist. You can now find a 2 Chainz jam blowing up the charts nearly every single quarter.
A name is a huge part of your branding identity, so choose wisely. You may even have to go through a few branding evolutions throughout your career, and that's okay! This just doesn't apply to artists looking for big-time deals, either. Even if you're a small band just wanting to make moveslocally or regionally, a name can shy away potential venues, booking agents, and will nearly always scare off press. For example, I recently partnered with a music retail product for a small PR campaign. A portion of this campaign dealt with promoting the retailer's "featured artists," who were chosen by the retailer prior to my involvement. While overall the campaign ran smoothly, we had trouble with one particular featured artist, a metal band with a huge social media following but a very unfortunate name. A name that was a combination of double entendres and pretty ridiculous terminology. While the band was professional, well-known, and talented, our press releases got very little response, except for one brief reply: "Nice name. But we're going to have to pass on this."
Yikes. 
And hey, not vibing with the hip-hop example I chose? Here are a few others:
Want to go surfing across the US with Carl and the Passions? Me neither, but I'd certainly hang ten with the Beach Boys. 
Could you imagine rocking 'n' rolling all night with the band Rainbow? How about with KISS?
And the list goes on and on:
Duck Tape = Blink 182
The Sex Maggots = the Goo Goo Dolls
Flake Music = the Shins
Pen Cap Chew = Nirvana
And, of course:
Johnny and the Moondogs = the Beatles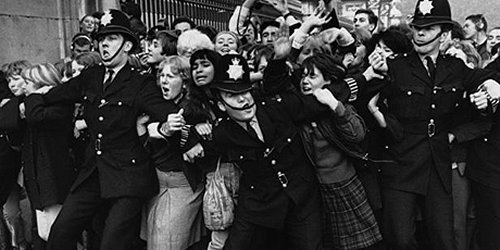 Because thousands of screaming girls fawning over Moondogmania would have been really weird. (Photo via theartlife.com.au)
So if you're in a rut, look into a name change! It's a great rebrand, and matters so much in today's image-based industry.
2. Don't overlook features and collaborations
Sure, play it cool. Acting like I'm the only grown adult over here watching Nickelodeon. (Photo via nick.com)
Guest features are huge in today's music scene, and they're also a fun and often refreshing marketing phenomenon. Just think about the effects – it can be instant exposure! For instance, a feature can be used to introduce an up-and-comer by giving them a guest verse on a well-known artist's track. But even more strategically, you can combine two different genres of artists on one song to try and introduce your sound to other audiences.
My favorite example of this is Ariana Grande. Prior to her four subsequent Billboard-topping hits in 2014, numerous award show performances, and her relationship with rapper Big Sean, many of us may remember Grande as lovable ditz Cat Valentine from Nickelodeon's Victorious. Around 2012, she slowly began separating herself from her Nickelodeon roots. She had already amassed a hugesocial media following from her acting and music, but it was namely in the tween/early teen segment.One genius way of generating a bit more buzz in new/mainstream demographic segments was partnering with rapper Mac Miller on her 2013 track "The Way."
Now with a rap feature, Grande found her music on not only pop radio, but also R&B and hip-hop stations. It was also strategic to use a rapper of Miller's caliber. He's pretty tame compared to some, and he's also versatile enough to fit on numerous radio stations. In other words, he wouldn't scare away her current fanbase, but the track wouldn't insult any true rap or R&B fans, either. As a plus, Grande's music was now introduced to Mac Miller's large fanbase, and Mac Miller's work was introduced to Grande's fans. Mutually beneficial. It was a great pairing for a musical debut and introduced Grande into a more mainstream pop/rap segment.
Grande would later go on to release her sophomore album, My Everything, which even further showed maturity in her sound and image. She also increasingly became a bit more risque in both her lyrics and collaborations, pairing with slightly more brash rappers Iggy Azalea and Nicki Minaj, as well as singer Jessie J. She even released a track with singer the Weeknd, which wasn't necessarily a "raunchy" song, but certainly a far cry from her Cat Valentine days.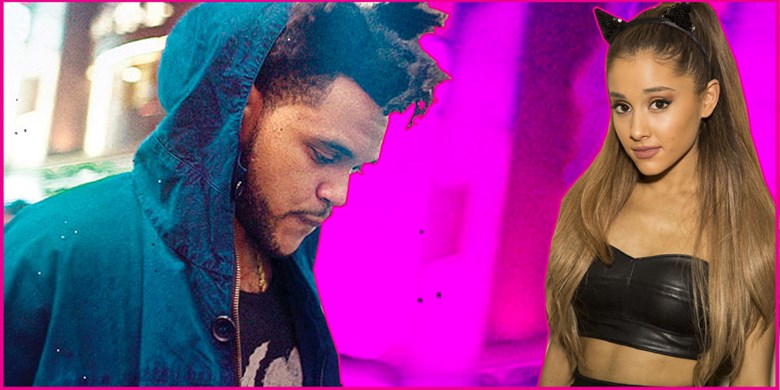 Cat-Ear Valentine? (Photo via thedishh.com)
The main takeaway from Ariana Grande's young career is that a collaboration can help build credibility, and also help garner wide coverage by introducing an artist's work into an opposing market. Grande may not have been adopted into the rap/pop segment so easily without the initial Mac Miller collaboration.
Another takeaway is the pace in which Grande matured her work. Even in a year's time, she very slowly transitioned into a more mature image and sound. Her team knew her Nickelodeon roots and knew that if she jumped right in with too-mature lyrics (i.e., "Love Me Harder" or "Bang Bang"), it wouldn't have been received too well because the kids' TV show connection was still so fresh. They eased into each market, and it was done well.
While a huge pop crossover collaboration may not be possible for you, album features or evenopening acts on your tour are fun opportunities for you to share fanbases with similar (or dissimilar) artists. This is a very often overlooked marketing tactic, but it's a very powerful one! Whenever possible, partner with bands to co-promote, whether it's musically or even a quick marketing shout-out on your social media channels.
Don't forget the star power of your fellow artists! We're not all rivals in the music game. 
3. Use crossover tactics
Looks like he may have crossed over into rodeo clowning, too. (Photo via: eil.com)
Crossover artists are occasional enigmas that pop up over time. They have a universal sound that the market eats up, and the media cannot seem to label. A crossover is also a fantastic way for an artist to gain publicity in a new demographic. 
One of the early, more memorable instances of this was Elvis Presley. Being a Mississippi boy, Elvis naturally fell into the local/regional country and gospel scenes. He slowly transitioned into the "rockabilly" category, however, and then ascended to the throne as the "King of Rock 'n' Roll." He still had a bit of that Mississippi twang, but he found success in both rock and country markets.
This happens a lot in country music. Another later example would be Dolly Parton and Kenny Rogers' Rivers in the Stream, which was one of the first instances of two country artists nearly instantly topping the pop music charts. A more modern example is Taylor Swift, who debuted in the country segment specializing in acoustic country-flavored ballads such as "Tim McGraw" and "Teardrops On My Guitar." However, she gradually moved more into the pop segment beginning with "The Story of Us" in 2010. With her latest pop-filled album, 1989 – which is proving to be one of the best-selling (and most pop-ladden) records of the last decade – it appears she may have shed her Nashville roots completely.
I believe that the best example of crossover success, however, comes from two names that I guarantee will likely never be used in the same article ever again: Darius Rucker & Skrillex.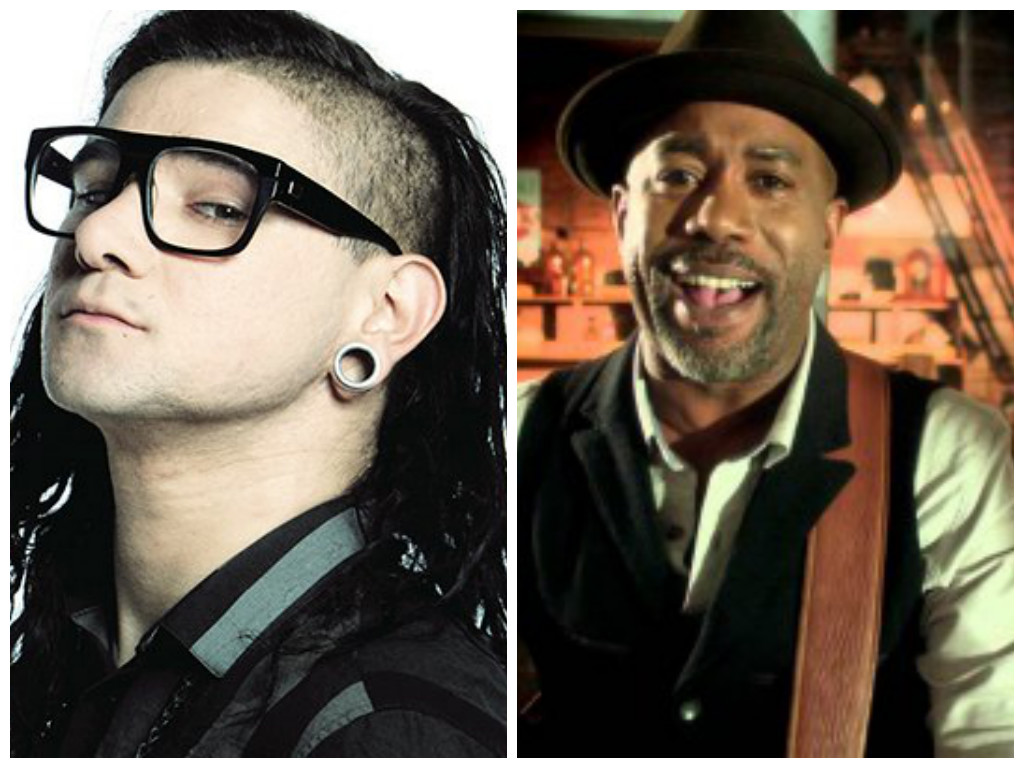 Buddy-cop comedy series coming to Fox in 2016. Please? (Photos via getty.com)
Darius Rucker is the former frontman of Hootie and the Blowfish. These guys were the archetype of '90s rock 'n' roll – not to mention incredibly talented musicians. Over time, however, '90s-styled rock proved to kind of just belong in the '90s. Hootie and the Blowfish's sales began declining in the early 2000s, and by 2008, they announced a hiatus. Later that year, Darius Rucker announced that he signed to Capitol Records Nashville and would be starting a career in country music. He also made it clear that this was a full-time career move, not just a one-off hybrid or a platform to later enter the pop charts.
As of 2014, with four country albums under his belt, numerous awards, and a handful of production credits, Rucker is still very active and successful in the country music scene. 
A similar genre changer would be EDM revolutionary Skrillex. Skrillex, then known as Sonny Moore, was the vocalist of the emo/post-hardcore band From First to Last. The emo and post-hardcore subcultures existed prevalently in the early '00s, but began to fade from the mainstream by 2010. Similar to Rucker's story, From First to Last called an official hiatus in 2010, and around that same time, Moore began releasing EDM and experimental music under the name Skrillex. At the time, EDM was just starting to blossom in the US, and Skrillex quickly skyrocketed to success in the genre both nationally and internationally. 
Now, I'm not saying you should hang up your electric guitar for a a banjo, or trade your rock set for a DJ gig, but I am saying to consider other markets that may enjoy your work. Maybe your acoustic rock will fit into a folk category, or your country music will appeal to indie rock fans. Music fans are very rarely one-dimensional, so get out there and pitch your work in other markets. It won't hurt to try and break into new segments!
These are just a few small instances of artists using small but powerful brand choices to help further their work. I hope that it doesn't just show ways to market your work, but that this also proves the fluid nature of music and brand. What isn't working today may just need some tweaking so that it can begin to shine tomorrow. 
As a music marketing strategist, Tyler Allen works with an extensive array of artists, labels, music tech, and music retail entities. Tyler began his music industry career with Sony Music Entertainment and RED Distribution, as well as the advertising industry. He is dedicated to giving veteran artists the tools to preserve their legacy, and new artists the tools to begin theirs (as well as everything in between). Learn more at wtylerconsulting.com.
Share on: