The Ultimate Guide To Creating Your Band's Facebook Page
Social marketers are concerned with Facebook's organic reach and ways to adjust messaging strategies to reach the biggest audience. Hootsuite has published a step by step guide to maximizing your Facebook page.
Guest Post by Olsy Sorokina on Hootsuite.com
This wouldn't be much help if your business hasn't completed the first step of the process—setting up a Facebook Page. So this time, we're taking it back to the basics, and going over every element in your business page on Facebook.
To get you started, we have created a Facebook Page template that includes all important sections to fill out.

7 important areas of the Facebook Page template, explained 
Create a Page
Creating a Facebook page is as easy as clicking a button: you can either make a separate page that you and your colleagues manage, or make a page out of your existing Facebook profile. The latter is recommended for personal branding; and even then, consider pros and cons heavily before making the switch—do this only if you plan on doing absolutely no personal communication over the network.
An important step in Facebook Page creation is determining the category of the Page. Choosing the most appropriate category to describe the nature of your business will help users find your Page on the network. The category name is displayed to the right of the profile picture, so it's one of the first things a user sees when they visit your Page. Make sure the description is accurate: you don't want people to be unsure about whether they're on the right Page!

If you have already set up your category upon creation, but later decided it wasn't reflective of your current strategical pivot, you can change the category of your Page in the About section. Under Page Info, hover over Category until the Edit button appears, and adjust accordingly.

Page Info
Unlike Twitter, Facebook provides plenty of space in the About section for businesses to describe their company, mention their products and services, and any relevant information that a user might seek on social media. A must-have for any brand Page is a link to the official website, a contact phone number and email address—these fields should be mandatory for filling out, since your current and potential customers need to know different ways they can reach you. If you own or run a brick-and-mortar business, you can include the address, hours of operation, and even parking information in the About section of your Page.
Call to action 
A feature recently introduced for Facebook Pages is a call to action (CTA) button. The button is located at the top of the Page, next to other action buttons such as Like and Message. Administrators can choose the text of the button, such as Sign Up, Shop Now, Contact Us, etc. In order to determine which CTA is best suited for your Facebook Page, it helps to know what business goals you set out to achieve with your presence on the network.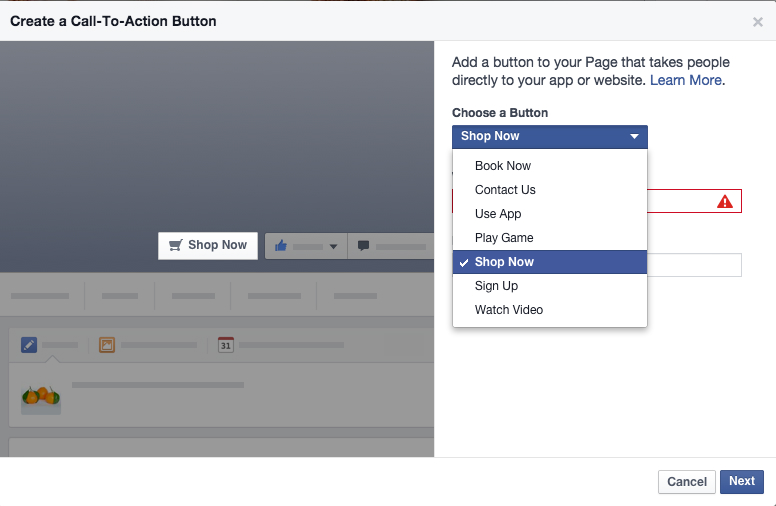 Images
Whether it's your profile picture or photos you share on your Page's Timeline, you should use high-quality, well-composed images. If you're promoting a piece of written content as part of your Facebook content marketing strategy, choose the image that can show off the value of the post—for example, if you have a chart illustrating the most interesting numbers, let your Facebook Page fans preview that.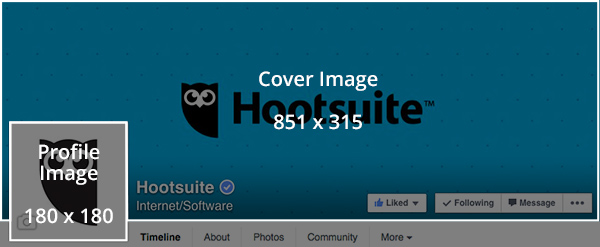 Brands should pay special attention to the images chosen as the profile and cover photos. Be careful to choose image sizes in accordance the network's requirements—you don't want to turn off potential customers with pixelated or poorly cropped photos. You can see some examples of best uses of Facebook cover images in our blog post that draws lessons from 10 successful brands.
Timeline
Similar to the personal Facebook profile, the central part of your brand's Facebook Page is the Timeline. This is where your customers will see the latest posts from your brand, announcements of the events and product launches, and public messages from other customers. You want the Timeline to tell a cohesive story of your business, so pick the best photos, videos and written content to feature on your Page.
Monitor your customers' posts to your Page, and try to respond to them in a timely manner: whether it's resolving an issue, answering a question about your product or service, you want to address a customer's need quickly. Not only does this help the customer, it also shows other visitors that your brand cares about its online audience.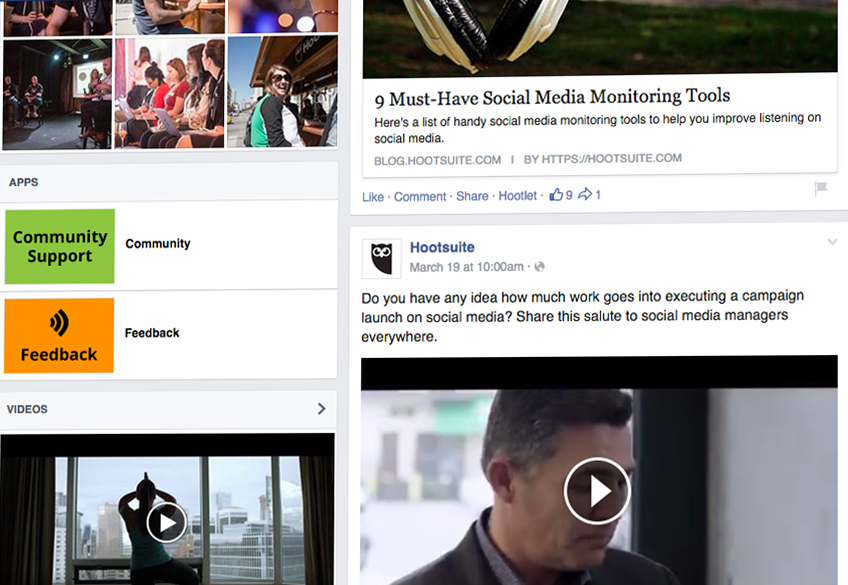 Tabs
Along with the standard view of the Timeline and the About section, there are other tabs you can add to the top section of your Facebook Page. In order to add, remove, or change the position of the tabs as seen by you and your Page visitors, click on the More button and choose Manage Tabs. Then, select the desired tabs from the pop-up menu, or install new apps.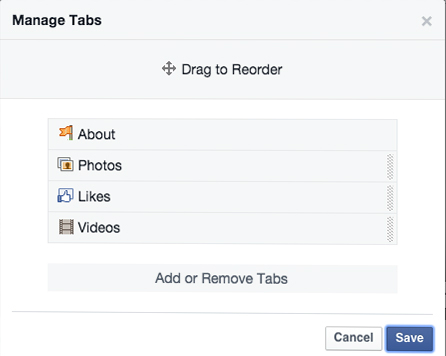 For example, the Hootsuite Facebook Page has a Community tab, which takes the user to an installed forum-style app that lets our customer success advocates interact with users. If you think that Facebook can be a good channel for customer service, perhaps a similar app is something you'd want to consider installing.
Insights
Finally, while this is section is not part of your public-facing Page, it's an essential element of a successful Facebook presence. Your Insights page will give a summary on the latest likes, post reach and engagements, as well as the performance of your recent posts. You can also see a detailed breakdown of your audience, which includes your fans (people who liked your Page) and people who have seen or interacted with your posts. Monitor this section regularly and carefully, and adjust the frequency and content of your posts accordingly. If your posts are not getting your business the results you want, Facebook gives you an opportunity to boost posts directly from the Insights tab.
Share on: