3 Things You Should Know About The Average Facebook User
Facebook's latest algorithm shift has placed greater emphasis on users friends and family rather than other pages and organizations. This article helps artists understand the average Facebook users habits such that they can be better marketed to.
____________________________________
Guest post by Ashley Carlisle of Hootsuite
With the latest Facebook algorithm change—which places emphasis on posts from family and friends rather than Pages and publishers—social media marketers must understand, now more than ever, the sharing habits and motivations of their Facebook audience in order to maintain and grow their organic reach while engaging followers.
A recent two-part study from Fractl looks at the average Facebook user's habits and motivations for sharing third-party content. By surveying over 2,000 Facebook users in spring 2016, the agency gained some key insights for social media marketers trying to reach an increasingly diverse audience on the internet's most widely used social network.
1. Frequency of sharing: looking at who shares most
Overall, 56 percent of Facebook users log on more than once a day, but only 18 percent share daily content. Ultimately, Facebook's most consistent sharers tend to be older women, with young men the least likely to share content on their news feeds.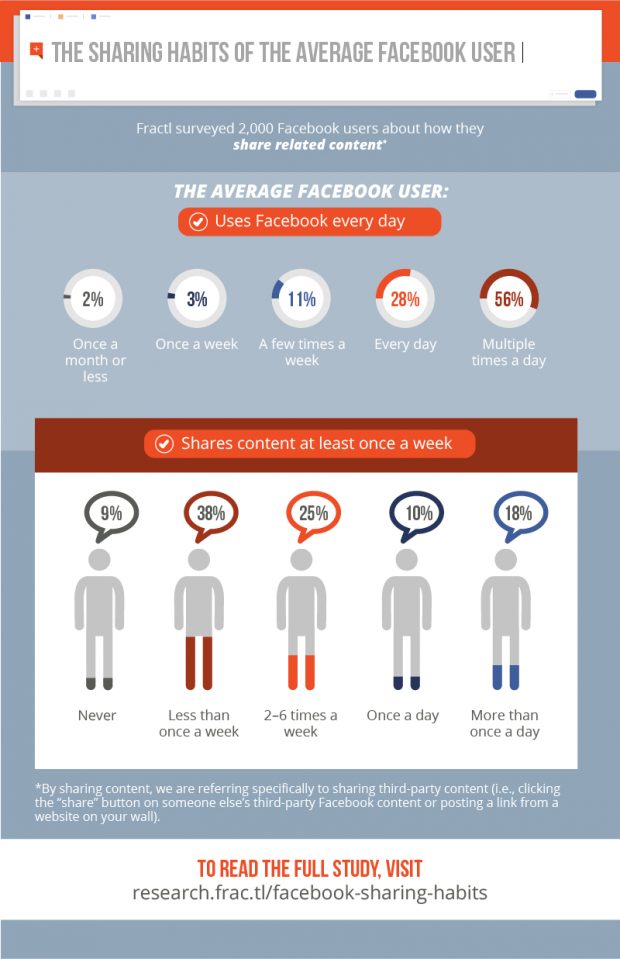 The study shows an interesting connection between sharing frequency and the size of the user's network. The more friends a user had, the more likely they were to share content at least once per day:
25 percent of users with less than 200 friends share daily

33 percent of users with between 201 and 500 friends share daily

38 percent of users with between 501 and 1,000 friends share daily

40 percent of users with over 1,000 share daily
Of course, the larger the friend network, the more impressions—so this is an encouraging trend for social media marketers.
The takeaway
Since many users may not actively engage with content, social media professionals must also pay close attention to additional social metrics, like reach and exposure, to measure the spread of content.
Combining the insights from engagement data and reach metrics helps form a more complete understanding of the content's impact and leads to a better content strategy that can convert 'ghosters' to 'posters' with better content. In order to do this, it's best to avoid overly promotional content. Instead provide value to your target audience to help gain better social traction.
But to do that you need to know what to post, so you need to find out what users consider valuable and therefore share-worthy.
2. Motives for sharing: bringing value to users and their networks
Nearly seven out of 10 users reported that sharing content helped them feel connected to their friends. The data also show a strong correlation between sharing and self-image.
The top three motives for sharing all revolved around bringing value to a user's friend network by providing one of the following types of content:
Entertaining

Useful

Emotionally moving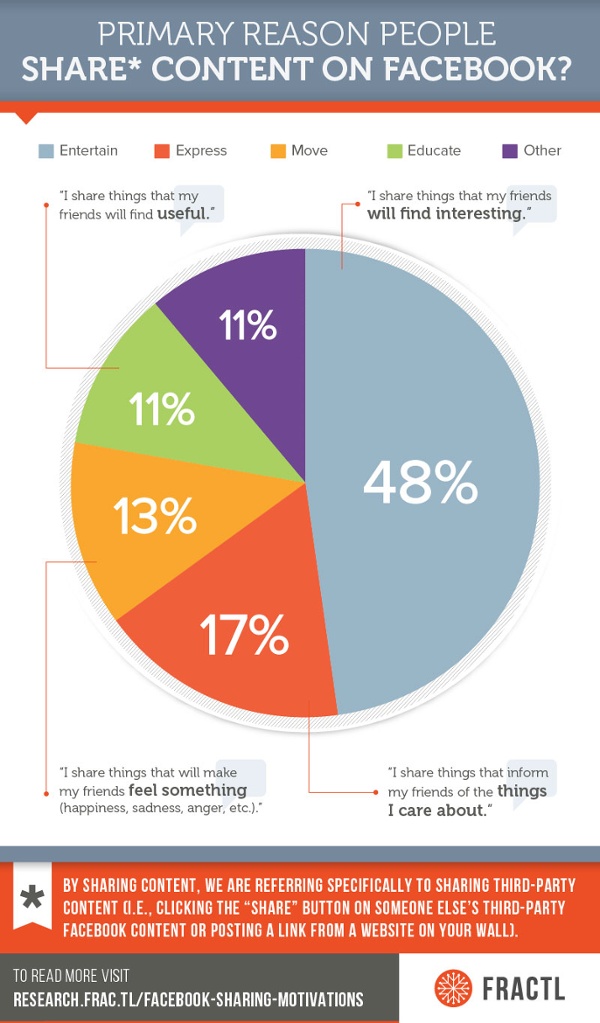 Nearly a third of users reported that they share content to maintain a certain image of themselves, with approximately the same percentage indicating that they shared items that had been shared by many other users. In the same vein, three out of five users reported avoiding sharing content that would make them look bad.
The takeaway
Social media is a unique marketing channel and great for building brand awareness and engaging consumers. Both brands and users are trying to improve and influence their image by sharing content, but to fully take advantage of the channel's potential reach, social media marketers must appeal to users' motivations to connect with each other and not just the brand.
Content that brings value to users and helps them define or express themselves encourages both engagement and amplification. While creating and sharing this type of content can be very beneficial, it's important to remember that different audiences require different content.
3. Diverse audiences: no one-size-fits-all solution
Sharing frequency increases as users age. For both men and women, Baby Boomers are 1.3 times more likely to share content daily compared to Generation X, while Millennials are 1.6 and 2.8 times more likely to never share content at all compared to Generation X and Baby Boomers, respectively.
More importantly, motivations also evolve with age. As women age, the proportion of women sharing primarily for entertainment decreases while the proportion of sharing to move their friends emotionally increases. Men of all ages are less diversified in their motivations for sharing compared to women, with half of each male generation citing entertainment as their primary motive. Still, older male generations are more likely to share primarily to express themselves compared to younger generations.
The takeaway
While the data shows that laughter is a universal motivator for social sharing, there's no one-size-fits-all strategy when it comes to content curation on social media. Profiling customers and creating audience personas is an excellent way to help determine how to reach your target audience on all marketing channels, including social networks like Facebook.
Like all social media platforms, Facebook is constantly evolving, but that doesn't mean the potential for organic reach is dead with the latest algorithm tweak—like the network, it's simply progressing. While some brands may turn solely to Facebook Ads to maintain their reach in light of the change, others recognize the ROI of diversification through inbound marketing methods that lead to organic reach, engagement, and amplification.
Ultimately, understanding the habits and motives of the average user, as well as your target audience, is the first step to creating high-quality, share worthy content.
Share on: