How To Go Global On Social Media In 4 Just Steps
Although social media has the ability to draw fans out from all corners of the world, doing so requires that a band or artist take a specific set of steps, from choosing the right social networks to using internal advocates.
__________________
Guest post by Sarah Dawley of Hootsuite
Social media can bring people from the farthest corners of the world together in an instant. This ability to transcend any border is what makes it so special—and powerful. For a business looking to effectively reach a global audience on social media, it unfortunately takes a bit more effort than simply logging in and saying hello to the world.
Whether you have main social media accounts that you publish both international and local content from, or different accounts dedicated to different regions entirely—here are some key steps to reaching a global audience on social.
How to reach a global audience on social media
Step 1: Research your audience
Choose the right social networks
Does your international audience use Facebook? (Probably.) Do they use Twitter, LinkedIn, or Instagram? (Maybe.) Should you find out if they use other social networks you haven't even heard of? (Yes.)
Do some digging into the demographics of each major social network to confirm whether or not the audience you want to reach uses them. This will ensure you invest your time and money where it counts.
There's plenty of readily available information about the demographics of Twitter, Facebook, Instagram, and Snapchat, but here's a brief look at some other social networks that are steadily gaining momentum around the world:
WeChat
WhatsApp
Sino Weibo
VK (VKontakte)
Bonus: Download a free guide that reveals how to increase social media engagement with better audience research, sharper customer targeting, and Hootsuite's easy-to-use social media software.
Analyze regional social conversations
Pay attention to what people are talking about in these areas and you'll get a better idea of the content and conversations that will resonate with them. Here's how to do that in Hootsuite:
Click Add Stream in your Hootsuite dashboard.

Select the social profile you'd like your search to be based on (i.e. select your Twitter account if you'd like to search Twitter).

Enter a hashtag, a phrase, or your brand name in the search query field under the Search tab.

Geo-target your search by clicking on the arrow in the search query field. It will automatically populate with the coordinates of your current location.

To change it, enter in the coordinates of the place you want to target. You can find these by using Google Maps.
Learn how to get even more out of Hootsuite with free social media training from Hootsuite Academy.
What to watch for:
Popular conversation topics

Tone and word choice

Cultural nuances and references

Hashtag or emoji use
Do a competitive analysis
Whether they're direct competitors or not, analyzing other businesses who are already doing a good job connecting with an international audience on social can be a huge source of inspiration.
Your competitive analysis should include:
What social networks they're on (and whether they have dedicated accounts for different regions or not)

How they localize content

How often they post and what their engagement numbers are like

What they're doing that you could learn from
Check out our step-by-guide for conducting a competitive analysis on social media.
Use surveys to validate your audience research
Surveys are an easy way to ensure the data you've collected about your international audience is accurate. SurveyMonkey has a specific template for researching your audience on social media that you can use to help answer which social networks your audience prefers and their content preferences.
Research the legalities of marketing activities in each region
Some countries have different parameters for marketing activities that can apply to social media campaigns. Check with your legal department before launching a new social media campaign to ensure it complies with the region's legal requirements.
Step 2: Create content
During your research, you may have noticed a pattern in the type of content being consumed and shared the most in your target regions. Guess what? That's the type of content you'll want to make more of. Along with taking cues from what's working already, here is some more advice for creating content for an international social media audience.
Create both global and local content
There will be some conversations you'll want to have with your entire global audience on social media, and others that are specific to certain regions. Keep track of both by creating one social media content calendar and using different colors to label your global and local posts.
An easy way to find content opportunities for different regions is to log in to Twitter Analytics and select "Events" from the top bar. You'll see a list of upcoming holidays and events from around the world, and the demographics of the people who will likely be talking about them on Twitter (and other social networks).
Adapt content to cultural differences
Depending on the region you're targeting, localizing your content could range from changing the spelling of a few words or switching up an image, to translating your posts into a different language entirely. Either way, taking the time to adapt your content to these regional differences will help create trust with each audience.
Step 3: Publish and schedule
Schedule content strategically to reach all time zones
Unfortunately, you won't be able to reach every time zone on social in real time unless you deprive yourself of sleep on a regular basis. The easiest way of overcoming this is drafting posts in advance and then using Hootsuite to schedule them. Ensure the dates and times you'll be scheduling messages is reflected in your content calendar so that you can identify any gaps.
Learn how to get even more out of Hootsuite with free social media training from Hootsuite Academy.
Geo-target local messages from a global account
Using Hootsuite, you can geo-target any post to a Facebook Page or LinkedIn Company Page so that it's only shown to your audience within a specific region. To do so, simply click on the globe icon in the Compose Box and enter the region you wish to target.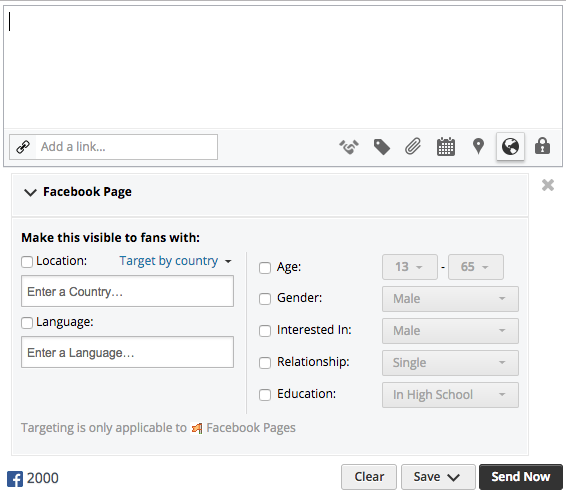 Step 4: Use internal advocates to engage
Scheduling posts in advance can help you reach a global audience, but it won't help you have a real-time, one-on-one conversation with those people. Since teleportation still isn't a thing (thanks a lot, SCIENCE) you might need someone else to help with engagement so that your followers don't have to wait a full day or more to get their questions and comments answered on social.
Don't have the budget to hire social media specialists in each region? Here's how to empower other employees to speak on behalf of your brand on social:
Choose your helper and have a meeting with them to discuss your expectations. Clearly outline their role and responsibilities, and give them a copy of your content calendar, engagement strategy, and style guide.
Overcome any skill gap by pointing them towards Hootsuite Academy. They can take free online courses in social marketing and gain confidence in using the Hootsuite dashboard.
If you have a Hootsuite Enterprise or Business plan, set this person up with limited permissions so they'll be able to post on behalf of your brand while you maintain control and keep your social networks secure.
Sarah Dawley is a Lead Copywriter at Hootsuite. When she doesn't have her nose buried in a book, she's in a creative brainstorm, working on content strategy, or debating whether it's too early to eat lunch.
Share on: