Who Will Actually Contribute To Your Music Crowdfunding Campaign?
In this helpful how-to article, we look at the proper actionable steps to take when it comes to launching a successful crowdfunding campaign and how, as an artist, you can work to target those who will actually donate to your project.
___________________________
Guest Post by Ian Anderson on DIY Musician
This article was adapted from An Artist's Guide to Crowdfunding Domination, by Ian Anderson, M.S., (Launch and Release, 2017). The eBook teaches musicians how to get backers and crush your campaign by using six specific, actionable steps that will eliminate your campaign's risk of failure while maximizing the amount raised.
Releasing music: simultaneously your Job and your Joy. It's what excites you the most and keeps you dreaming. And paying for it is what keeps you up at night.
Crowdfunding is a fantastic way to finance your creative endeavors without dragging yourself, your family and/or the owners of the couch that you sleep on through the depths of financial despair that so many starving artists fatefully encounter.
Contemplating a crowdfunding campaign and subsequent release is exciting as heck and most people are rightly optimistic! But a few other accomplices will also join the party: uncertainty, fear, anxiety…
How exactly should I do this?
Will anybody pledge?
What if my campaign fails?
To answer these questions, you're likely to do what any reasonable person would do…
What You'll Learn When You Google "Crowdfunding"
You Google "crowdfunding tips and tricks" or "how to do a Kickstarter" and you dive in.
The front few pages of Google results will give you article after article of tips, hacks, ultimate guides and essential steps. The information in these articles will be more or less true but in a mostly superficial and TOTALLY IN-ACTIONABLE manner. Consider the top three tips you'll most often see: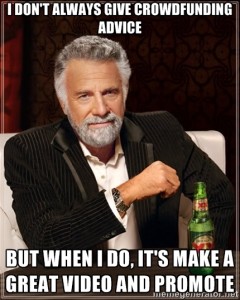 Solve a problem!

Have a great video!

Promote, promote, promote!
Yeah, no kidding. Thank you, Captain Obvious.
Closely following these pearls of wisdom are the ever-present nuggets of advice such as:
"Build a community," "Build your audience" and "Build an email list"

"Use all social networks to promote your campaign"  and "Don't forget your personal network"

"Engage your community" and "call on your community"
None of this advice is wrong per se but it is often misinterpreted and confuses the issue of where backers come from.
What I want to do today is to help you understand – 100% and in no uncertain terms – just precisely where backers come from and what the implications are for a music crowdfunding campaign.
Because the truth of the matter is that you can get plenty of backers whether you have no following or you have thousands of fans signed up to your email list.
You don't need extensive marketing knowledge, you don't need a PR department, and you sure as hell don't need to go spend a couple thousand of your hard-earned dollars hiring some "consultants" that will promise you "exposure."
The Crowdfunding Myth of "Exposure" & "Going Viral"
Most crowdfunding newbies assume their primary concern is to "get more exposure."
The assumption is that a campaign will get more backers by "getting in front of more people" through social media shares, blog placement or even mainstream media coverage like newsprint, radio, or television.
But the probability of deriving any significant amount of backers from these sources is dismally low; as a musician, you'll be more likely to add zero backers to your campaign than to break single-digits. Assuming your primary mission is to "get more exposure" is a huge mistake.
"Exposure" through social, digital or traditional media is NOT the primary means of gaining backers for most campaigns and you can tell just by looking at the facts of the crowdfunding landscape.
Kickstarter Stats Paint the Picture
I recently scraped data from a couple thousand successful Kickstarter campaigns for publishing, video & film, fashion, food and music.
I removed the extreme campaigns that had over 1000 backers or more than $130,000 raised. Campaigns with backers and funding above these levels are generally small companies or people with large, established customer/fan-bases to market to. And, even though there are very few of them, maybe 1-2% of successful campaigns, they bear almost no resemblance to the other 98% of us.
So how does the other 98% look?
The average successful Kickstarter campaign raised just over $10,500 from about 116 backers and over 85% of Kickstarter campaigns raise less than $20,000 from less than 200 backers.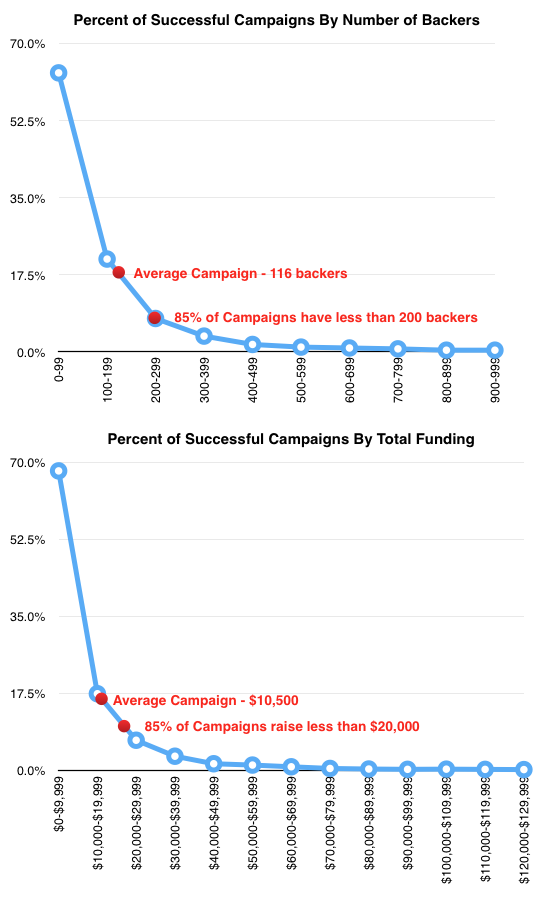 If you have limited crowdfunding experience, these numbers may be surprisingly low. Most people think of crowdfunding as having much greater potential than this.
This is true for 2% of campaigns or less. But for the other 98% of campaigns, stop and think for a moment… where do the vast majority of these 100-200 backers come from? (We'll answer this really soon, I promise.)
P.S. This data is just for successful campaigns. Over half are NOT successful and their primary mistake is almost always looking for help in all the wrong places.
Where Crowdfunding Backers Actually Come From
My dad, who has the hugest mullet ever, used to say, "Quiz for duck!"
(Sidenote: I never did win a duck and I have no idea what dad was talking about but here is the quiz.)
Most backers and funding for crowdfunding campaigns come from:
Scattered people around the globe who have never heard of you but who have access to the Internet.

People living in your hometown or people who are interested in music who happen to watch the news, read the newspaper or listen to the radio.

Friends of your mom's friends on Facebook or your best friend's little sister's Twitter followers or your college roommate's girlfriend's Instagram followers.

People on the internet who have demonstrated interest in other music and who have seen hundreds, if not thousands, of similar ideas over the past year.

People who know you and have an interest in you and what you do: your fans, friends and family.
Hopefully you sniffed out at least some sarcasm here because this list could be rewritten as:
Complete, random strangers.
Most traditional media consumers: strangers who live near your or who happen to be music fans, none of whom have knowledge of you specifically.
Most social media users: primarily strangers who have no direct connection to you.
Most readers of blogs and websites: strangers who like things similar to your music.
People who know you and have an interest in what you do: your fans, friends and family.
Indeed, the correct answer should be obvious (and is the only one in bold).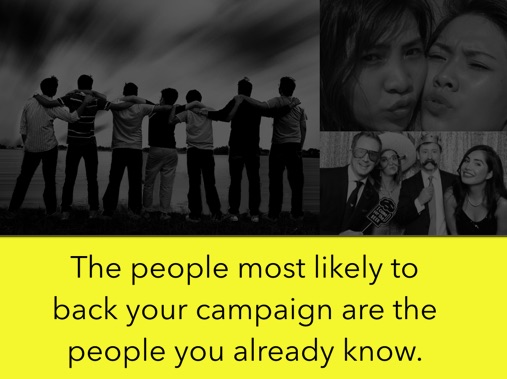 Fans. Friends. Family. Remember these three F's, they'll be the ones who contribute the vast majority to your crowdfunding campaign – typically 95% of your funding!
Call it want you want – community, audience, list, social networks, personal networks, etc. – but the people most likely to back your campaign are the people most likely to get your back.
Why Chasing PR and "Exposure" is a Mistake
So am I saying that PR or exposure are bad?
Yes, mostly. Your chances of converting this traffic into backers is so dismally low that:
At best, you'll get a few backers but probably no more than 5% of your overall total.
At worst, chasing after these "opportunities" (press, PR, blog coverage, etc.) will be a complete waste of your time and could put your campaign in substantial jeopardy by preventing you from reaching out to those who are most likely to pledge to your campaign. (I have observed this directly with the campaigns I've worked with.)
Many people have a mistaken analysis of what might happen:
If you are from a big city like New York or Los Angeles, well, if you could get media placement, you'd be in front of a lot of people, so wouldn't you get a lot of backers?
Or if you are from a small town, the people who would see your media coverage would be rooting for the hometown hero and would back your campaign, right?
Or if you could just get coverage in that popular blog, wouldn't those readers be likely to back your campaign?
Or if you could simply get featured by Kickstarter, then you'd be in front of people who are already proven campaign backers and who are just waiting to find the next cool thing to pledge to, right?
Unfortunately for the vast majority of campaigns (see the statistics above), the answer is NO.
So the lesson here is that spending all of your precious time focusing on PR and exposure is a big mistake that will cost your campaign.
But before we go on, a very important aside:
---
The 3 Conversion Rates You Must Know Before You Campaign
Definition: conversion rate is the percentage of users who take a desired action.
Your campaign's conversion rate is the percentage of people who hear about your campaign that actually become a backer.
Online marketers are obsessed with conversion rates because it helps them improve their overall sales and revenue. There are people out there who charge a ton of money to help increase conversion rates and there are definitely people who will pay it!
This is worth noting.
There are literally hundreds of thousands of people, probably millions, whose only mission is to bump up conversion rates.
With that in mind, what are typical conversion rates? Here are some estimates:
"Conventional wisdom says that a good conversion rate [for a website] is somewhere around 2% to 5%." ~ wordstream.com
"experts agree that an average conversion rate for email marketing is 1% – 5%, while conversion rates on social media and SEO are very difficult to measure because they rely so much on what happens on your website." ~ teknicks.com
"social media represented… a conversion rate of less than three-quarters of one percent (.71%)" ~ convinceandconvert.com
From what I've seen, these numbers will be about right for your crowdfunding campaign.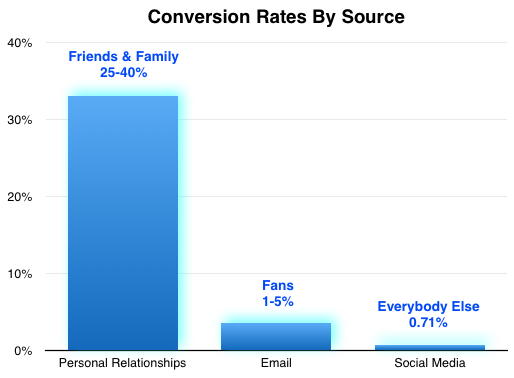 Those are pretty low numbers.
But, after the big fuss about fans, friends and family up above, you are hopefully wondering what the conversion rate is for them.
A conservative estimate is 25-40% of the people who you tell about your campaign will become backers.
It can be a little higher but probably not much OR it can be lower, a lot lower… it depends a lot on how you handle telling people about your campaign and how hard you try.
Now back to our story…
---
What Social Media CAN DO For Your Campaign
…word of mouth is part of 80% of all purchase funnels. At least some of this word of mouth is occurring via social media… ~ convinceandconvert.com
In other words, it still makes sense to do social media work.
Encouraging people to share your campaign, especially after they pledge to it or comment on it, should be standard operating procedure and will take a few minutes each day during your campaign.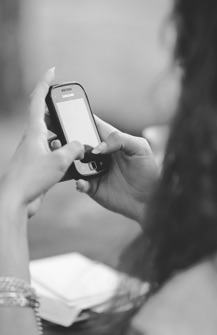 Making value-added posts (not spam, be certain it's engaging and not just shouting about your campaign repeatedly) to your social media channels should be a part of every campaign and standard operating procedure. This should also take a few minutes a day but should definitely not eat up hours of your time.
Altogether, these actions should account for only 5-10% of your effort during your campaign.
Beyond that, direct and personal interactions should take up the vast majority of your time.
Just look at the big-ol conversion rate up above, 25%-40%, and think about racing to 100 backers.
This tells you where to focus your time and effort.
Do not make the mistake of assuming or even hoping that it's all about "exposure" or "going viral"… it will lead you down the path towards uncertainty and even campaign failure.
P.S. If I (or anybody else) knew how to make your campaign "go viral," you and I (or anybody else) would both be millionaires pretty damn fast ~ beware of anybody who claims they can help you do this.
Now, on to the good news…
Debunking the Myth of "Exposure": Kickstarter Campaigns That Crush Their Goal
Most of the risk and uncertainty surrounding a crowdfunding campaign can be dealt with through good planning and execution.
Take a look at the funding curves for these Kickstarter campaigns:
Jay Stolar: The Happiness and Connection Project




What do they have in common?
They hit at least 75% of their goal in the first three days of their campaign.

They broke their goal amount (or came within a breath of breaking it) during the first week.

They almost doubled and, in one case more than tripled, their goal amount.
But the most significant commonality is that each of these campaigns used the Pre-Load Technique which does not rely on exposure, PR or going viral.
Jumpstart Your Campaign With The Pre-Load Technique
The Pre-Load Technique matches the style of Jeff Walker's Product Launch Formula and is quite similar to the Kickstarter case study presented on Tim Ferriss' blog, 4 Hour Workweek. It is widely used by internet gurus such as the legendary Tony Robbins and Seth Godin and by digital marketers everywhere!
"Pre-loading" is a method to build early support, momentum and the ever-critical social proof for your campaign by building awareness with the people most likely to back your campaign prior to launch. These people are usually some of the first backers to your campaign. It's like seeding the tip jar or chumming the waters.
Anybody can do it regardless of the size of your "fanbase," "email list," or "social media followers." It works equally well whether you have a big old email list or you are just starting out and don't have too many fans.
Pre-loading is amazingly powerful and amazingly simple.
Follow Up With Your Fans, Friends, and Family
Once your campaign is off to a great start, focus on contacting your people!
Don't just post to Facebook and assume that people will see it. Don't even assume that people who have seen your campaign know what is really going on.
Send texts and emails explaining yourself. Make phone calls to people who will want to know that a project of this significance is going on in your life.
Crowdfunding isn't about looking cool. It's about authentically sharing your dreams and goals with the people who care about you the most and giving them a chance to help out in that process.
My rule of thumb is roughly 10-20 people per day where you literally interact with them. This is in addition to contacting your mailing list if you have one and engaging your social media audience.
Take this advice and you will significantly increase BOTH the probability of hitting your goal AND the amount that you raise by engaging the people most likely to give and who will give the most because they are invested in the outcome.
If you are interested in the Pre-Load Technique and other strategies to get backers and crush your goal, check out my book An Artist's Guide to Crowdfunding Domination where we get specific and in-depth.
Share on: