On The Road With Pigface: Tour Management Students Take The Ride Of Their Lives
In this piece, rap music industry veteran Wendy Day recounts her experience taking eleven music business students on a sixteen day, sixteen city tour with industrial rock supergroup Pigface.
Guest post by Wendy Day, Founder of Rap Coalition, PowerMoves, Artist-Centric, and SlavesNoMore
After 27 years working in the rap music business, it's hard to find experiences that excite me or motivate me beyond creating success for my clients or pushing the rap genre forward via education and sharing knowledge. However, from November 22-25, I got to do something extremely cool, and it stood out as an extraordinary experience in my career. I went out on tour with industrial rock supergroup Pigface. It was their first tour after a 10-year hiatus, but the reason it stood out was that they took along 11 students who wanted to learn about tour management. And I went with them! I basically jumped on their bandwagon.
All 11 students from both legs of the Pigface tour

It was a 16-day, 16-city tour with two full-size tour buses, 11 all-star band members, two tour managers, opening act I Ya Toyah and her manager, a documentary filmmaker, and me. My role was to help teach the students about the music business, joining midway through the tour for five days. While there was certainly no "typical day" on the tour, my first day unraveled like this: we woke up on the bus in Atlanta, did yoga for 30 minutes, ate breakfast, ran to the store for toiletries and other necessities, and gathered for a group lesson. I explained building a team, how artists make money with music, publishing, and how streaming works. An Atlanta-based entertainment lawyer joined us to explain how she got started in the business, what she does every day, and the importance of having a lawyer look over all documents before signing them.

Tour bus with merch trailer

After the learning session, the students got to help the road crew finish loading in. There was a trailer attached to the musicians' bus, and the road crew traveled with the band to unload the equipment, sound, and lighting for each show prior to sound check. At the end of each night, they'd "load out" by carrying everything back off the stage and reloading it into the trailer. At many of the clubs, local club staff helped with load in and load out, and some clubs had their own sound systems and lights. The students then got to help set up the merch booth, which for Pigface is an extensive undertaking. There were at least 10 different designs for T-shirts in multiple sizes, posters, flyers, memorabilia, hats, pins, bracelets, stencils, stickers, CDs, vinyl, Pigface beer, Pigface coffee beans (light roast and dark roast), and a voodoo doll that looks remarkably like drummer Martin Atkins, who put this entire tour together.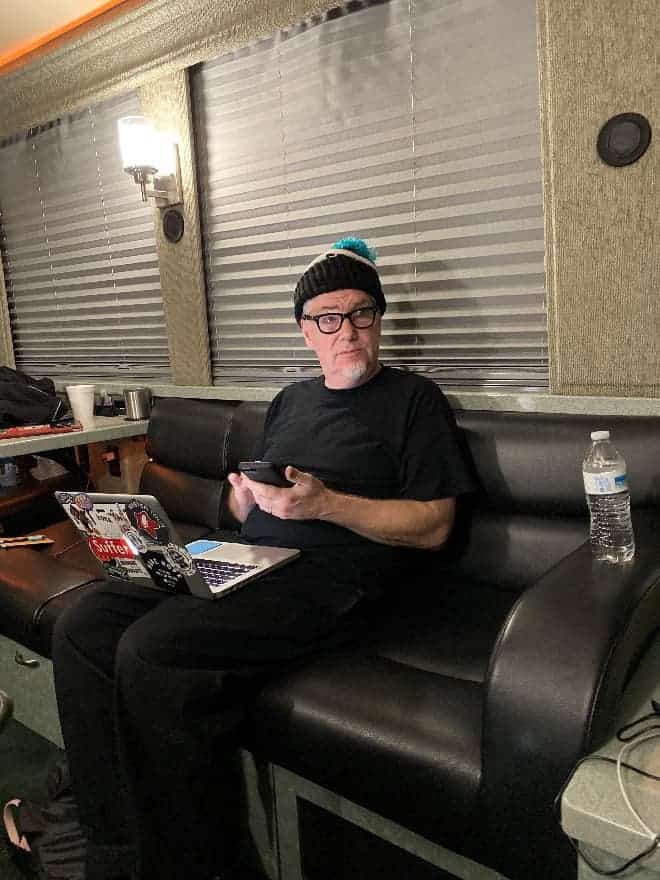 Martin Atkins, who put the tour together and funded the student experience

Ten years ago, I read Atkins' book on touring, titled Tour:Smart, and then a week later I spoke on a panel with him at a conference in Nova Scotia. The wonderful thing about this wildly receptive man with spiked white hair was his accepting personality and sharing nature. Today, I'm proud to call him my friend.

Martin came of age in the '80s and '90s as a drummer for Public Image Ltd (PIL), Ministry, Killing Joke, and then in 1990, he founded Pigface, an all-star group in industrial music with a constantly rotating lineup of which he is the only constant. He currently heads the music business program at Millikin University and, prior to that, ran the music business department at SAE Institute Chicago. He's written books, runs a record label and music merchandising company, and speaks at a variety of music industry conferences. He knows a lot and is willing to share real hands-on information. For the 16 days of this tour, he shared everything as it was happening in real time with 11 hungry and eager students — five for the first eight days of the tour and a new crop of six for the final eight days — as part of the Tour:Smart Bus Edition.

Students working the Pigface merch booth at the tour's Atlanta stop

These students got to see everything as it unfolded. For example, when the merchandise manager wanted to quit on Day 6 of the tour, even though he printed and supplied much of the merch, the students helped make the decision to buy him out and send him home. They stepped up individually and helped staff the merch booth each night, and they broke even on the buy-out after just a few nights: crisis averted. For taking an active, hands-on role in the tour, they received three semester hours of college credit, an unbelievable and irreplaceable internship, and some amazing stories from the road.

Case in point, on Day 10 between New Orleans and Dallas, one of the band members, Charles Levi from Thrill Kill Kult, got left behind at the rest stop when the buses stopped for fuel. Fortunately, he had his cell phone with him, so he was able to call and wake up one of the band members to get the driver to turn around and drive the 20 miles back to the rest stop to pick him up.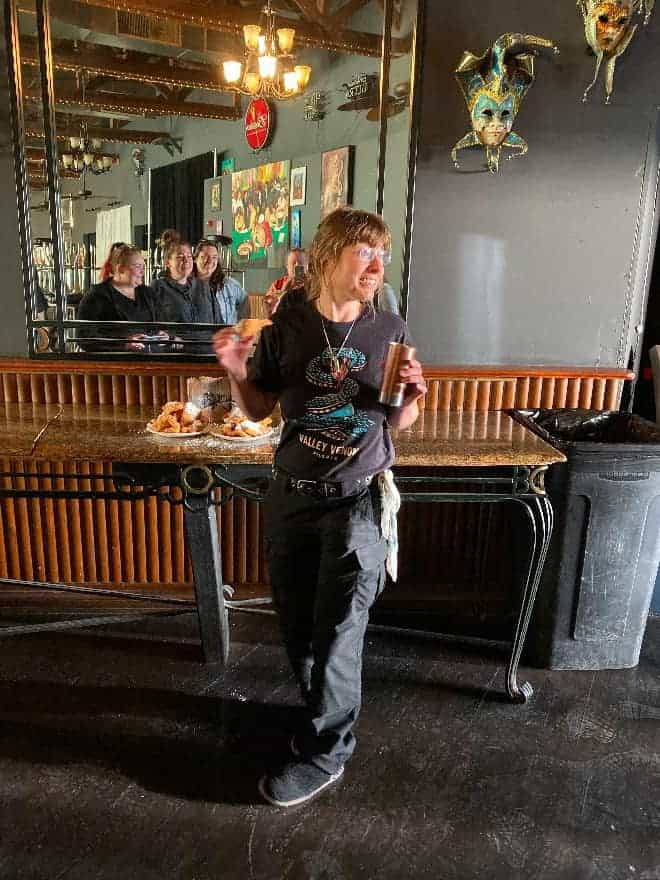 Students present the road crew with a thank-you box of beignets in New Orleans

On a more sentimental note, on Day 9 in New Orleans, quite a few of us Uber'd into the French quarter to the well-known Café Du Monde for some beignets and café au lait. The students were kind enough to bring back a big box of beignets as a thank you to the road crew. After making a handmade thank-you card out of cardboard box flap, they presented the gift to the crew and some of the musicians. They were all visibly touched by the kind gesture because it's so rare in this business that anyone expresses gratitude.

Often before the performance, we would all eat dinner together, and a member of the band would share their background with the students. If there was someone from the local music industry available to speak, this is where they addressed the students. By 2am each night, we would have a debriefing session where the students each shared what they learned that day, discussed the door income and merch totals, and supported each other on their successes and failures of the day. By 3am, we were climbing into our bunks and enjoying being rocked to sleep by the movement of the buses as they drove on to the next city. We always awoke in a new city, ready and eager to please a new batch of Pigface fans. Every other day, there was a hotel day room for showers, and after awhile, the cities began to look the same. But the fans were always different. Some shows were rowdy and had mosh pits, and some shows were calm and had fans happily singing and dancing along to the songs.

En Esch and Randy Blythe perform with Pigface

Each show started with VIPs who purchased packages and got to mingle with the band early. I often felt like a VIP myself, getting to spend the Atlanta show backstage talking to Lesley Rankine, frontwoman of the band Ruby, and meeting En Esch, who was the lead singer from KMFDM. Randy Blythe from Lamb of God was there as a guest lead singer. He explained to me that it took years of vocal coaching to allow him to scream lyrics for two hours without losing his voice. Greta Brinkman played bass with Moby and told me that she toured with him for three years straight before moving to Berlin, where she still lives. There were 11 star musicians on the road with Pigface, all coming together without ego to celebrate music and please the fans. What an amazing experience!
Share on: