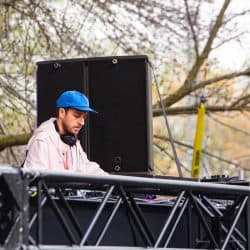 How To Become A Beat Making Machine (in 7 Steps)
Being able to make quality music quickly is one of the major factors behind the success of some of hip hops biggest stars. Fortunately for aspiring beat makers, this type of productivity can be learned. Here we look at how.
Guest post by Charles Burchell of Soundfly's Flypaper
Kanye West once famously rapped:
"Lock yourself in a room, Doing five beats a day for three summers.
That's a different world like Cree summers, I deserve to do these numbers."
This bar from his debut album The College Dropout may have gone unnoticed initially as the album received critical acclaim for much bigger songs like "Jesus Walks," "All Falls Down," and "Through the Wire." However, as the album aged and Kanye's superstardom grew, these lyrics from his song "Spaceship" became a blueprint for aspiring producers who wanted a roadmap to success.
Famed trap music innovator Zaytoven has repeatedly stated that most of his songs are made in 15-20 minutes. The reasoning behind working in such a fast pace was that he and Gucci Mane would want to ride around in their car to listen to the music they were working on, and so they rushed it into a "rough mix" state as soon as possible.
Little did Gucci and Zaytoven know but their ability to make quality music fast would catapult both artists to international stardom. What links the successes of West and this Atlanta-based super duo is simply the ability to make consistently high quality work in short amounts of time.
If you want to become a successful beat maker then you have to be willing to work on your craft everyday. In my mentored online course for Soundfly, The Art of Hip-Hop Production, I break down the science behind making great hip-hop tracks. But knowing how to make beats is not enough to be a successful producer — you must also master your workflow so that you can create enough beats to turn your passion into a business.
Check out the course trailer below, and sign up for the course here to become a better beat producer. For now, let's talk about workflow.
Whether you're an aspiring producer looking to create more music or a seasoned producer struggling with beat maker's block, below are some tips to convert your creativity into consistency.
1. Make beats everyday
It may come as no surprise, but the easiest way to become a better producer is really to make music everyday. That being said, it's still important to understand your own habits and your natural limitations; but most producers don't create as much as they want because of a fear of time.
Not to get too metaphysical but time is just a system we use to organize ourselves and our movement through space. You're not afraid of time going by, you're afraid to reorganize it.
If you know you can get just two hours in every day to create music then over the course of a week you'll have spent 14 hours working on your craft, which is two full days of work — you've now got yourself a part-time job! You'll start noticing measurable gains in your skills, workflow, and comfort levels immediately if you're able to keep up this work pace.
You don't have to start with trying to make five beats a day. Try to make one complete beat a day and then work your way up to creating three or four good ideas a day. Consider daily beat making like exercise, meditation, or taking a shower. Once it becomes a habit it will be hard to break and you'll reap the rewards.
2. Learn to produce ideas in 20 minutes or less
One benefit of creating beats everyday is that you'll start to have a better understanding of the process. You'll know whether you like to start with melodic ideas, samples, or drums. You'll understand the ways in which you like to program drums and you will know which samples and sounds inspire you the most.
Now I don't believe you have to rush through making music, but there is a practical reason for having the ability to create music fast. If you're in the studio with an artist who wants to create something on the spot, they probably won't wait an hour to hear a beat. So effectively getting your ideas into your DAW or sampler in 20 minutes or less will afford you more opportunities, and help you build your catalogue of music.
There are some great YouTube series that show seasoned producers making beats on the spot. Against the Clock is one of my favorites because the producers only have ten minutes to complete a track. And The Cave with Kenny Beats (below) is also great because you see Kenny basically take a beat order like he's in a restaurant and then he cooks it in front of the artist to be recorded shortly after.
In hip-hop, quantity is becoming a new currency. Try setting 20-, 15-, and 10-minute timers next time you sit down for a couple hours to work on producing music.
3. Finish your ideas
Let's face it — some songs you make in 10-20 minutes are going to suck. But that doesn't mean those tracks are completely useless. After a few days of quick beat creation, it's great to take a day to go back and listen to your half-completed ideas and commit to finishing up your tracks.
You may find an idea for a new beat in an old track that you thought was horrible until you listened back with fresh ears. It's important to practice the law of non-attachment when creating beats. Don't judge them too much just create and commit to completing the ideas no matter if you're not 100% happy with the end product.
4. Master your workflow
In George Leonard's book, Mastery, he explains that mastering anything is a series of long plateaus of seemingly little-to-no progress, followed by short moments of growth.
The imagery he paints is as if you're walking up an elongated staircase with some steps taking a long time to cross before you get to the next moment of elevation. In this sense the idea becomes less about growth but more about learning to love the process. The process of working on music everyday will make you a better musician and beat maker over time.
In order to love the process you need to learn how to master your workflow. Mastering your workflow means understanding all the technical and environmental factors that contribute to you being the most productive artist you can be. Start by:
Organizing your workspace: have all of your equipment set up and ready to use when you're ready to work.
Use templates in your DAW: I like to use a template that has MIDI and audio tracks set up for drums and drum samples as well as tracks labeled keys, lead, and bass. I might not want to always use this template but just seeing these blank tracks already organized makes it easier for me to just input ideas and complete tracks faster.
Use key commands: Over time, these will save you cumulative hours, believe me.
Find a ritual: I personally love having a cup up coffee next to me while I work, as well as lighting some incense.
Get inspired: Try putting on a playlist before you get to work, in case you hear something that inspires you to create things outside of your comfort zone.
The important thing is to find what works for you and make a habit out of it so that every time you're ready to work, your physical and mental environment are always in the right place.
+ Subscribe to Soundfly today to learn production, composition, songwriting, theory, arranging, and mixing, whenever you want and wherever you are. Sign up here or learn more below!
5. Stay organized
Organization is the key to success in any business, and if you want to get into the business of making beats, it will work for you too.
As a beat maker you need to be able to quickly call up the tracks you created in case you need to use them for an artist. Create folders that are simply organized and labeled by day, month, and year, or by project. And definitely separate any work you do for yourself from work you do for clients.
If you ever have an opportunity to approach your dream artist, whether personally or through their management team, having a folder of 100 beats at the ready is going to look very promising. There is also something powerful about visualizing the types of people you want to work with and passively or actively creating music to work towards that goal.
6. Set Limitations, challenges, and deadlines
A great way to improve your beat making output is to set limitations, challenges, and deadlines. One limitation can be time, like we discussed earlier, but also which equipment you use or source material you draw from — anything to keep your brain searching for new patterns or answers. Limitations are one of the best ways of thwarting beat maker's block.
Another trick is to challenge yourself on purpose. When I don't know what to make, I challenge myself to create in a genre I'm not comfortable with just to see if I can do it. This often leads to frustration when I realize I'm not as good at producing certain styles. But frustration can lead to freedom if you have the fortitude to face your fear of failure and continue to work on refining yourself daily.
Lastly, stay on track with your productivity goals by setting deadlines. This can be as simple as setting a beat quota for the week ("I will make ten beats this week"), or setting a monthly goal of releasing a beat tape. Whatever the internal goal is, setting deadlines for completion makes the objective clearer. Outside deadlines like needing to finish a mix for a client to get paid are always great motivators as well.
7. Keep learning new skills
Never stop learning; the more you learn the more you earn. A good result of making beats everyday is that you'll learn what you're good at and what you need to work on. When you identify your weaknesses then you have an opportunity to grow.
Here at Soundfly, we make creative online music courses for curious musicians, including my own, The Art of Hip-Hop Production. And if you want to get all of Soundfly's online music course content for a low monthly cost, the All Access Pass is only $39 per month. With it you'll get total access to all of Soundfly's premium course content, access to our Slack community forum, and exclusive discounts on coaching sessions and guided learning.
Check it out, learn what you want and whenever you want, and cancel anytime! Sign up here for the All Access Pass or get in touch with support@soundfly.com with questions.
Charles Burchell is a multi-instrumentalist, producer, composer, educator, and diplomat from New Orleans, LA. He has studied at the New Orleans Center for Creative Arts, the New England Conservatory (B.M. '12), and most recently completed the Masters of Arts in Education program at the Harvard Graduate School of Education (Ed. M '13). Burchell has recorded and produced albums with Wes "Warmdaddy" Anderson, Delfayo Marsalis, Ran Blake, Ciel Rouge, his band The Love Experiment (featured in Touring on a Shoestring), and has performed and given master classes at various music festivals around the world. Burchell also works as a cultural diplomat with the Next Level Program and is currently a teaching artist for Carnegie Hall's Digital Music Production Workshop and Musical Connections Program in which he works with court involved youth and students from various boroughs throughout New York City. Burchell continues to perform regularly around the U.S. and internationally as a DJ, drummer, and bandleader.
Share on: