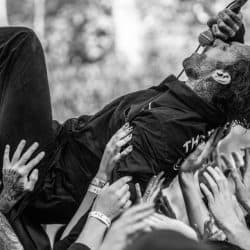 Should We Care If The Grammy Awards Don't Appreciate Rock And Metal?
A marked lack of representation from rock and metal acts at the most recent Grammy Awards has left many once again asking whether rock is dead, when in reality it may just be that the genre isn't relevant to the Grammys.
Guest post by James Shotwell of Haulix
Honestly, does the opinion of GRAMMY voters and event producers really bother you?
The GRAMMY awards aired last Sunday, which means people everywhere have spent the week discussing and debating the night's most significant moments. Did you see Tyler The Creator setting the stage on fire? Did you predict Billie Eilish would sweep the night's biggest awards? Were you blown away by Tanya Tucker's performance? All of these are great questions about must-see moments that music fans will celebrate for the foreseeable future.
As with every awards show for every area of entertainment, the GRAMMYS also created a lot of discussion for the corners of the industry that didn't receive very much attention on music's biggest night. Specifically, rock and metal fans were largely left feeling underserved. Though there were a handful of performances highlighting the most easily accessible rock talent, including Gary Clark Jr. and legendary rock band Aerosmith, the genre awards and their recipients were relegated to the pre-show stream.
Because of this, as well as the fact that rock and metal artists made up less than 10% of the night's performances, people are once again claiming 'rock is dead.'
Here's a counter-point: No, it's not.
Rock and metal have been declared dead more times in the last decade than anyone can count. I would go as far as to say critics have proclaimed the death of rock more times than any other genre, and every time they are proven wrong by a cavalcade of talented young artists. Rock is alive in virtually every city on the planet, and every night of the week, countless rock and metal artists are performing in bars, clubs, etc.
The GRAMMY awards cater to the largest audience possible using the biggest names in music to lure in viewers who otherwise could care less what some unseen panel of judges thinks of music. Except for a few performances, the vast majority of talent on the GRAMMY stage plays in regular rotation at every top 40 radio station. Rock and metal don't live on those stations anymore, at least not in a significant way, so it makes sense that we don't see the biggest bands in the genre performing on the awards show stage.
On the rare occasions when rock acts do play, the same people who claim rock is dead are the first to complain that those groups don't correctly represent the genre. Unless Tool or Slipknot or Killswitch Engage takes the stage, the scene's biggest critics (and self-proclaimed biggest fans) will be upset.
And let's be even more honest: Not all rock and metal bands sound great when they do appear on television. For every show-stopping performance, there are big-name groups whose late-night and awards appearances don't work due to mixing and production issues. Remember when The Blood Brothers were on TV? Slipknot managed to pull it off on Kimmel last year, but Cory's vocals were largely lost in the mix.
Here's the thing: You don't really care about who does or does not appear at the GRAMMYs. That cannot possibly be true. You fell into rock and metal for all the reasons everyone else does, which includes the sense of rebellion that lives at its core. Rock and metal, especially current iterations of the genres, were never meant for mass consumption. These genres represent boundary-pushing artistic expression that doesn't shy away from tough topics or tough emotions. It's outlaw music made for people sick of the system and the oppression they feel while trying to live their lives. The bands rock and metal fans treat like Gods are the same groups who openly loathe corporate events like the GRAMMY awards, so again, why would anyone care that the GRAMMYs don't recognize them?
Furthermore, if you want to point the finger at people hurting rock music, you need to look first and foremost at the gatekeepers responsible for new music discovery. Do you know why pop and hip-hop continue to thrive while rock music is written off as dated or dead? It's because the radio stations and entertainment pillars promoting those areas of music follow the lead of their listeners, especially young music fans. When a song takes off online in the realm of hip-hop, radio programmers do everything in their power to get that artist into rotation at their local station. That does not happen for rock bands. Their best hope is Sirius Octane or a single night of play in some 'new music contest' hosted by a radio station seeking to fill time in between "Smells Like Teen Spirit" and "Enter Sandman."
Rock is very much alive. There has probably never been more rock and metal artists actively recording and touring than there are right now. I receive at least five new rock records in my inbox every single day of the week, and it has been that way for years. There is no shortage of talent, and there is no shortage of fans eager to hear the next song or group that will change their life. Do mainstream audiences care as much as it once did? No, and it may take some time before it does again, but that doesn't devalue the talent or fans that currently exist.
And if you want rock and metal to become a more important topic of conversation in pop culture, then the fans and aging institutions that support those genres need to evolve. We need to celebrate young artists and appreciate the legends who came before instead of doing the opposite. We need to separate classic rock from modern rock in a meaningful way so that newer artists have a better chance of achieving legendary status. We need to look inward and destroy our pre-conceived notions of what makes a rock or metal band great so that we might be open to the next genre-pushing talent that arises. We need to change, plain and simple, and we need to stop expecting the biggest names in entertainment to make those changes for us.
The GRAMMYs don't matter. At least, not as much as consumer dollars. Vote with your wallet and support the talent that matters to you. Tell your friends about the artists you love, and invite them to go to concerts. Be the influencer you wish your local radio station or favorite blog would be for the talent you enjoy. Please do your part and do it to the best of your ability. If we all do that, then maybe — just maybe — we will see the focus of pop culture shift in rock's favor. It also may not, but that's okay because it doesn't really matter in the first place.
James Shotwell is the Director of Customer Engagement at Haulix and host of the company's podcast, Inside Music. He is also a public speaker known for promoting careers in the entertainment industry, as well as an entertainment journalist with over a decade of experience. His bylines include Rolling Stone, Alternative Press, Substream Magazine, Nu Sound, and Under The Gun Review, among other popular outlets.
Share on: