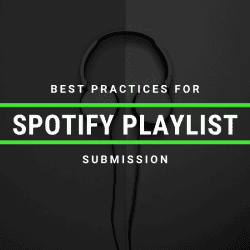 Spotify Playlist Submission: Best Practices
Spotify can be a complicated platform to use, and for those unfamiliar, it can be difficult to utilize the streaming service as the powerful marketing tool it can be and to secure a much-coveted playlist placement. Here we break down how to make Spotify work for you.
Guest post from Cyber PR
Spotify is a confusing platform for many artists who don't fully understand how to effectively leverage it. A lot of artists want to get on official Spotify playlists, but don't know how. Here's what you need to do:
First: You need to build a proper profile on Spotify
Make sure to include photos, social links and a 1,500 character bio. I break it all down here in my post on how to build a solid Spotify Foundation.
Second: You need to get your own listeners and followers
It is your job to bring your fans (even if your fan base is small) to Spotify. Ask your fans to pre-save tracks that are not released yet, or follow you on the platform as a general CTA (Call to action). This article walks you through 5 ways to build your audience on Spotify.
Why must you do this? Here are 2 HUGE reasons:
To appear higher up in Spotify's search algorithm: (This comes directly from Spotify's FAQ's) Search results in Spotify are based on a mix of current and all-time popularity—but vary from user to user based on personal listening preferences. The more streams and followers you have, the better your chances are to appear in searches.
Every time you release a new track, it will automatically go into the Release Radar for ALL of your followers. If you don't have any followers it won't be heard.
Okay, now that we got that out of the way, here are some Best Practices for Spotify Playlist Submission.
For this post I asked my 2 go-to Spotify experts Mike and Andrea who co-teach my Spotify Masterclass – LAB 11 to weigh in and provide a few pointers, as well as some concrete examples of solid and their assumptions as to why.
Use All The Real Estate You Are Given by Spotify Playlist Curators
You have 500 characters to use for your Playlist Submission. Take the time to think through a solid pitch and use as close to 500 as you can.
Andrea Young is the co-founder of DPG Promotions, our go-to company for Spotify Playlisting. We work on multiple projects as partners.
Here is her advice on exactly what to add to get Spotify Curators to notice your track
Make great music.
The truth is, we don't really know exactly what to add to a submission to get the curators to notice your track. They're not really transparent about their process, except to encourage everyone to submit their release at least a week in advance on S4A (Spotify For Artists) so that their Artist Profile followers get the track in their Release Radar email. Recently, Lizzy Szabo of Spotify's editorial team gave some insight into how she curates tracks, and mentioned that she will sometimes 'look at the pitch': "Sometimes we're going through our pitch tool and coming across artists. Maybe it's their first release, maybe it's their second release, and they have 500 monthly listeners. But something about them, the sound seems like it would be in line. I'll do a little bit of digging, look at their pitch, check on their Instagram and their vibe seems to be in line with Lorem. We'll go through it and put it in without any data." (from an article by Jacob Moore of Pigeons and Planes, "What Is Lorem? Inside One Of Spotify's Best New Playlists") Complex.com 12-11-19
What we do know is that unless you submit on Spotify for Artists (S4A), it's almost impossible to get the track considered for editorial coverage. I'm sure there are exceptions to this, but for the most part, you've got to submit to even have a chance to be heard.
We always tell artists and their teams to submit as early as possible, but a very last minute submission has resulted in editorial playlist features.
We recommend putting as much credibility as possible in the submission. What is there in your story, or about you as an artist, that is unique or powerful that can give you credibility? For example, did you open for Post Malone on tour, or did Ariana Grande sing background vocals on your track? Make a list of your best cred and then use it in the pitch. You are looking to get the editors to click on the link to your music, and give them enough info so that they want to dig further. Whatever you can say that can help that along is your goal.
You only have 500 characters to get the job done on Spotify. We really work to craft these submissions, and suggest that you and your team spend some time thinking about what data points you can include that can help get attention for your music. Describe the music, your path as an artist, collaborations, tours, marketing, and other key components of your career.
What Exactly To Write – Watch, Learn, & Emulate
Here are 2 submissions where the track ended up being featured on Spotify editorial playlists, and one that we edited / upgraded – but we'd be the last to say that it's our submission that did it, it's more about the music and what the curator is looking for at that moment, and hopefully the submission helps them move to listen and/or feature it!
EXAMPLE #1
XXXXXX XXXXXXXX is a country singer songwriter who brings a pop touch to her soulful sound. She's an LA girl now, but she attributes her country background to growing up in Arizona. She's recorded 2 CDs in Nashville, and is now working on a new EP in LA that's being produced by Avi Kaplan, formerly of Pentatonix. She's opened for Chris Bandi at Caesar's Vegas, Toby Keith at Coastal Country Jam in Cali, Bebe Rexha at Phoenix Pride, Ashley Monroe at The Hotel Cafe, andJason Aldean at CountryFest.
EXAMPLE #2
Known for his theme and music for one of Youtube's biggest channels, "XXXXXXXX", XXXXX XXXXXXXX has had 7 different #1 spots on the Hype Machine Top 50, and his music is some of the most used on podcast themes and outtros. His chillwave hip hop beats, electronic sound, and 'unpredictable percussive adds' have him likened to Tycho, Flying Lotus, Toro y Moi.
EXAMPLE #3
Original Proposed Spotify Playlist Submission (written by the band):
Straight ahead rocker about a cheating partner and what you'd like to say to them – best served with friends to sing along with the chorus. We are promoting all of our music with an ad campaign on Spotify, youtube and other platforms – artist is XXXXXXXX (our band, the account with Spotify for artists is under my name but the artist is the band)
Note: This submission is a total of 352 characters and Spotify allows 500 per submission.
Playlist Submission (upgraded by Andrea's DPG team)
The blistering rock sound on this track is what you get when you mix an Emmy winning TV director, touring metal band member, ski & surf instructor, and successful lawyer together who unabashedly embrace the energy of arena rock. From Copper Mountain, Colorado, the glue that holds them together is their desire to make the kind of classic hard rock that inspired them to become musicians. It's a straight ahead rocker best served with friends to sing along with the chorus. Full ad support.
Note: This submission is a total of 493 characters – get as close to the 500 allocation as you can!
Mike Warner, the author of Work Hard Playlist Hard and one of my favorite podcast guests of all time, shared a submission that (in addition to the song being solid) earned one editorial playlist add and one personalized editorial playlist add.
Accepted Playlist Submission (Date Night feat. Chris Robley – True North)
Love, just like the phone on which it's often sparked, seems to fall prey to planned obsolescence. Long after the club lights cool, after all the sweaty clothes come off, after a dozen broken hearts and a hundred bad decisions, you wouldn't fault a person these days for their suspicion of commitment. Then again, that might also be the moment someone's finally ready.
In "True North," Date Night and Chris Robley (collaboration) give props to magnetism that lasts.
Note: It was placed on this Editorial playlist – Pop Chillout and on this Personalized editorial playlist – Weekend Hangouts.
This really helps to drive home how important it is to spend 5 minutes submitting your song to the Spotify editorial team by submitting more than 7 days before release day (but we suggest a few weeks!).
Make Sure Your Spotify Playlist Submission is Tagged For Mood, Genre, & Instruments
During the submission process, you will also get to tag your song correctly for mood, genre, instruments used, etc. to make sure that Spotify delivers it to more listeners that are likely to engage. Metadata is key – feed the algorithm, friends!
Here's what Mike tells artists that ask him how to write a solid Spotify Playlist Submission pitch:
"Make me feel like I have listened to your song in less than 2 paragraphs. If you aren't good with words, find someone that is. Hand them a pen and paper, then play the song to them and ask them to write about it. You may need to try this with a few people to find something that aligns best with how you want your song to be represented.
If you are a producer and collaborate with a singer/songwriter, they are already good with words… ask them to attempt writing the pitch first before asking others.
If you are independent, don't mention the marketing budget. If you are established and investing significant money in promoting your release through social media, billboards, etc., then definitely include this at the end of your pitch (this was the case with Andrea's pitch above)."
We hope you found these tips helpful. If you would like to take a crash course on best practices for Spotify, join our LAB 11 (which is now on massive sale!) Musician's Spotify Masterclass, or take advantage of our sale and get all 3 – just choose the order bump at checkout!
Share on: