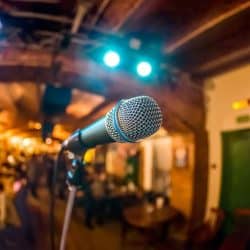 Tips For Artists Playing Bars
Bars and clubs can be great spots for artists to cut their performance teeth and get a feel for what playing live is like. Playing in such venues requires its own set of skills if you're hoping to engage the crowd and make some money in the process. Here we look at some key tips for making the most out of the experience.
In this latest piece on MusicThinkTank, contributor Maryn Mcdonnell shares some key tips for how artists can have a successful performance at their next bar or club gig.
"Focus on your genre, the type of gig and the venue. The point is to keep the crowd interested. If the crowd likes your theme, they will be more likely to stay and buy lots of drinks and food. Always remember that not everyone will like what you offer, so focus on the majority."
Share on: