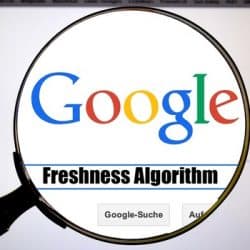 Understanding Google's Complex 'Freshness Algorithm'
Turns out Google's 'freshness' algorithm doesn't actually reflect what's newest, instead focusing on what's already trending on Google. So is it worth piggy backing onto popular content in order to draw attention to your website, or will that strategy backfire?
Guest post by Bobby Owsinski of Music 3.0
One way to build an audience is to constantly add new content on your website, but just having fresh content doesn't mean that Google will automatically take notice and increase your website's search ranking. Google's so called "freshness algorithm" may be looking for something else.
In fact, the freshness algorithm isn't looking for new content but content that reflects what's already trending on Google. It's not about promoting your recently published content – it's about promoting trending content. In other words it's about publishing what's relevant to users.
The conundrum then becomes, "Can I find something trending that applies to my website?" That can be tough in that content that may be fresh and trending still won't do you much good unless it's relevant to your site.
A good example might be that posting something about Ed Sheeran on your site could be completely out of context and might even hurt your search ranking. However posting a picture of you with Ed Sheeran at an event could fit perfectly if Ed happened to be trending at the moment.
Granted, chasing the freshness algorithm could be a bit like a dog chasing its tail in that it never quite can do it, and even it could it can't hold on for long.
That's why it's still best to concentrate on the basics first. An artist's website is supposed to be informational first and foremost. It should contain everything that fans, bloggers, playlist curators, or journalists need in terms of information and you and your music. This includes a bio, booking information, press info, upcoming gigs, music and video links, and contact and social info at the least.
Only at that point should you begin chasing the algorithm, because it will always remain elusive.
You can read more about Google's freshness algorithm here, but remember that the basic content must be in place before trying to feed it.
Share on: