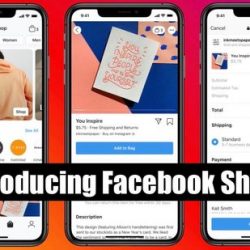 Facebook Finally Hops On eCommerce With "Shops"
Already a tech behemoth, Facebook has finally figured out a way to hop on the ecommerce bandwagon with its latest announcement that "Shops" will be the latest feature bringing online shopping to both Facebook and Instagram.
Guest post by Bobby Owsinski of Music 3.0
If you thought that Facebook couldn't possible get any bigger or more powerful you were wrong. The company has never quite figured out a way to participate in ecommerce until yesterday's announcement of "Shops," which will finally bring online shopping to both Facebook and Instagram.
According to the company, ""Facebook Shops make it easy for businesses to set up a single online store for customers to access on both Facebook and Instagram. Creating a Facebook Shop is free and simple. Businesses can choose the products they want to feature from their catalog and then customize the look and feel of their shop with a cover image and accent colors that showcase their brand. This means any seller, no matter their size or budget, can bring their business online and connect with customers wherever and whenever it's convenient for them."
This is a big deal for artists, bands and labels, as it will finally provide an easy way for fans to see and buy merch directly on Facebook and Instagram without having them leave the platforms, something that the company is loathe to have happen.
There was no distinct timetable announced for when the rollout might happen though. According to Facebook, "Starting today, we will begin a phased roll out of shops to all businesses globally on Facebook and Instagram Shopping. We will start with eligible businesses who use Instagram Profile Shops and will expand access over the next few months. Eligible businesses will receive an email when their shop is ready to start customizing."
Eligible businesses will be able to access a new Shop Builder platform, which will be an extension of the existing Facebook Page tools. From there, businesses will either be able to upload their product listings or connect to their existing ecommerce provider like Shopify, BigCommerce, WooCommerce, ChannelAdvisor, CedCommerce, Cafe24, Tienda Nube and Feedonomics to make products available for order.
Shops should make it easier to sell merch since it will easier to make it front and center, instead of making the fan search for it, then link off-site. The fewer the steps involved, the more likely a sale will happen, which can only be good for the bottom line at a time when it's so desperately needed.
Check out the video below for an overview. https://www.facebook.com/watch/?v=557995641521125
Share on: