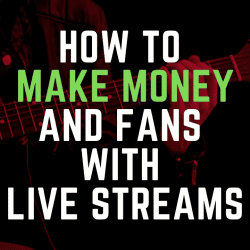 How To Make Money, Find Fans via Live Streams
Traditional live concerts show no signs of coming back any time soon, which means artists need to embrace the live stream and harness the marketing potential it provides, both in terms of making money, and new fans.
Guest post by James Shotwell of Haulix
As we enter the 'new normal' and adjust to life without concerts, musicians need to embrace live streams and the marketing power they provide.
There are very few things we miss about life before coronavirus more than concerts. Live music is a cathartic community-building experience unlike anything else our civilization has discovered, and many are reeling from its loss. We know we will be crowded in a sweaty venue again eventually, but the wait for that time feels eternal, which is why countless millions are turning to live streams to get their performance fix.
We will be the first to admit that live streams are nowhere near as fun or memorable as concerts. Performers often fumble with their equipment or meander from song to song with no real plan or purpose other than attempting to engage fans currently stuck at home under various coronavirus prevention measures. That said, some artists are finding ways to use live stream technology to their advantage, and that is what we want to focus on today.
Live streaming is a great way to make money and build an audience, but far too many musicians don't consider it as such. Many think it is a temporary means to fill a void that will be immediately abandoned as soon as touring resumes. The thing is, no one knows when tours will happen again or when fans will feel safe attending gigs. Fans, for the most part, like the access and safety live stream performances make possible. They also want to support the artists who are going out of their way to be present with their audience during these strange times.
In this episode of Music Biz, host James Shotwell explains how anyone can build their audience and earn money with live streaming. We also explore the importance of investing in your live stream efforts and why the current trend of digital content won't go away when the coronavirus pandemic ends.
James Shotwell is the Director of Customer Engagement at Haulix and host of the company's podcast, Inside Music. He is also a public speaker known for promoting careers in the entertainment industry, as well as an entertainment journalist with over a decade of experience. His bylines include Rolling Stone, Alternative Press, Substream Magazine, Nu Sound, and Under The Gun Review, among other popular outlets.
Share on: