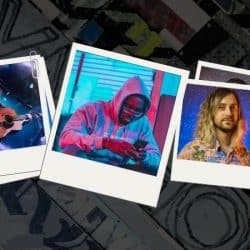 Which Songs Inspired You To Begin Making Music?
In this piece, we hear from the good people at Symphonic Distribution and learn which songs inspired them to pursue their career in the music business.
Guest post by Randi Zimmerman of the Symphonic Blog
Here at Symphonic, we're just as passionate about music as our clients are. Our team is made up of music lovers, concert goers, musicians, and artists alike. For this post, we picked the brains of the musicians in our midst to see what songs inspired them to do what they do. Here's what they said…
What Song Inspired You To Start Making Music?
Jorge Brea // CEO & Founder of Symphonic // Artist
"Josh Wink's "Higher State of Consciousness" makes it on pretty much anyone's list that is a fan of Electronic Music. It's an acid masterpiece (by acid, I mean the sound of course but if you are into that sort of thing, more power to you)."
"The song builds and builds and works great for fans of Breaks (which was me) as well as Acid House. Some people can be a bit taken back when the beat drops, but that truly is the best part. This song is literally one of the tracks that got me to love Electronic and in general, music."
Check out Jorge Brea aka Viro on Spotify
Emanuel Brown // Artist
"For me, the first song that really inspired me was 2 Pac's "do for love". I was just infatuated with how he crafted so many words and emotions together that could truly evoke another emotion and made me fall absolutely in love with the process of writing music."
Check out Emanuel Brown on Spotify
Wolves can Riot // Artist & Label Manager
"Although I am a die hard fan of Led Zeppelin and Hendrix and all that time of rock, this was the song that made it click for me."
Check out Wolves Can Riot on SoundCloud
Sean Davis // Symphonic's Associate Product Manager // Artist
"Hauntingly perfect. The bellowing, distorted bassline opening up into a klaxon sporadically. Pulling out of the relentless disco melancholy to a quick glittering hopeful uptick at the end only to be squashed by Alexis Taylor's vocals trailing into oblivion." *chef's kiss*
"This song showed me how great remixes can take on a life of their own devoid of the original song. Was I dinking around with my MicoKorg, inspired by The Prodigy's Liam Howlett before I heard this, of course. But it's important to separate my general love for dance music since I was a kid to the inflection point when I honed in my tastes and grew as a student of music in general."
Check out Sean Davis aka Yibn on SoundCloud
Kerry Courtney // Artist
"I remember being around 10 or 11 years old watching a pre recorded live concert on tv of John Mayer. He was significantly less popular than he is now. Watching him play "Neon" was unlike anything I've seen or heard from that moment. I believe that was the first time I thought "I wanna play guitar and sing for my career" with such a powerful intensity."
"So, while there are songs I love more from his discography, "Neon" kind of fueled the fire to my dream of being a singer/songwriter. (Listening to it now and getting inspired)"
Check out Kerry Courtney on Spotify
Share on: