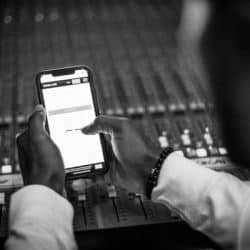 Best Practices For Changing Your Artist Name
Maybe as a result of legal issues, or because a name is simply offensive or damaging, changing your artist moniker is a difficult process that only gets harder the longer you exist as an entity. Here, we look at some of the best practices for successfully pulling off such a maneuver.
Guest post by Daniel Iammatteo of the TuneCore Blog
[Editor's Note: This article was written by Daniel Iammatteo, Content Specialist on TuneCore's Entertainment Relations team. Be sure to catch his article on choosing your release date!]
I'm often asked by artists or their teams the seemingly simple question: "How can I change my artist name?"
Unfortunately this doesn't yield a simple answer. Unlike updating a producer credit on a release (or other metadata updates that TuneCore can easily help you with), an artist name change presents unique challenges. In the words of a colleague of mine, think of your artist name as a birth certificate to your music; it is how people come to know and find your music in the DSP ecosystem and beyond.

On a technical level, the artist name is the way in which your music is mapped to stores. Each store gives your artist page a unique code, and when you change your artist name you also change that code – this creates a lot of work for you. After you change the name, you'll have to claim all of your artist profiles again, and rebuild your page stats and SEO (search engine optimization) from scratch.
The point I'm making here is that the longer you work on your career, and the more milestones you get under your belt, the more value your artist name has (algorithmically and editorially). For this reason, changing your artist name may be more like throwing the baby out with the bathwater.
This being said, there are real life situations when an artist name change simply can't be avoided. In my experience, this most often appears as an unintentional legal infringement, or the name becoming closely associated with an entity that is damaging or socially offensive (as we have seen in the cases of the bands formerly known as "The Dixie Chicks" and "Lady Antebellum").
If you're one of the very special cases where you absolutely must change your artist name: Keep in mind that each store has their own parameters and policies on this particular release change. Some are quite transparent, such as Spotify's publicly available information on this subject, other stores have hardlined this rule and this means getting pre-approval from them directly. Additionally, release updates need to be ingested by each store individually, meaning one store may process the update quicker than another (or they may not get it on the first try).
Now that all the info is on the table, you have two main options:
OPTION 1:
Re-upload the original release with updated metadata/artwork. For this option, you will need to get pre-approval from Apple for the name change. If you cannot get pre-approval, then you must re-upload the release and select to deliver it to all non Apple/iTunes stores.
*All new releases can be delivered to Apple/iTunes with the new artist name, only previously distributed releases need special approval.*
Upload the original audio files and ISRCs

This will ensure proper track-linking at Spotify so stream counts are not lost

Enter the NEW artist name in the metadata
Upload updated artwork to match the new artist name
Note the original release date
Do not select to distribute this release to Apple/iTunes (unless you have obtained pre-approval from them directly)
After the new version of this release has gone live, request a takedown of the original release (with the prior artist name)
OPTION 2:
Re-release your music with a fresh mix and master. Another option you have for changing your artist name is to have your audio files remixed, remastered and redistributed under a new name. This option means new ISRCs will be generated for the audio files, and all stream counts will start from scratch. One "pro": this option does not require any store pre-approvals.
Upload the newly mixed and mastered audio files as a new release

This will classify the music as a new release and new ISRCs will be created
This option means all prior data will stay with the previous release – this new release will start from scratch.
The new mix needs to be distinguishable from the original release

Enter the NEW artist name
Upload updated artwork to match the new artist name
This release can be distributed to all stores (no pre-approval needed)
After the new version of this release has gone live, request a takedown of the original release (with the prior artist name)
---
Undertaking an artist name change is a lot of work. Regardless of which option you choose you will have to change the artwork of all your catalogue music, your artist bios in stores and databases, social media accounts, websites, email addresses, reclaim all artist profiles on DSP platforms, and other miscellaneous tasks that will surely pop up along the way.
As a DIY artist, you constantly juggle creative decisions and business decisions, and your artist name is a perfect example of that duality. If you're currently considering changing your artist name, I hope that you now feel informed to confidently make that decision for yourself.
Share on: