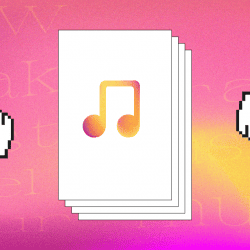 How To Create An Instagram Reel Using Your Music
In an effort to gain ground on TikTok, Instagram recently rolled out its new feature, Instagram Reels, which allows users to create 15-second videos cut to music. While established artists can let the fans come to them, up and coming musicians are advised to prompt their audience by creating videos featuring their music themselves.
By Chris Robley from CD Baby's DIY Musician Blog
Instagram has launched its answer to TikTok: Instagram Reels.
Your fans can now create 15-second "Reels" that are cut to your music.
An established artist will have fans that use that artist's music in Instagram Reels out of the gates. If you're an emerging musician though, you might need to prompt your audience to create videos with your music. That means you should make your own first!
Here's how to "reel" in fans with Instagram's new feature:
1. Think of something that will grab people's attention and be fun to share, such as a lip-sync or dance contest.
2. Open up your Instagram Camera and select Reels:
3. If you want to shoot a video to an existing track, click the notes and choose your song (Is your music not on IG yet? Sign up with CD Baby and we'll deliver your songs to Instagram!)
4. Slide to find the right 15 seconds.
5. The pink dot will show you the most popular snippet, but you can choose whichever audio segment you like:
6. If you're verified with Musixmatch, your synced lyrics may also appear as a reference.
7. Add a filter or AR effect if desired:
8. Then shoot a video, either all at once or one clip at a time, until you reach 15 seconds (clip bars will display at the top of the screen).
9. Video can be shot in fast or slow motion by adjusting the speed before pressing record:
10. You can edit the length of every clip as you go to get the timing just right:
11. Use the Align tool (or the "ghost" tool) to frame your subject correctly from clip to clip:
12. Add text or stickers to the whole video, or to certain sections.
13. Write a caption that encourages your fans to make their own video in response, include some relevant hashtags, and then publish!
You can post your Instagram Reel to your profile feed, to your Stories, or both. Reels will also show up under the new Reels tab on your profile, similar to your IGTV content.
How your Reels can help you reach more people:
Reels that show up on the Explore grid can be watched by anyone on Instagram
Reels will be selected based on someone's interests and what else is in their Explore grid
Reels will only feature content marked as Reel (so your Stories, Lives, or IGTV posts will not show there)
You'll need the latest version of Instagram app to create Reels:
iOS: Update app to v152 in the App Store
Android: Download and install v152 in Playstore
Want people to find your music when they search in Instagram Reels?
Distribute your music with CD Baby. Instagram is included, along with TikTok, Spotify, Apple Music and more than 150 other platforms.
Be sure to opt in for our Social Video Monetization program.
Is your music already on Instagram for use in Stories? It will automatically be available for Reels too!
Share on: