How YouTube Sessions Grow Careers: COLORS, DSCVR, NPR & More
YouTube sessions along with outfits like COLORS x STUDIOS, Vevo DSCVR, and NPR Tiny Desk can have a significant impact on the growth of an artist's social media following, as well as their career overall. Here, we break down the numbers these sessions
Guest post by Michelle Yuen from Chartmetric
Title GIF Image: Nao – Orbit | A COLORS SHOW
---
Editor's Note: #blacklivesmatter is a constant vigil on the road toward human equality. In our small part to contribute to that, Chartmetric is spotlighting great Black artists monthly, in the context of what we normally do: nerd out on music, data, and culture.
Our first installment is through the lens of live YouTube performances, and highlighted here are many dynamic self-identified Black acts such as American artist Ari Lennox, British indie rocker Bakar, American-born British-Jamaican Celeste, American band Phony Ppl, American actor/singer Leslie Odom Jr., and Ethiopian-American singer Mereba. Also present are legendary Grammy Award winners: American R&B singer Raphael Saadiq and American producer The-Dream.
"'Black people and their contributions should be celebrated and praised all year round, because without the influence of these creatives, the atmosphere of the arts would not be what it is today — not as groovy, not as funky.'" – Phony Ppl, via Billboard (February 2020)
Enjoy Michelle & Shashank's work below.
---
Written by Michelle Yuen // Data Visualization by Shashank Chaudhary
Given YouTube's popularity as a site for music discovery and its significant impact on artist careers, the influence of its music channels on artist development merits a deeper investigation. With the world accustomed to COVID-19 as a standard part of life in 2020, YouTube as an alternative to live music assumes even greater importance.
For this exploration, we covered various 2019 uploads of R&B artists on YouTube music channels COLORS, VevoDSCVR, and NPR Music (Tiny Desk) and looked at how the performing artists' Spotify and Instagram follower numbers developed in the weeks before and after each feature. All three platforms have featured mostly emerging acts who are at similar stages in their careers, allowing us to better isolate and compare the effects of the channels alone.
To limit for genre effects, we focused on the R&B space, as it seemed to have the most crossover across the three shows. To account for Instagram's nature as social media, we examine the posting (or not) of the artist about their various performances, which is an ability absent on Spotify. We also realize that the small sample sets (less than 15 artists in any show) can't prove generalizability, but by learning about the artist-level nuances, there can be useful takeaways from a career perspective.
COLORS x STUDIOS
COLORS: WHAT IT IS
In 2016, COLORS x STUDIOS began their mission of creatively and emotionally connecting people around the world through the unifying power of diverse and exceptional talent. The music platform's tasteful curation of emerging musicians and unique monochromatic set designs — plus, its core values of quality, empathy, and keeping the spotlight on the artist — has since made it a go-to music and culture discovery channel for millions of people worldwide. To date, COLORS has garnered nearly 1.5 billion YouTube channel views and featured the likes of global superstar Billie Eilish and R&B songstress H.E.R.
Note: Unlike DSCVR and NPR, COLORS has its own Spotify profile similar to its YouTube channel, with two out of its four public playlists themed COLORS' Weekly Releases and COLORS – ALL SHOWS.
COLORS: ARTIST STORIES
Below is a chart comparing Spotify follower counts (horizontal axis) and the percentage of follower gain (vertical axis) for COLORS artists. The Os indicate each artist's follower change the week before their performance, and the Xs the week after it.
Simply speaking: If the Xs are above the Os, then the artist experienced a "lift" in their follower counts,meaning the performance seemed to help gain them more followers than if they didn't do it at all.
Perhaps unsurprisingly, artists appear to gain streaming fans at a faster rate after they're featured on COLORS. Nine out of the 10 artists experienced a greater increase in their Spotify following 7 days later, averaging a 3.5 percent gain. In particular, those with the smallest followings saw the largest boosts. Celeste and Bakar led the way at 14 percent (2.2K followers) and 6 percent (2.6K followers) the week after. While this was a huge win for both of these emerging artists, higher percentages are also easier to achieve when fan bases are still small.
"COLORS was the moment that changed my whole career." – Mahalia, via TIME (November 2019)
Ari Lennox, Mahalia, and Crush each have large followings, making their gains post-COLORS look low, yet these percentages translate to a substantial addition at 3 percent (5K), 2.5 percent (5.75K), and 1.25 percent (4.5K), respectively. For Ari Lennox and Crush, that's 1.5x the number of followers they each gained a week pre-upload — an especially impressive point for Crush, who, from our research, seems to have had no other events at the time.
BJ The Chicago Kid seems to be an outlier with regard to the effect of COLORS on his Spotify follower base: It was virtually unchanged (0.75 percent / 1.75K) from the 7 days prior. However, the soulful artist had already been on the road for a while advertising his third studio album 1123 (released July 26 on Spotify) and was the only one of the 10 performers to appear in multiple high-profile engagements in the week after COLORS. It's also possible BJ's Aug. 12 COLORS upload was overshadowed by his same-day national anthem performance and ceremonial first pitch for the White Sox vs. Astros baseball game, followed by his Aug. 15 mashup of "Time Today/Champagne" for Jimmy Kimmel Live!. To get the COLORS lift that the others all experienced, it could have been worth timing his appearance when it wouldn't have gotten lost in the marketing mix. Having said that, the performance has accrued 682K YouTube views as of writing, so the value of these performances is just as much about the long-term and not just about a short-term spike.
The COLORS aesthetic and Instagram's visual virality is a match made in heaven, and it's apparent in this dataset. She may have gotten a significant boost (8.5 percent) in followers on Spotify, but the COLORS effect is much more significant (46 percent)for Celeste's Instagram, the least developed profile among the bunch at the time. The graph above is heavily skewed vertically due to her increase in Instagram followers the week following her COLORS appearance — a relatively huge 45 percent gain (7K followers), compared to her week prior (1 percent gain, or 150 followers).
In absolute terms, Bakar outshone Celeste with 8K+ more followers (13 percent gain) after his own performance, the highest absolute addition out of all the artists. However, it's worth considering whether his relatively uncluttered Instagram feed of only 47 posts since May 7, 2018, had anything to do with that. Less is more, right?
Crush's absolute metrics skew the graph horizontally, as he had by far the largest number of existing followers (1.75M) at the time of performance. This made his percentage changes seem relatively negligible (less than 1 percent), but he gained almost 11K Instagram fans in his post-COLORS week. That's 2.4x what he gained in the week prior. Since Crush also appears to have had no other activity on Instagram in the two weeks before and after his post, his case makes for an even stronger demonstration of the tangible benefits of a COLORS showcase — no matter how big or small an artist's initial following.
COLORS: TAKEAWAYS
Artists seem to be the most active in promoting their COLORS performances on Instagram (as opposed to DSCVR or NPR Tiny Desk). Other than Ari Lennox, a promotional post (or posts, in the case of Phony Ppl), can still be found on each artist's Instagram profile. For the majority (eight out of 10) of the artists, COLORS appears to be quite beneficial to their social media following in helping to generate fan excitement.
Across the board, regardless of career phase, artists featured on COLORS generally saw a significant uptick in both their Spotify and Instagram followings. Gains ranged from a -222 to 1.8K Spotify follower COLORS "lift" the week after, translating to a median lift of 1K more fans. Instagram saw a wider range: a -306 to 8.2K Instagram follower COLORS "lift" the week after, translating to a median lift of 2.5K more fans. Though our sample size is small, COLORS seems to demonstrate a positive effect, making it a great platform for emerging acts to shine.
Vevo DSCVR
DSCVR: WHAT IT IS
Vevo DSCVR is part of the larger Vevo video hosting service initially created in 2009 as a joint venture between Universal Music Group (UMG), Sony Music Entertainment (SME), and now-defunct EMI, though Warner Music Group (WMG) is now a minority owner as well. Vevo has its own YouTube channel, which was well known for being the official music channel for the entire catalog of the three major labels. DSCVR joined YouTube in 2013 as a place to feature live performances of the latest rising artists, and it's since gained a total of nearly 187 million YouTube channel views. Though its channel is older than COLORS', it wasn't until May 2018 that it started taking on a visual aesthetic similar to the latter channel. Careful curation of a pair of performances per singer has led DSCVR to introduce a number of brilliant new acts, including Maggie Rogers and Duckwrth, to its wider audience.
DSCVR is similar to COLORS in that it also champions emerging artists, but its "Artists to Watch" initiative takes things a step further. Each year, this campaign highlights 20 artists Vevo believes will break through in the following year, and its list looking to 2020 included four of the artists we examine below (Arlo Parks, Cautious Clay, Celeste, and Layton Greene).
DSCVR: ARTIST STORIES
DSCVR does not have as large a following as COLORS, which may be why seven out of the nine DSCVR artists above saw less than a 1 percent Spotify follower lift after their uploads on YouTube. The biggest streaming-side winners were DaniLeigh, Omar Apollo, and Ari Lennox, showing Spotify follower lifts of approximately 500, 925, and 525, respectively, the week post-performance. In absolute terms, this DSCVR lift equalled more than 3K Spotify followers for each of those three artists.
Not all artists exhibited a post-DSCVR Spotify follower increase though. Celeste and Kiana Ledé had less than 2 percent decreases after their respective uploads, and Layton Greene barely showed a positive lift (less than 0.2 percent). Interestingly, all three artists weren't on tour around the time of their DSCVR debut, whereas nearly everyone else was. Whether DSCVR really influenced the rate of follower increase or it was just all of the touring and events most of the other artists were doing at the time is difficult to tease out, but it seems like it wouldn't hurt to concurrently feature on this YouTube music channel.
There seems to be a relatively negligible DSCVR effect on Instagram followers, compared to COLORS. As one of five artists (Arlo Parks, Cautious Clay, Celeste, Kiana Ledé, and Layton Greene) who still has a live post about DSCVR on their Instagram profile, Celeste was the only one who showed a substantial Instagram follower gain (doubled her previous week's growth to 2.7K more followers). Two (Ari Lennox and DaniLeigh) of the nine artists examined saw significant lifts post-performance (5.7K and 5.4K more Instagram followers, respectively), though any DSCVR-related posts that might have been on their profiles have now been deleted.
DSCVR: TAKEAWAYS
Overall, DSCVR appears to benefit artists more consistently on Spotify, but it also seems to either be a non-factor or a highly erratic factor for its artists' Instagram followers. This small DSCVR dataset yielded a range of -311 to 925 more Spotify followers added, translating to a median lift of around 250 followers, and -213 to 5.7K more Instagram followers added, translating to a median lift of around 510 followers. The Vevo-driven initiative may also have its "Artists to Watch" campaign, but if DSCVR is ever inclined to thrive on Instagram like COLORS has, it has a long road to go.
It should also be noted that six of the nine artists examined are signed to Universal, marking this sample of DSCVR artists a mostly major label one — which makes sense, given the channel's company ownership. For now, DSCVR lives up to its name as a solid platform for discovery that helps expose fans to the newest rising acts, but the artists themselves may not immediately see a significant numerical increase in their streaming and social media followings.
NPR Music Tiny Desk Concerts
NPR TINY DESK: WHAT IT IS
NPR Music is the eponymous name of the official YouTube music channel for National Public Radio, and it boasts more than 1 billion YouTube channel views, thanks largely to its Tiny Desk Concerts. Tiny Desk is a series of intimate unplugged video performances hosted and recorded live behind the desk of All Songs Considered host Bob Boilen in Washington, D.C.
While slightly different to COLORS and DSCVR in that it features artists of all career stages, from the emerging Sudan Archives to legends Sting and Shaggy, the Tiny Desk Concerts series was similarly created with a desire to sincerely focus on the artist and the authenticity of their music. Its sole requirement that all equipment must fit behind the desk has helped NPR Music's Tiny Desk remain true to those roots today.
NPR TINY DESK: ARTIST STORIES
In contrast to COLORS and DSCVR, only four (Phony Ppl, Raveena, Nao, and Masego) of the 13 artists examined in this dataset saw much of a difference in their Spotify streaming growth after they were featured behind NPR's Tiny Desk. Of this handful, Phony Ppl had the highest relative post-performance lift at 1.5x (around 900 Spotify followers) their prior week's gain. Masego won out with the largest absolute gain out of all the artists, with almost 2K more Spotify followers following the performance.
Having said that, NPR Tiny Desk's effect on Spotify followers (on this group, at least) seems to be nil. With a third of the artist group losing followers, a third gaining, and a third not showing much of any effect, any inter-platform connection is all but lost in our two-week analysis.
At first blush, the NPR effect on Instagram appears mostly negative (Xs below the Os)! But it needs more explanation: NPR premieres the performance on their own website for a full week before uploading to their own YouTube channel. When most of the artists we've examined posted about their feature on Instagram, they all linked fans to the NPR website. Since our data is centered on the NPR YouTube upload, we're simultaneously looking at a two-week measurement of any NPR website Instagram effects. Hence, in the social media-addled world we live in, a second week drop-off in followers is completely reasonable.
Knowing this, Nao, Masego, and Ari Lennox were the only three of the 13 artists that saw a sustained lift in their followers the week after the YouTube upload. At face value, this is pretty unexpected considering at least one Tiny Desk post can still be found on almost all 13 Instagram feeds.
But what the delayed YouTube upload window highlights is that the NPR Tiny Desk audience might gravitate toward the initial NPR website premiere, while the YouTube upload is more of a long tail. Raveena and BJ The Chicago Kid were the only ones who posted about both the NPR website and YouTube channel uploads, yet they also had the "steepest falls" in Instagram follower gain 7 days after the YouTube post. But another way of looking at it is that their initial premiere week was so fantastically successful that it was a hard act to follow!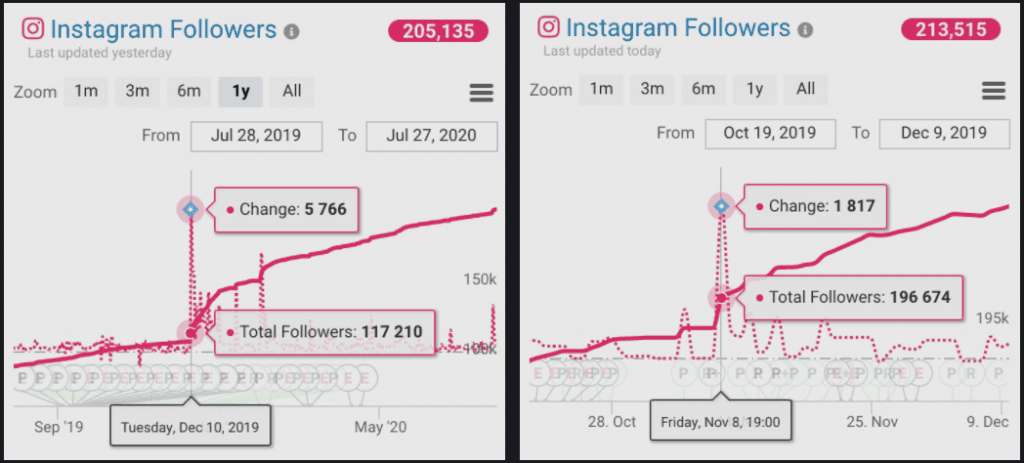 Raveena's "decline" was the most drastic, as she went from a 14 percent gain to a 7 percent gain, but together, those two weeks amounted to more than 24K additional Instagram followers, setting her on a career-changing trajectory that has still not stopped as of July 2020. BJ The Chicago Kid experienced a smaller "decline," but added more than 3.4K followers in that same week, a rate much higher than what his profile was accruing before.
Masego was the only artist whose sole NPR post was on the same day as his performance was uploaded on YouTube. His "link in bio" likely linked to YouTube rather than NPR's website. Whether this was advanced planning or pure chance, Masego's scaled back approach gave him an Instagram follower lift of 10K from the gains of the week prior, which is still a huge boost even though he already had the third highest Instagram following at the time. His lack of concurrent outside engagements or other events makes a stronger case that the mobilization of his Instagram fanbase for only the second YouTube upload served him well. It also suggests that his gains came from his own self-promotion and Instagram algorithmic effects, rather than organic discovery from NPR's website.
NPR TINY DESK: TAKEAWAYS
Zooming out, recall that the following numbers are skewed because of the above "dual upload" complications. For the group, Spotify follower lift fell in a range of -179 to 2K more fans, translating to a median lift of around 182, whereas Instagram follower lift was in a range of -6.8K to 11.2K additional fans, translating to a median lift of around -492. It's important to remember that the initial NPR website upload is really where the magic happens for the artists gracing its office stage.
COLORS and DSCVR might be better curated to showcase emerging acts, but a feature on NPR's diverse platform could still aid social media followings, potentially regardless of career stage. It's also worth considering whether NPR Tiny Desk appearances have an outsized benefit for more established acts on Spotify, but with the current varying figures and small sample size, that'll have to remain a question for further exploration.
YouTube Sessions and the Digital Live Experience
Technology has always played a central role in evolving the music industry, and our preliminary analysis shows that there's still optimism to be found in combining digital visuals with recorded live music. For established acts, digital live sessions may at least help maintain, if not deepen, fan interest. Emerging artists can take full advantage of these online performances to really expand their reach and audience awareness in order to build and solidify the fanbases that will help them grow.
Of the three music channels, COLORS is by far the most well-rounded. Its own strong presence on both Spotify and Instagram seems to immediately benefit rising artists, regardless of their career development or external engagements, by helping them convert large numbers of streaming and social media fans. DSCVR acts as more of a supportive platform for emerging exposure, as new artists featured on the major label-owned channel are more likely to see a gradual increase in their Spotify following if they are also on tour. While its social media game isn't as strong as COLORS', being marked as one of DSCVR's "Artists to Watch" could also help signal fans to stop by and check out the artist's Instagram. NPR's broader showcase of both established and emerging artists means that its platform may not be as helpful for new acts, who could be overshadowed by the more popular names hosted behind the Tiny Desk.
What unites COLORS, DSCVR, and NPR is their focus on supporting music and helping bring talent straight to fans' screens. But strategy is important. Spacing out digital live sessions so they don't get lost amid other marketing efforts would go a long way toward maximizing the benefits of these channels, making it both easier for potential followers to discover the artist and also more exciting for existing fans. Case in point: Taylor Swift hasn't been that active on her socials or participated in many events in the past month, but her sudden late July 2020 release of her latest album Folklore has already broken several streaming records. While emerging artists won't get the same dramatic boost from a feature on COLORS, DSCVR, or NPR, there are solid lessons to be learned here as well.
Regardless if it's at home through a screen or in a venue packed full of people, the live experience is an important pillar of music and it is here for good. YouTube has capitalized on visual live music recordings for more than a decade, and Facebook's upcoming move into the premium music video space only exemplifies the marketing value of this medium. As the technology continues to develop, it's necessary that the industry continues to look out for — and understand — the best digital methods to continue strengthening connections between artists and fans, particularly in this period of social distancing and travel restrictions.
---
Subscribe to have more insights delivered to your inbox when we publish. You can also share your own insights with us on our socials.
Share on: