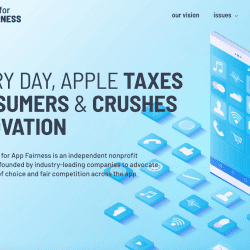 Spotify, Deezer, Epic Games Launch 'Coalition For App Fairness' In Challenge To Apple's App Policy
Unhappy with Apple's controversial policies surrounding third-party use of its App Store, thirteen music, gaming, and content distribution companies have joined forces to form the Coalition for App Fairness (CAP) in hopes of leveling the digital playing field.
Guest post by Emmanuel Legrand of the Legrand Network
A group of thirteen companies active in music, gaming, content distribution and software have joined forces to create the independent non-profit organisation Coalition for App Fairness (CAF), to ensure a level playing field and fairness in the dissemination of applications via app stores such as Apple App Store or Google Play. "As enforcers, regulators, and legislators around the world investigate Apple for its anti-competitive behavior, The Coalition for App Fairness will be the voice of app and game developers in the effort to protect consumer choice and create a level playing field for all," said Horacio Gutierrez, Head of Global Affairs and Chief Legal Officer at Spotify. The CAF plans to "advocate for enforcement and reforms, including legal and regulatory changes, to preserve consumer choice and a level playing field for app and game developers that rely on app stores and the most popular gatekeeper platforms." It added: "Given the widespread use and importance of apps, it's essential that all apps can compete fairly in order to drive innovation and ensure that the benefits of digital technologies are enjoyed by everyone." A dangerous new normal
One of the key issue is Apple's 30% fee applicable on digital products, which is then dropped to 15% after a full year of subscriptions. According to The New York Times'smember of the editorial board, GregBensinger, the fact that Apple can lower the commission fee "raises the question of how Apple can justify the higher fee if 15% is enough to pay for all the things Apple says it supplies app developers." The newspaper said that while Apple does not disclose its revenues from App Store commissions, estimates put the figure in the $15-19 billion range. A former App Store executive was quoted in The Times saying that, "we're realising that 30% is way too much," and that the commission should be closer to 3%.
"We have come to believe Apple has created a dangerous new normal, allowing it to abuse its monopoly power through punitive fees and censorship that stifles technological progress, creative freedom, and human rights," said Protonmail CEO Andy Yen. CAF founding members include: Basecamp, Blix, Blockchain.com, Deezer, Epic Games, the European Publishers Council, MatchGroup, NewsMediaEurope, Prepear, Protonmail, SkyDemon, Spotify, and Tile. Adopting fair rules
The organisation has come up with a 10-point manifesto:
1 – No developer should be required to use an app store exclusively, or to use ancillary services of the app store owner, including payment systems, or to accept other supplementary obligations in order to have access to the app store.
2 – No developer should be blocked from the platform or discriminated against based on a developer's business model, how it delivers content and services, or whether it competes in any way with the app store owner.
3 – Every developer should have timely access to the same interoperability interfaces and technical information as the app store owner makes available to its own developers.
4 – Every developer should always have access to app stores as long as its app meets fair, objective and nondiscriminatory standards for security, privacy, quality, content, and digital safety.
5 – A developer's data should not be used to compete with the developer.
6 – Every developer should always have the right to communicate directly with its users through its app for legitimate business purposes.
7 – No app store owner or its platform should engage in self-preferencing its own apps or services, or interfere with users' choice of preferences or defaults.
8 – No developer should be required to pay unfair, unreasonable or discriminatory fees or revenue shares, nor be required to sell within its app anything it doesn't wish to sell, as a condition to gain access to the app store.
9 – No app store owner should prohibit third parties from offering competing app stores on the app store owner's platform, or discourage developers or consumers from using them.
10 – All app stores will be transparent about their rules and policies and opportunities for promotion and marketing, apply these consistently and objectively, provide notice of changes, and make available a quick, simple and fair process to resolve disputes.
CAF members invite stores to "voluntarily choose to adopt and follow similar principles. But we know from experience that self-regulation is not enough and that new laws and regulations are required in this case. The principles serve as a blueprint for modern laws and regulations and the Coalition will advocate for them with governments around the world."
Share on: