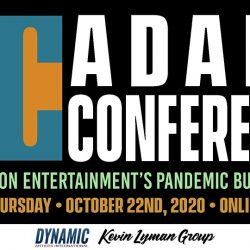 ADAPT Conference: A Must-Attend Digital Music Event
As hopes of returning to normal any time soon have faded for the pandemic-riddled music industry, the ADAPT conference aims to highlight those industry professionals who have been resourceful enough to find success in these challenging times.
Guest post by James Shotwell of Haulix
The team behind Warped Tour and other industry-changing events are back with a star-studded digital music conference.
In March of 2020, the COVID-19 pandemic brought the entertainment industry, live events, and much of the world's economy to a grinding halt. The entertainment industry faces the reality of being the first to shut down, and the last to reopen major revenue streams. Ideas of "going back to normal" have faded, and businesses are facing tough decisions. The ADAPT Conference aims to highlight professionals who have found success through these times, as well as provide resources for those searching to learn how to do it themselves, collaborate, and adapt to our new reality.
The one-day ticketed event will take place on Thursday, October 22 online via Whova Conferencing App, and will be broken down into conversations and 90-minute classes curated and taught by entertainment business leaders including Kevin Lyman (Vans Warped Tour), Trevor Swenson (Dynamic Talent International), Joel Madden (Veeps + MDDN), Brian Rucker (Twitch), Eric Tobin (Hopeless Records), and more. Classes and topics will include Live Streaming in the age of COVID-19, Inside the Label's Mind, Socially Distant Live Shows, and more.
EVENT INFO:
WHAT: The ADAPT Conference
WHEN: October 22, 2020
WHERE: Whova Conferencing App (Link provided through Eventbrite)
TICKETS: https://adaptconference.eventbrite.com/
Industry Professionals: $149
Industry 4-Pack: $400
Students: $49
Want even more music business programming? Try our Haulix LIVE! series. The next event takes place on October 15 with the SRO PR team.
Share on: