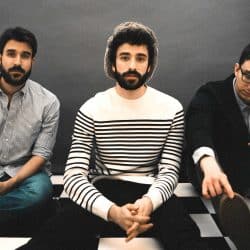 AJR Brothers Jack And Ryan Discuss 'Bang,' Concert Livestream, Tour Tips
In this piece, Jack and Ryan – two thirds of the sibling band AJR – chat about the importance of writing bad songs, tour tips, and successfully pulling off livestream shows.
Guest post from Berklee Online's TakeNote
AJR is comprised of three brothers—Adam, Jack, and Ryan Metzger. Their first initials are where the name comes from. Their music career began on the streets of New York City, where they would busk together for hours at a time for years. The two brothers who take part in this interview—Ryan and Jack—say that years of trying to get people's attention off the streets was formative to their work ethic and the constant need to one-up themselves in songwriting and their live show.
"Writing a lot of bad songs, it's really just a totally okay thing to do," says Ryan. "It's frowned on a lot, especially now in a culture where everybody's interested in going viral RIGHT NOW. Like, 'Wow, this is the first song I ever made and it went viral on TikTok!' Okay, but now you don't have any of the tools to make a follow-up. … Us writing probably a thousand bad songs before 'I'm Ready' has equipped us to fail well, ya know, when we're writing songs now."
"I'm Ready," AJR's breakout hit came in 2012. The band credits the success of the song in no small part to Sia, who was one of many musicians they admired that they sent a link to, out of the blue when "I'm Ready" was ready. Sia also hooked them up with their current manager, Steve Greenberg.
The Metzger brothers said "I'm Ready" becoming a hit was misleading in a way, because subsequent success didn't immediately follow. So they regrouped and came back stronger with more personal statements in their lyrics and experimental production techniques.
The year 2020 has been a big one for AJR, starting with a "Bang," their first single of the year, which they recently performed on a float at the Macy's Thanksgiving Day Parade.
As far as what they are thankful for, the brothers discuss gratitude for their parents, especially their father, who is a huge music fan, but doesn't quite have the musical gifts his sons do.
"He's been playing the drums for 30 years, and he's as good as he was on the second day he started playing," laughs Jack.
They'll be capping off the year with an event called One Spectacular Night, which they are billing as an "immersive concert livestream."
Check out the trailer below.
For ticket information on One Spectacular Night, visit the AJR website or onespectacularnight.com
Share on: