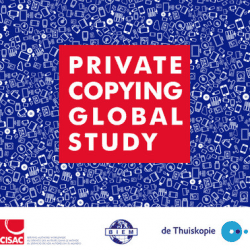 EU Private Copying Levies Pay Rightsholders $1.2B, US Pays $1M (That's not a typo…)
Europe is leading the world in the implementation of a private copying levy system – the copying music to CDRs or a hard drive, for example – which delivers significant revenue to artists and rightsholders.
Guest post by Emmanuel Legrand of the Legrand Network
Private copying levies accounted for over a billion euros in revenues for rights holders around the world in 2018, according to a recent study 'Private Copying Global Study 2020', produced by the International Confederation of societies of Authors and Composers (CISAC), in partnership with BIEM, the international organisation representing mechanical rights societies, and Dutch society Stichting de Thuiskopie.
Private copying levies are in place in a number of countries to compensate rights holders for the copying of copyrighted material within the private environment of content users. The levies can be applied of blank media such as CD-R, but also memory sticks, hard drives, TV boxes, smart phones, among others. The levies can be set by the states or through negotiations between stakeholders.
"If a private copying levy system operates effectively, it can provide a substantial source of revenue for rights holders. Furthermore, the importance of levies is increasing in the face of widespread copying on digital media and the growing popularity of mobile devices with large storage capacities," reads the report.
Global collections of private copying levies for all rights holders amounted to €1.046 billion, up 5% year-on-year, of which €367m were allocated to authors, representing 3.8% of global authors' collections.
Europe, excluding the UK, which does not have provisions for private copying, is by far the largest source of private copying income, with 90% of total collections. Germany and France are the largest contributors with respectively €332.5m and €277.5m collected in 2018, or 60% of total collections.
Africa is the second largest region in terms of collections, followed by Latin America, Canada-USA and Asia-Pacific. In the two latter regions, collections are virtually non-existent.
The report insists on the importance of private copying in revenue mix of countries that have a strong and efficient system, supported by laws and a good network of collecting societies, in particular in Europe. The report is intended "as an information tool for governments and policy makers, a reference for negotiations on fees and a source of data."
"Private copying levies are an important source of income for rights holders, with tremendous potential for growth," said CISAC Director-General Gadi Oron. "Our challenge is to promote the legal, enforcement and operational environment that would support further growth in this area. The new report offers invaluable insight and important guidance to decision makers for unlocking the economic potential of private copying levies, to the benefit of local creative communities."
The 2020 Global Study combines and extends two previous reports, by Stichting de Thuiskopie (International Survey on Private Copying – Law and Practice 2016, in collaboration with WIPO), and by CISAC (the 2017 Global Private Copying Study).
 "Private copying has always been a key concern of BIEM members," said BIEM President Georg Oeller. "Today's publication is the result of a good cooperation between three complementary organisations in the defence, diffusion and acknowledgment of private copying around the world. We hope this report will help in further developing the scope of private copying, in terms of territories and equipment concerned, at the benefit of the creators by raising awareness of the authorities."
Added Hester Wijminga, Director of Stichting de Thuiskopie: "In 1991 Thuiskopie started compiling information on the existing private copying systems in the world in order to learn and share best practices in collecting and distributing private copying remunerations on behalf of rights holders. Now, so many years later, we are very pleased that in partnership with CISAC and BIEM we are able to present a global report on private copying. Sharing our knowledge and combining our expertise have resulted in the most extensive and complete work on private copying yet to be published."  
This study examines the copyright laws of 194 countries in 5 continents and classifies, for each continent, the countries under four categories, from the lowest level of development to the most developed:
  • Countries without a private copying exception;
  • Countries with a private copying exception but without a remuneration system;
  • Countries with a private copying remuneration system but without collection and distribution mechanisms;
  • Countries with a private copying remuneration system and collection and distribution mechanisms
Here's an overview by continent:
> Europe  Total collection in 2018: €1,019m
 Europe is the world leader in collections from private copying levies, which exist in 21 of the 27 EU member states, as well as in eight of the other European countries introduced in the report. Only the United Kingdom and Monaco have no private copying exception in the law. The remaining European countries have an exception but have not (yet) introduced levies and/or a corresponding collection and distribution scheme.
The report notes that copyright reform "remains a hot topic for the European Commission as laws and business models are being adapted to the digital environment. Some countries abandon levy systems altogether and turn towards state-funded remuneration systems as a mean of compensating rights holders for private copying."
  > Africa  Total collection in 2018: €21.1m
The situation in Africa regarding private copying remuneration "is poor overall," according to the report, which noted that in recent years the market has shown "signs of recovery," as several countries have "explored improving or implementing private copying collections." In the region, 48 out of 54 countries have a private copying exception in their domestic legislation, but only 9 of them (Algeria, Botswana, Burkina Faso, Cabo Verde, Ghana, Kenya, Malawi, Morocco and Tunisia) have a remuneration system for private copying with a distribution mechanism under national law. Algeria is the main contributor in the region with collections of €15m.
The report noted that in the Africa region, four new countries have recently started collecting private copy remuneration (Malawi, Morocco, Tunisia, and Cap Verde). The West African Economic and Monetary Union, supported by CISAC, is pushing for the adoption of a Directive aimed at implementing private copying levies in 8 member states (Benin, Burkina Faso, Ivory Coast, Guinea Bissau, Mali, Niger, Senegal, and Togo).
  > North & South America  Total collection in 2018: €4.9m
 The American continent has "a very low level of development of private copying remuneration," according to the report, which is mainly due "to the traditional doctrine of 'fair use' or 'fair dealing' largely implemented across the continent and strongly supported by consumers and importers."
Of the 35 countries studied, 12 do not provide any private copying exception (Argentina, Belize, Bolivia, Chile, Cuba, Ecuador, Guatemala, Guyana, Jamaica, Saint Lucia, Salvador and Uruguay). Of the 23 countries with a private copying exception, only 5 countries have implemented a compensation system (US, Canada, Paraguay, Dominican Republic and Peru) and the Dominican Republic does not even seem to have an effective collection and distribution mechanism. And the remaining 17 countries (Antigua and Barbuda, Bahamas, Barbados, Brazil, Colombia, Costa Rica, Dominica, Grenada, Haiti, Honduras, Mexico, Nicaragua, Panama, Saint Christophe and Nevis, Saint Vincent and the Grenadines, Trinidad and Tobago and Venezuela) have a private copying exception in their legislation "but do not foresee a remuneration system in favor of rights holders." In most of these countries, the private copying exception is limited to a "time-shifting" exception.
In the US and Canada, the scope of the levy is limited to blank audio recording media and, according to the report, collections "have been decreasing for many years and do not generate much income for rights owners."
  > Asia  Total collection in 2018: €0.3m
  In Asia, private copying exception with remuneration is "not part of the legal tradition, and rights holders are adversely affected by private copying," reads the report. Out of the 47 countries and the territory studied, no reference to an exception for private copying is mentioned in the law of 15 countries.
Such reference can be found in 23 additional countries and only eight countries in the region have introduced a private copying levy scheme in their domestic legislation (Azerbaijan, Kazakhstan, Kyrgyz Republic, Uzbekistan, Turkmenistan, Turkey, Israel and Japan). However, of these eight countries, only the last two have an effective collection and distribution system. On a positive note, the report states that the system in Japan is to be updated to cover equipment and devices actually used for private recording.
Share on: