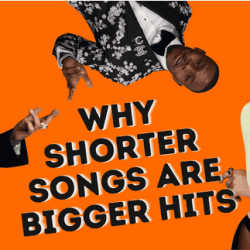 Short Attention Spans Are Dramatically Altering Songwriting: Here's How
As attention spans shrink, and the competition increases, today's hits are getting shorter and shorter, and drastically changing songwriting itself in the process.
Guest post by James Shotwell of Haulix
Between our shrinking attention spans and increasing competition, the world's biggest songs are among the shortest ever made.
In a report released by Samsung in December 2020, scientists found the average consumer attention span is now 8-seconds long. That discovery is 33% lower than a similar study from 2000 that claimed consumers had 12-second attention spans. Four seconds may not sound like a great deal to some, but in the age of streaming, every moment counts — now more than ever.
The team behind the study cites our shrinking attention spans as one of two main factors shaping the current state of music. The other factor is streaming, which grants consumers so much access to content that every artist must work harder to grab and hold listeners' attention. These two forces are making songwriters rethink their approach to crafting hit songs. So much so that the same report claims that by 2030 the average length of a hit song will be two-minutes. That is about half the length of a hit song from the 1990s.
Proof of the study's findings is everywhere. One look at streaming charts, and anyone can see that most popular songs are already under four-minutes in length, with many far shorter than that. 24KGoldn's inescapable 2020 hit "Mood," for example, runs just two-minutes and twenty-one seconds. Billie Eilish's "Therefore I Am" is slightly longer, coming in at two-minutes and fifty-four seconds.
In the latest Music Biz News update, host James Shotwell reports on the study's findings and what it means for the future of music. He also explains how introducing emerging trends in popular music can help artists from all corners of the industry increase their chances of writing a breakout hit. Check it out:
Music Biz is brought to you by Haulix, the music industry's leading promotional distribution platform. Start your one-month free trial today and gain instant access to the same promotional tools used by BMG, Concord, Rise Records, Pure Noise Records, and hundreds more. Visit http://haulix.com/signup for details.
James Shotwell is the Director of Customer Engagement at Haulix and host of the company's podcast, Inside Music. He is also a public speaker known for promoting careers in the entertainment industry, as well as an entertainment journalist with over a decade of experience. His bylines include Rolling Stone, Alternative Press, Substream Magazine, Nu Sound, and Under The Gun Review, among other popular outlets.
Share on: