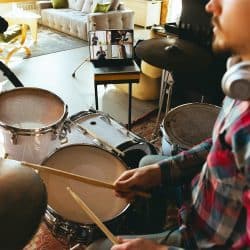 4 ways to collaborate with musicians from across the globe
With the ongoing pandemic forcing artists to work together remotely, some of the challenges of this long distance collaboration can also give rise to certain opportunities.
Guest post from the ReverbNation Blog
One of the results of living through a global pandemic is that many of us continue our collaborative projects remotely. Remote work in music can be challenging, but it also provides wonderful opportunities. You can collaborate with any musician who has access to a laptop, microphone, and camera, which is amazing! Moreover, you can actually create commercial level content with these sessions if everything works out well. In this blog post, I would like to look into four great ways to collaborate with any musician in the world right now.
1) Record songs
The first and most common form of remote collaboration is recording music. Some artists even have remote co-writing sessions, which is becoming a whole area in the world of songwriting.
Perhaps you're a guitarist and you would like to record with a vocalist. How does that process work?
First, you would record your guitar track on your preferred digital audio workstation (DAW). And then, you would send the session to the vocalist with your preferred style, mood, and vibe.
From here, it depends on how you would like to proceed. One option is to simulate a studio recording session, where you can video chat with your collaborator on your phone as they are recording into their laptop at the same time. Then, you could give them feedback based on how every take sounds like. This would be a remote studio session.
When your collaborator is done recording, they can send the final tracks to you. Then, you can edit these tracks and put them onto your session. And now you have a remote-made song.
2) Make videos
Another great way to collaborate with another artist is to make a video together.
The important aspect of making videos together is to make sure the audio syncs. I think a solid way to achieve this is when each person records their audio separately. Then, everyone 'mimics' their own audio parts in the video. In the end, you can mix the audio and the different videos in the same session, which would effectively feature multiple artists in the same video successfully.
Visit the Marketplace and get exclusive access and discounts to the best musician products and services in the world with your ReverbNation membership.
An alternative course of action would be to film and audio record at the same time, but if you like doing your parts in multiple takes this is not recommended. If it's a performance you are feeling confident about, and you can do it in one piece, then it is advisable to film video and record audio at the same time.
3) Create Remix Projects
Another way to collaborate with another musician is also to create a remix project. Remix projects are typically done over sessions that already have been fully recorded and it's rather a new arrangement of instruments, song form, and structural elements. So, if you're a vocalist and looking to get one of your songs remixed, you can pass it down to a producer and see what they come up with.
Making a remix collaboration is a great way to make music during the pandemic, as all you have to do is pass the session files or stems to one another and then put it all together in the end!
4) Live stream
It is also possible to livestream some events together with musicians all over the world. This would most probably be in the form of pooling your audiences together to do one big event. First, one artist would perform, and then the other one. So, no playing at the same time since there can be lags and this would disrupt the overall quality of any performances. Solo performances would work best in the case of livestream events!
Final Words
These are four of the ways you can collaborate with any musician in the world today. I think that the easiest way to collaborate with a musician is to record a song, or if you're feeling ambitious, make a whole album together. Audio files are smaller and easier to send around so you can make some great music together. In fact, 2020 has been the year of collaborative albums anywhere from indie artists to major artists.
On the other hand, video-based collaboration is harder, but not impossible. You can definitely make collaborative videos where you would record your own sessions separately and then bring it all together. This is actually a really fun process and it also pushes you as an artist to use your own creative skills in a valuable way.
So, you should collaborate with your musician friends and see what the outcomes are like. Remote collaboration is a very interesting area that needs a lot of exploration. So you can encounter new methods and new ways of achieving the best results. Happy collaborating!
Share on: