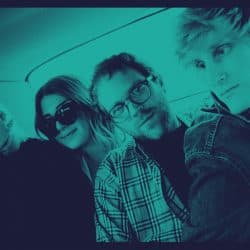 How NZ's Yumi Zouma reimagined their latest album using Spotify's SoundBetter
In this piece, New Zealand dream pop quartet Yumi Zouma walk us through how they were able to craft their 2020 album Truth or Consequences (Alternate Versions) in the middle of a global pandemic, and further develop their sound with help from SoundBetter
Guest post by Erica Campbell of Spotify for Artists
Learn how New Zealand dream pop quartet Yumi Zouma expanded their sonic horizons with the help of SoundBetter.
When I ask Charlie Ryder, multi-instrumentalist and co-founder of Yumi Zouma, how the New Zealand-formed, critically-acclaimed alternative pop band produced an album during a global lockdown, he laughs and says, "The same way we've been doing it for the last seven years." For Yumi Zouma, making music together while being physically apart is nothing new. "We've never lived in the same city, so we have that skill set sort of baked in," adds Josh Burgess, the band's guitarist, keyboardist, and vocalist. "We also have had all different parts of the process done remotely over the years. We have experienced writing apart. We've experienced tracking vocals apart. We've experienced producing and mixing apart. It was something we just sunk into. I mean, honestly, we didn't even think about it."
Pivoting in a Pandemic
As chance would have it, the bandmates, who were rarely in the same country together, decided that 2020 would be the year they finally got in some IRL facetime with plans of touring in support of their new album, Truth or Consequences. "We were going to be on tour and hanging out with each other a lot, and that's usually when we get together to work on new music or finish [preexisting] music," Simpson recalls.
But fate had other plans: "The exact day we played our first show of the tour, the WHO [World Health Organization] declared it a pandemic," Ryder explains. The band had been rehearsing 12 hours a day in preparation for this, their first ever sold-out tour when all of their plans changed. "The first show in the U.S. was on March 12th. I was on the plane, literally flying to the U.S. watching CNN, and there's this Irish dude from the WHO that's like, 'We are declaring a global pandemic,' and there was a [collective] gasp in the cabin." Burgess recalls.
With their tour canceled, they needed a creative way to promote their new record. So, they leaned into their well-honed remote collaboration skills and decided to re-recorded the album as Truth and Consequences (Alternate Versions), this time, experimenting with new arrangements, tempos, and chords and using SoundBetter to find a string section to bring their vision to life.
Keeping Momentum
The quartet, which also includes drummer Olivia Campion, were no strangers to the SoundBetter platform. They had used SoundBetter to find a saxophonist for their sophomore album, Willowbank, and originally stumbled upon the music production marketplace while searching for a mix engineer who could add some polish to their music, especially the vocals. "We were just DIY amateur musicians who do stuff at home," Ryder explains. "So the results we were getting were not great. As we were progressing in our careers, we wanted to sound more professional, and the easy way to do that is to get your vocals sounding awesome."
SoundBetter gave them an efficient way to make that happen. "Just go back and listen to our first records," Ryder quips. "You'll hear the difference before we got other people involved [and now]. We were recording in Joshua's bedroom closet, and you can hear the car horns go past on [our first album] Yoncalla."
Since Burgess is in the U.S., Simpson is in England, and Ryder is in Italy, being able to collaborate without losing steam is also key to their process. "I think one of the most important things is momentum because we live in different countries and different time zones," Ryder shares. "So, I can give Josh a track and go to sleep, and he can work overnight, and I can pick it up again the next morning and keep going like a factory production line. So, if we're writing a new song and recording and doing all of these vocal takes, we can give those to someone else to sort through overnight and then get back to us the next day completely finished, then we can get going. It's really helpful. And it kind of stops us from getting stuck in the weeds of inactivity."
SoundBetter allowed them to focus on what they do best, leaning into their creativity and pushing the boundaries of their music. "There is stuff that you just can't do [yourself], like a string section, for instance. We can't play those instruments, and sometimes you want to have the real thing versus a synthesized version of it. But, there's also stuff that maybe you could do, but there are only so many hours in the day," Burgess stresses. "Sifting through and scrubbing vocals for 10 hours takes away from you experimenting for 10 hours with a different chord progression or a new bridge. There are some things that only you as Yumi Zouma can do." https://www.youtube.com/embed/CWm_8p_KF1M?autoplay=0&iv_load_policy=3&playsinline=1&rel=0&showinfo=0&enablejsapi=1&origin=https%3A%2F%2Fartists.spotify.com
Lowering the Barrier to Entry
"Working with producers, that's fairly accessible in LA, there are producers everywhere. In New Zealand, there are like maybe 10 producers, and they're probably all busy, or they might not necessarily be the vibe you're going for, or [they're] expensive. There are a lot more barriers when you're in such a small country," Simpson notes. Being able to access talent from across the world through SoundBetter opens up the pool. She also believes that services like Spotify and SoundBetter give smaller artists opportunities they wouldn't have otherwise. "There are a lot of pop acts that come from small roots and New Zealand and do well through Spotify, for example, and [people in] New Zealand don't even necessarily know who they are, but they're on all these Spotify playlists. That is testimony to the way technology has changed, and streaming services have changed the way people's success isn't just based on your physical location anymore."
Burgess agrees, adding, "We've always been blessed that we [started] at the time where the barrier to entry for professional recording and releasing music was lower than ever, and I see something like SoundBetter as an evolution of that. Your pool of people you can pull from is getting bigger and bigger. I think it's all about barriers of entry getting lower and lower. Even a string quartet, 15 years ago, would have been a really expensive exercise that probably wouldn't have happened unless you were fortunate enough to be in the circle that you knew that in your kind of creative community."
"If you're a band from New Zealand, then it's impossible," Ryder laughs in response.
For Yumi Zouma, tapping into resources like SoundBetter is second nature, not only when it comes to how they create their music, but how they got started in the first place. They hope other artists will do the same.
"The night we wrote our first song, we emailed random addresses we thought were from record labels and signed our first record deal that morning. [We did] the same on SoundBetter, we just reached out to random people, probably people we didn't think would respond to us at first," Ryder recalls. "There are always going to be people who don't listen to your demo or delete your stuff, but you'll always be surprised at the people who do respond and really care and are interested in what you do. There's a very DIY mentality and a load of musicians who do everything on their own, but I don't think you'll ever be disappointed by opening up your horizons a little bit."
Share on: