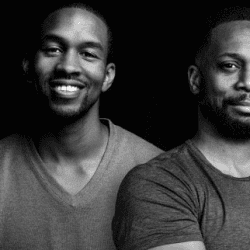 Music Tech Works launches a database to help identify rights holders for syncs
UPDATED: Being able to accurately find the controlling publisher and label information of a music track destined for syncing has been an issue plaguing the music industry for far too long – an issue which Jarett Hines and Bryson Nobeles of Music Tech Works may have solved.
Guest post by Emmanuel Legrand of the Legrand Network
Jarett Hines and Bryson Nobles, co-founders of Music Tech Works, believe they have solved one of the critical problems facing synchronisation licensing: finding the controlling publisher and label information of music tracks to be used for syncs.
They have set up rightsholder.io, a database of over 60 million songs, ready to access for anyone involved in the licensing of music for uses in TV, film, video games, and advertising. "We just took on the challenge and tried to answer the question: who owns what?" explained to Creative Industries Newsletter Atlanta-based Hines, who is CEO of Music Tech Works, which was founded in 2019.
Nobles and Hines have worked together in the past to create the digital split sheet app SongSplits, and were looking for a new challenge. After some research, in 2019, they realised that there was no consolidated database of rights information, so they set out to build one, as part of the Project Music Accelerator in Nashville, TN.
An underserved market
In 2020 Music Tech Works was part of the Google For Startups Founders Academy, and was awarded in October 2020 capital from the Google for Startups Black Founders Fund. The company also closed at the end of 2020 a round of funding from Collab Capital, an early-stage investment fund focused on start-ups by Black founders, which counts as partners hip hop artist Lecrae and Kapor Capital.
rightsholder.io provides users a clear and complete way to search for publishing and master recording ownership information. In addition to ownership data, users can quickly identify past use data from shows, movies, and brands that have previously licensed a track as well as sample audio for each track in the database.
"We looked at syncs and we found that it was a group that was underserved," said Nobles, who is based in New Jersey and serves as CTO. The process, he explained, was to help music supervisors by organising information in a way that could help them do their searches in a timely and accurate way.
Simple and intuitive interface
One of the problems with the music industry, said Nobles, is that it is "based on silos of data that do not communicate with each other." Without going into details, Nobles said they have looked at what is available such as the IMDB database and other "trusted sources" displaying information. The data is then recouped using machine learning and is made available via what Nobles describes as a "simple and intuitive" interface.
"The system is designed to help people find the information," said Nobles. "We try to make things simple and provide high value to our customers. We are a small team but we are disciplined and focused in solving this data problem."
One thing that the database is not is user-generated. "You have the possibility to flag information," said Nobles, "but we are not crowd-sourcing information."
Create value for users
"What we've done is to reduce the time needed for research," said Hines. "In 10 seconds you can access all the data you need to make the calls [to clear songs]. We make sure our data is accurate. We won't feature something if we are not 100% sure."
Their business model is based on subscription. "Users pay a monthly fee and can access the database without limit," said Hines, who added that the company is now focused on developing its clients' base. "We want more people to use the database," he said. "We understand the value we can create for them, and we want to make sure we serve them well."
Share on: