IMPALA proposes 10-point plan to make the most of streaming, grow the music market in a fair way
The Brussels-based organization IMPALA – which represents independent music companies – recently debuted a ten-point plan aimed at making the most of streaming, and addressing a need to grow the market in a way which fairly benefits stakeholders in the recorded music business.
Guest post by Emmanuel Legrand of the Legrand Network
IMPALA, the Brussels-based organisation representing independent music companies, has unveiled a 10-point plan to "Make the Most of the Streaming Opportunity." The plan responds to the need to grow the market in a fair way for all stakeholders and bring the recorded music market back to its pre-Napster levels.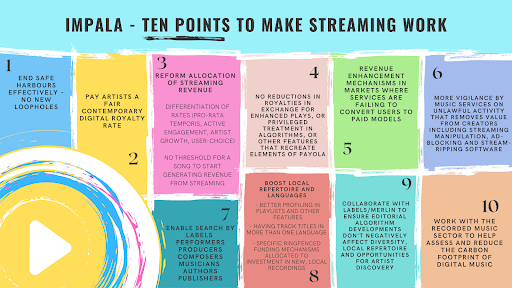 "Music streaming is now the main source of income from recorded music worldwide, and the main source of listening pleasure for fans," wrote IMPALA in its proposal. "But it is also the main bone of contention for the very artists who create the pleasure and the income." 
Consequently, IMPALA believes time has come for "new ways for streaming companies to grow revenues." Adds IMPALA: "We need to encourage a diverse range of options for consumers, and we need to consider different approaches to the way revenue is distributed." 
Mark Kitcatt, Co-owner and MD of Everlasting Popstock and Chair of IMPALA's streaming working group, said the ideas put forward by the organisation are meant to "deliver greater income and opportunity to creators, and greater value to fans."
He added: "The safe harbour experiment has failed on both those fronts – it needs to be put away for good. Labels must pay contemporary digital royalty rates to all artists. And then we can put fans and artists at the centre of a plan to unlock the true potential of streaming for this industry." 
IMPALA sees this task as a collaborative effort between diverse parts of the industry, and alongside music streaming services. "We see music services as our partners, and together we can create a sustainable, diverse, dynamic market, exciting and rewarding for musicians, fans and all of us in the music business," says the organisation. 
"Suffocating" safe harbours
IMPALA proposes to end the safe harbour regime and implement reforms to revenue distribution models. For IMPALA, safe harbours are "suffocating the market" and prevent labels, artists, songwriters and publishers to "have a say over how their music is used or how much they can earn." Explains IMPALA: "Without safe harbour, we can all grow revenue. We can make a bigger pie." 
 "Once safe harbour is abolished, we see many opportunities to innovate and offer value-added services to consumers. The most voracious, active listeners are willing to pay more for better experiences.," writes IMPALA. 
Rejection of equitable remuneration
One point which could be contentious with artists is IMPALA's rejection of equitable remuneration (which is the payment of royalties for the use of music by online services split equally between labels and performers/musicians). "Equitable remuneration sounds fair and has recently received a lot of attention," explains IMPALA. "But let's be clear. It is not a new right – it is a compensation mechanism for rights when they are stripped away."
It continues: "The model on which it's based illustrates the loss of value it brings, with radio paying rates per listener that are up to 200 times lower than streaming. And in some countries, like the USA, terrestrial radio doesn't pay anything to play recorded music. It may also allow monopoly market participants to end the industry's freedom to negotiate commercial rates for streaming; and it would not result in greater pay-outs to artists."
For IMPALA, equitable remuneration would "deplete value from the commercial market and reduce capital for investment in new artists and projects. This would disproportionately harm the independent sector, which is responsible for 80% of new releases, and that's before counting the community of artists who are not signed to record labels."
Investigate business models
When it comes to business models, IMPALA believes that "there is no single model that would provide an instant fix to more fairly distribute revenue" and therefore recommends "a spectrum of ideas to investigate and implement as appropriate." 
For example, IMPALA keeps the options open regarding the user-centric model for royalty pay-outs and advocates for differentiated distribution models. "We are ready to explore this option and scrutinise the pros, cons and unintended consequences of some services choosing the user-centric model," says IMPALA. "We feel, though, that on its own it won't create the optimal market for artists, just a different set of artists who gain and lose, without growing the market or embracing other dynamics which we feel are needed to achieve change."
Change the status quo
IMPALA now hopes that these proposals will be taken into concrete recommendations. "We believe our paper is written in the best interest of independent record labels and the artists they work with, who are trying to make a living with their passion for music." 
IMPALA Executive Chair Helen Smith commented: "We need to change the streaming status quo. Our conclusion says it all. The independent music community stands with artists, ready to help build better models for creators, consumers, services and the environment to make the most of the promise of streaming. Our proposals will also be useful for EU countries implementing the copyright directive. Exempting short clips for example would be a giant step back in time. We hope Germany and others are listening."
Overall, the plan includes the following ten points: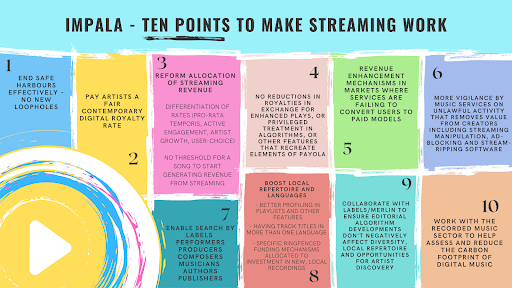 1. End safe harbours effectively – no new loopholes. 
2. Pay artists a fair contemporary digital royalty rate. 
3. Reform allocation of streaming revenue. Different services may wish to explore any or all of the following proposals: 
a – Differentiation of rates:
I – Pro Rata Temporis Model: To deal with the value imbalance for long-form music content, for example by having a rate for the first 30 seconds to 5 minutes of a song, then further payments triggered at 5 minute intervals until 15m 30s minutes.
II – Active Engagement Model: Encourage artists to stimulate active fan engagement by attaching a premium value to tracks which the listener has sought out or reached by artist, track or album name, or where she has saved, "liked", or pre-ordered an album or track, for example.
III – Artist Growth Model: Enabling artists to accelerate revenues to a sustainable level, support a broader diversity of emerging, and credible niche talent. The top tier streams would generate a bit less and bottom ones a bit more to help emerging and niche artists.
IV – User Choice Model: Facilitate spaces within services for rights holders to develop incremental revenues through direct relationships with fans, eg by offering access to extra tracks, better audio, and features.
  b – No threshold for a song to start generating revenue from streaming. 
4. No reductions in royalties in exchange for enhanced plays, or privileged treatment in algorithms, or other features that recreate elements of payola. 
5. Revenue enhancement mechanisms in markets where services are failing to convert users to paid models. 
6. More vigilance by music services on unlawful activity that removes value from creators, including streaming manipulation, ad-blocking and stream-ripping software. 
7. Enable search by labels, performers, producers, composers, musicians, authors, publishers. 
 8. Boost local repertoire and languages by better profiling in playlisting and other features, as well as having track titles in more than one language or specific, and ring-fenced funding mechanisms allocated to investment in new, local recordings. 
9. Work collaboratively with a spectrum of labels, across all markets (e.g. through Merlin for independents) to ensure editorial algorithm developments don't negatively affect diversity, local repertoire and opportunities for artist discovery. 
10. Work with the recorded music sector to help assess and reduce the carbon footprint of digital music.
Share on: