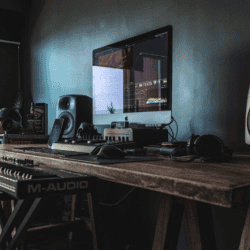 10 producer setups to help inspire your next home studio
Working in a creative industry, it's important to try and stay inspired wherever possible. Here, we look at 10 charming studio setups that will help inspire you in cultivating your own studio space.
Guest post by Randi Zimmerman of the Symphonic Blog
As an artist (and a cool human), your mental state is heavily affected by the world around you. You need comfort, efficiency, and inspiration all around to keep the creative juices flowing. In a home studio, you get to decorate however you want! Not sure how to style your space? Make it your own and get inspired with these killer producer setups from around the world…
Take note and let the inspiration take you to higher places, mentally and physically.
You don't need to blow big bucks to have a great studio. Hit up your local yard sales, online marketplaces, and even your friends hand me downs to find the hidden gems just waiting to be added to your space. Your studio should inspire you to be better every day. Sometimes all it takes is a look at the world around you to get the idea of a lifetime.
Share on: