What Tim Hortons can teach about audience engagement
If you've never had the pleasure, Tim's is a Canadian institution that has made its way here in America, and in countries around the world. Tim Horton (singular) was an NHL player who made his way into the fast food industry in the 1960s.
Guest post by Fred Jacobs of Jacobs Media Strategies
Today, Tim Hortons (no apostrophe) is owned by Burger King, but still blessedly independent, with the freedom to build and nurture its own unique brand and spirit. There are more than 800 stores in America, and nearly 5,000 locations in 14 countries around the world.
But even with all that "hockey stick growth" over the last half century, Tim Hortons remains essentially Canadian.
And as Sprout Social's Heliz Mazouri explains in a recent story – "How Tim Hortons puts people first in its social strategy" – there's a method to Tim Hortons' strategy and tactics that differentiates it from so many others in this highly competitive space where most customers want to get in, get out, and get going.
Here's how the Tim Hortons team is doing it:
1. They have targeted a region – better yet, a mindset – Despite the chain's rampant growth, they have never lost their Great White North roots. In fact, as Boshika Gupta explains in Mashed, "Tim Hortons is quintessentially Canadian."
Their social team leans into the brand's roots, with dishes like Poutine (fries and gravy) that aren't available at McDonald's or Arby's. But it goes well beyond the menu items.
Tim Hortons social messaging is all Canada all the time. And as Mazouri points out, "They made an entire country their target audience."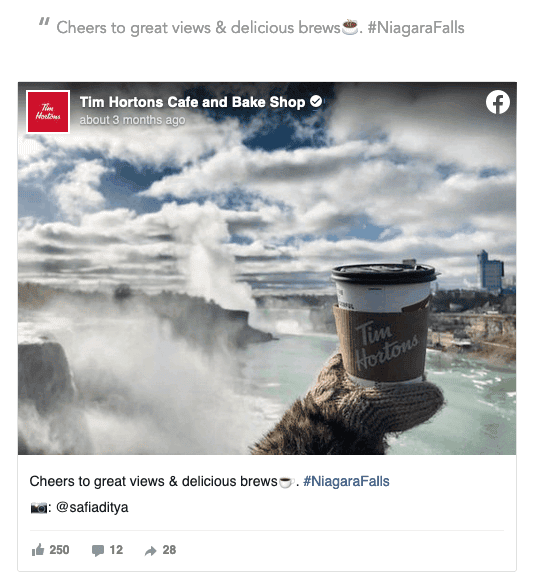 That cultural connection goes to the heart of Tim Hortons' relationship with its audience. Any radio station can do this too by leaning into what is truly Duluthian, Texan, or Detroitish.
In that way, embracing what is proprietary about a brand – the vibe, the spirit, the inside knowledge that a company "gets it" – is how one ALT station can be different from the 19 others with the same name (and perhaps even the same playlist).
2. They engage their customers – The social team curates playlists and acknowledges their fans and followers at all times on their channels.
You see it on their social feeds all the time. Yes, there are the customer complaints – orders not being filled correctly is a common gripe (ex: "You promised me you'd play that request"). But it's their open, welcoming, and responsive spirit that sets Tim Hortons apart.
3. They let their customers create content – It's one thing to come up with clever posts and missives. But Tim Hortons consistently shines the light on their fans, amplifying their brand.
And what do all Canadians share? Winter.
Tim Hortons' holiday campaign last year showcased the "snow people" their fans made, rather than the products the chain sells. There's very little product placement here. Their customers create the content, more authentic than any social marketing team could concoct.
This idea of saluting fans is something that great stations do – WDRV's "Daily Driver" is a great example of making the average listener feel like she's important.
4. They are empathetic – This is the most difficult of the Tim Tips, but it's an important piece of their audience connectivity. It requires having a good Emotional IQ, and sensing when it's time to pull back from the discounts, the sales, to BOGOs, and other promotions all brands offer to stimulate drive-thrus (cume).
Being in the moment, and knowing when an audience simply needs an encouraging word, a pat on the back, or an "atta girl" isn't something you can teach. But program and social managers with great instincts have that ability, in the same way the Tim Hortons team is so good at walking a mile in the audience's snow shoes.
No pictures, no donuts, no coffee cups. Just elegant, simple, and authentic.
And as Toronto and much of Ontario are facing a heartbreaking COVID shutdown for the next four weeks, there is something personal and inspirational in their messaging. Right now, this is a message many Tim Hortons' customers in Canada need to hear. So do the rest of us.
This reinforces the notion that while social media reaches a mass audience, and we all want our posts, videos, and GIFs to go viral, connecting in a one-to-one moment with an audience member is priceless.
That next cup of Tim Hortons coffee is on me.
Fred Jacobs: President & Founder at Jacobs MediaFred Jacobs founded Jacobs Media in 1983, and quickly became known for the creation of the Classic Rock radio format.
Jacobs Media has consistently walked the walk in the digital space, providing insights and guidance through its well-read national Techsurveys.
In 2008, jacapps was launched – a mobile apps company that has designed and built more than 1,300 apps for both the Apple and Android platforms. In 2013, the DASH Conference was created – a mashup of radio and automotive, designed to foster better understanding of the "connected car" and its impact.
Along with providing the creative and intellectual direction for the company, Fred consults many of Jacobs Media's commercial and public radio clients, in addition to media brands looking to thrive in the rapidly changing tech environment.
Fred was inducted into the Radio Hall of Fame in 2018.
Share on: