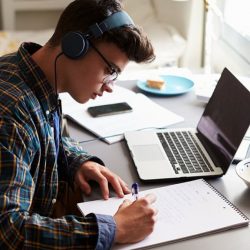 New study reveals best BPM, most popular song for studying, work to
The value of music as a study aid has long been known, but a new report from the UK reveals some interesting details on what makes for the most popular study music.
Guest post by James Shotwell of Haulix
A new report from the UK sheds light on the best music and BPM for studying. Here's what artists everywhere need to learn from it.
New research has found that studying while listening to music remains a popular trend for students of all ages. The study, which was completed by UK-based marketing agency Digitaloft, analyzed more than 100,000 songs across thousands of playlists intended to help people study or complete homework. Their findings include the most popular artists and songs for studying and the most popular BPM (beats per minute).
According to the data, songs with an average BPM of 112 were most popular among those trying to study. That works out at about one beat every half a second, and in musical terminology, would fall in between andante (at a walking pace) and moderato (at a moderate pace).
The world's most popular studying hits:
| | | | |
| --- | --- | --- | --- |
| Rank | Title | Artist | Playlists featured in |
| 1 | drivers license | Olivia Rodrigo | 48 |
| 2 | SLOW DANCING IN THE DARK | Joji | 39 |
| 3 | Ophelia | The Lumineers | 34 |
| 4 | Falling | Harry Styles | 32 |
| 5 | Before You Go | Lewis Capaldi | 30 |
| 6 | Circles | Post Malone | 30 |
| 7 | lovely (with Khalid) | Billie Eilish | 29 |
| 8 | Ribs | Lorde | 28 |
| 9 | This Town | Niall Horan | 28 |
| 10 | 505 | Arctic Monkeys | 28 |
Of the hits analyzed, "Driver's License" by actress-singer-songwriter Olivia Rodrigo comes out top with appearances in 48 study playlists on Spotify. The pop ballad debuted at No.1 on the Billboard Hot 100 Chart and has broken multiple streaming records since release, including the record for most Spotify streams in a week.
The world's most popular studying artists:
| | | |
| --- | --- | --- |
| Rank | Artist | Number of Playlists |
| 1 | BTS | 905 |
| 2 | Hans Zimmer | 539 |
| 3 | Taylor Swift | 403 |
| 4 | Billie Eilish | 348 |
| 5 | Wolfgang Amadeus Mozart | 307 |
| 6 | Ed Sheeran | 287 |
| 7 | John Williams | 285 |
| 8 | Harry Styles | 283 |
| 9 | Thomas Newman | 269 |
| 10 | Ariana Grande | 253 |
BTS came out top, appearing in over 900 study playlists on Spotify. This is no surprise, given their phenomenal following of dedicated teenage fans who are likely to be studying.
Avery Morgan, Chief Communications Officer at EduBirdie comments on the research:
Music can be very beneficial for studying, as it allows students to create the right mood, relax and destress, improve focus and reduce boredom over long study sessions. In fact, listening to Mozart has even been suggested to help memorization.

The general wisdom is that the best songs for concentrating are atmospheric, ambient sounds. Therefore, it's no surprise to see lo-fi beats come out on top as the world's favorite studying songs. On the other hand, some students seem to be able to remain focused listening to popular artists such as Olivia Rodrigo, BTS, and Taylor Swift, whilst others may prefer to work in silence to avoid any distractions.

Although every student's preferences are unique, we would recommend listening to songs without lyrics that allow you to focus on the task at hand, whilst blocking out any external distractions. The key is background music, keeping the volume at a low level, and choosing songs that you don't have strong feelings about, in order to stay focused and productive during study sessions.
The lesson here? As much as a great hit may make your career, writing music that people can enjoy while doing other things matters as well. We have to be honest about consumption. The vast majority of consumers do not sit and listen to music while doing nothing else. Most people enjoy music while doing other things, including homework and studying. The tasks inform their music selection, so the easier it is to digest a song while doing something else raises the likelihood people will enjoy it while going about their tasks. The artists that find a way to become the soundtrack to everyday life are the ones who often have the most success.
James Shotwell is the Director of Customer Engagement at Haulix and host of the company's podcast, Inside Music. He is also a public speaker known for promoting careers in the entertainment industry, as well as an entertainment journalist with over a decade of experience. His bylines include Rolling Stone, Alternative Press, Substream Magazine, Nu Sound, and Under The Gun Review, among other popular outlets.
Share on: