Ariel Hyatt releases 'The Ultimate Guide to Music Publicity' [INTERVIEW]
Music publicity and marketing guru Ariel Hyatt has been a friend and contributor to Hypebot and Music Think Tank since we began publishing way back in 2005.
I caught up with Ariel just as her newest book The Ultimate Guide to Music Publicity: Proven Strategies For Getting Featured In Blogs, Playlists, & Traditional Media is being released. It's already the #1 newly released Music Business Book on Amazon.
"One of the most inspiring parts of the book is the 14 artists who are featured"
Be sure the read to the end of this interview for a great story about how the world's richest man helped save the book.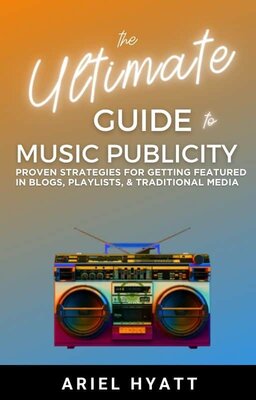 Get this incredibly useful guide directly from Ariel here or via Amazon.com here.
Why this book and why now?
As the quarantine dragged on, I thought to myself, musicians are getting clobbered by the fact that they were cut off from their main sources of income. I realized that when we got to the other side, many would not have a lot of spare cash to pay for publicity campaigns. So, I set out to make a guide that could be helpful and save artists a lot of money and heartache.
Also, the last book that was fully dedicated to music publicity exclusively was The Billboard Guide to Music Publicity, which was published in 1989. I bought that book second-hand when I graduated from college in 1993, and it was my bible for years. I wanted to create a guide for all future publicists and musicians alike.
Who is this book written for?
I wrote this book to be a guide for musicians at all levels in their publicity journeys. But, if once you read the parts on how to prepare and execute, you decide to hire a publicist, there's also a whole section of the book that focuses on how to research and add the perfect music publicist to your team.
I have also included a lot of exercises to clarify the process and make things like identifying your signature story moment and creating your pitch easy and digestible.
You featured quite a few musicians in the book who exemplify mastery of PR/publicity – want to name some names?
Yes! One of the most inspiring parts of the book is the 14 artists who are featured. They are highlighted because they naturally understand how to generate publicity or PR in some form or fashion. Eli Lev and Heather Mae have attracted rabid fan bases who support them on Patreon. Cynthia Brando and Maya Azucena manage to book international tours by simply reaching out to their mailing lists. Beth Kile, Monika Herzig, and Trivecta have created tight-knit artist communities by utilizing the "all ships rise" philosophy. Ilyana Kadushin and Michelle Shocked create irresistible angles around their social justice and activism. Rich Genoval Aveo created a livestream party 4 nights a week that brought people together during the isolation, and Christian rapper and artist mentor Manafest breaks down exactly what he does to get reams of his own publicity. Many people who have read the book say that their favorite, most inspiring parts are the musicians' stories.
What is the difference between PR and publicity?
Many people confuse PR with publicity and they collapse the two but there is a distinction.
Public Relations, or PR, is all of the communications that take place between you and the public. This includes fans and the music industry at large. Almost every time you touch your smartphone or computer to communicate, some form of public relations is at hand.
Publicity is simply attention given to someone or something by the media. A music publicist can help with traditional media, social media, and securing in-person events like award show invitations, or events, and of course as the book teaches, you can learn to do all of these things yourself.
When should a musician hire a publicist?
Many artists still believe, and are advised that the first thing they should do is hire a publicist. However, this should not be the first thing you do. I advise that you start by focusing on your brand and online voice, and at least get a few fans before you even think about publicity. In other words, don't go for publicity until you have a solid brand and social media strategy. Once you have a clear sense of who you are and you have a few engaged fans, at least then you can start thinking about publicity.
You've had a hell of a journey getting this book out – what happened?
Funny, now I know exactly what my artists go through when their music doesn't show up on the DSPs – it's so stressful. Once the book was ready to go, I started my launch, and then I hit a massive Amazon glitch. I spent hours on the phone speaking to reps in multiple countries. All resulted in hitting walls. In an act of desperation, I emailed Women in Music to come to my rescue. A fellow WIM member suggested I email Jeff Bezos directly. I woke up the next morning to a response and I had to re-read it several times because it felt so surreal – "Jeff Bezos received your email, and I'm responding on his behalf." Voila! A problem that took a month and got nowhere was fixed!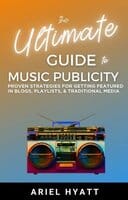 Get your copy of The Ultimate Guide to Music Publicity: Proven Strategies For Getting Featured In Blogs, Playlists, & Traditional Media directly from Ariel here or via Amazon.com here.
Ariel Hyatt runs Cyber PR Music, an artist development, social media & content strategy firm based in New York City. Her agency just celebrated 25 years in business and she and her all female team of women who get sh*t done run digital PR campaigns and advise on how to create online influence and release impactful projects. She has spoken in 12 countries to over 100,000 creative entrepreneurs and is the author of five bestselling books on social media, marketing, and crowdfunding, including Cyber PR for Musicians, Music Success in 9 Weeks, and Crowdstart. She is excited that The Ultimate Guide to Music Publicity just hit #1 in the Music Business Category on Amazon. It comes out on June 17, 2021.
Bruce Houghton is Founder and Editor of Hypebot and MusicThinkTank and serves as a Senior Advisor to Bandsintown which acquired both publications in 2019. He is also the Founder and President of the Skyline Artists Agency and a professor at the Berklee College Of Music online.
Share on: