Black Honey's "Written & Directed" [a case study]
In this case study, we dig into the strategy and tactics employed by English independent rock band Black Honey to fund and promote their sophomore album Written & Directed.
Guest post by Shannon Silver of The Orchard's The Daily Rind
Goals
English independent rock band Black Honey (Foxfive Records), led by frontwoman and singer-songwriter, Izzy B Phillips, released their second album Written & Directed on March 19, 2021. This followed the success of their first album which saw over 23 million all-time streams and a spot on the UK charts. In Izzy's own words about the follow-up: "Album two is about having a fire in you to kick ass. Girls are well overdue a perspective where they can be the protagonist, and the boss b**ch with a complex narrative."
To no one's surprise, they kicked off their campaign with an iconic creative for the album and bold theatrical videos. More importantly, a central piece of the campaign was super-serving Black Honey's core fanbase, giving them something in return for all their support throughout the band's career. This deep connection with fans stemmed throughout each moment leading up to and following the release of Written & Directed, which resulted in a No. 1 spot on the UK Independents Charts.
Tactics
The Digital Marketing and Design teams at The Orchard built a secret hub on the band's official websitethat was reserved for the Bad Black Honey Club members. The membership site hosted exclusive content including lyric sheets, personal video messages from Izzy, unreleased posters, and more members-only content. In order to be a member, one had to request an invite via the Facebook group and get approved. The Facebook group became an online street team, offering them release information and the ability to pre-order, building up anticipation for the new releases.
The Bad Black Honey Members Club was strictly limited to 300 Members initially. A special card was created to show proof of membership. Initially the benefit of being a club Member was to gain access to extra content online, like print at home album posters, track stems and downloadable chord or lyric sheets. Down the line, this card may be used for soundcheck entry or merch discounts at shows.
Due to the virtual nature of the album release, marking just over a year since COVID-19, it was important to authentically engage with fans online. The artist team hand-picked a small selection of Black Honey's biggest fans and organized a monthly zoom conference with them, giving them the inside scoop on future plans while taking in their feedback. This made them feel very involved in the project.
Internationally, Black Honey launched an official LINE Group. The purpose of the group was very similar to the Facebook Group – mirroring the messaging – along with poster giveaways and other exclusive first access content. However, there was exclusive content made just for the Japanese audiences, along with videos with Japanese themes on YouTube. Emoji stickers of the band were created specifically for the LINE Group.
Similarly on Instagram, Black Honey has a list of 500 close friends. Within that group, they pooled ideas from single choices, merch, stickers, and more via the polls feature.
On TikTok, Izzy posted acoustic covers, along with fashion and makeup looks. Their page on TikTok went from 53 followers to 23k followers in a little over 6 months, raking in 417k likes and over one million views.
Every single had a unique Instagram AR filter created. Try them out by going to Black Honey's Instagram page. Tag The Orchard, and we'll re-share on our story!
Outdoor advertising incorporating the cinematic album theme drove further attention to the new release. Black Honey took over the Rough Trade Readograph, Rio Cinema in Dalston and a billboard on Morning Lane in Hackney. Ten big television screens around the bustling Shibuya, Tokyo area showcased Black Honey outdoor ads, including the "Disinfect" video on screen rotation once an hour with sound.
Black Honey pulled out all the stops with various versions of physical product and merchandise. For example, the Deluxe Vinyl called "The Bad Boy" featuring Blood Sweat & Tears (literally), included a bonus 7inch and fold-out poster. Traces of the band's real blood, sweat, and tears were included in this version. Yes, that's accurate. The Dinked Edition Gold Edition 12" had a red marble effect. Other merchandise for the record included an album coffee mug, enamel pin, a diner tee, a black, yellow, or white band name tee, berets, and more.
Independent record stores were a key focus on both getting the word out and giving fans an extra token for purchasing the album on-site. The band sent 150 branded tote bags and packaging tape to independent record stores across the UK, who gave the freebies to random customers purchasing the album. Fans would be excited to get some freebies, while the album would receive more street advertising by people sporting the tote and tape. Plus, the band also spent two days signing all of the vinyl stock!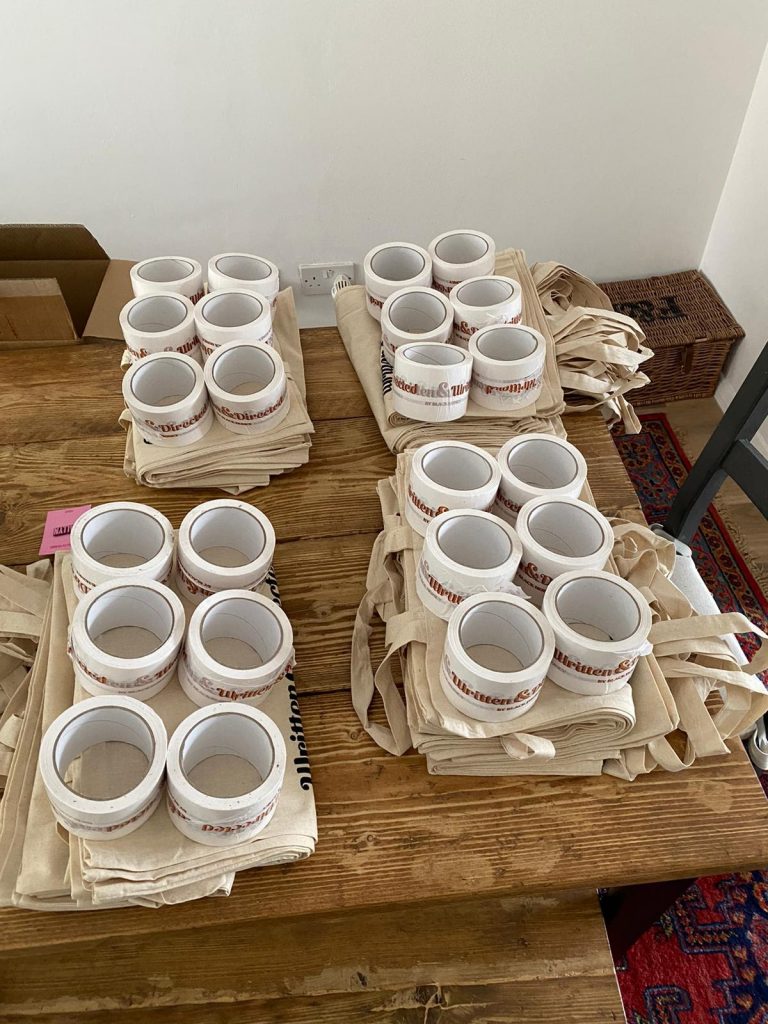 Building on the previous strong radio support in The Netherlands and Germany, The Orchard was able to secure playlist support from all key stations in the region. On album launch, the band had feature interviews with all key radios creating blanket coverage; the biggest win being an interview on Deutschlandfunk.
Results
Written & Directed was #7 on the UK Album Chart, #1 UK Independent Chart, #2 on UK Vinyl, #2 on UK Cassette, #4 on UK Physical Charts, and #3 on Scottish Album Charts
The album campaign drove over 21,000 clicks through digital advertising
Garnered over 150,000 views on YouTube across the videos released on the new album
Band produced a limited edition vinyl made of their own blood, sweat and tears available only on their D2C store
Over 300 core fans joined the Bad Black Honey Membership Club to get exclusive content from the band
Featured on Spotify Covers including All New Rock, The Rock List, Alt Rocked, The Indie List and named Deezer's Rock Album of the Week
Secured sync placement for Record Store Day's GSA Trailer featuring the track "Believer"
"Beaches" entered the UK's Official Campus Airplay Charts at #3 and "Believer" climbed to #10 on Official Campus Airplay Charts
"If Black Honey have always had a touch of the cinematic about them, then 'Written And Directed' finds them going blockbuster"
– NME
"Swaggering hooks, big horns…beautifully crafted cinematic pop"
– The Guardian
"'Written & Directed' sees the quartet evolving into the rock outfit they'd always threatened to be"
– DIY
"Black Honey deftly navigate the balance between melody and raw power – and they are a joyous ride"
– The Sun
View:
Share on: