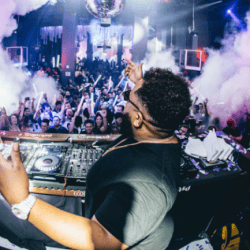 How to get booked at festivals [top 4 tips]
Playing for an enthusiastic festival audience makes all the time and energy you put into music worth it. Now that festivals are finally coming back, we have tips on how to get booked.
Guest post by Randi Zimmerman of the Symphonic Blog
As an artist, performing a set you've worked on for months and having a live crowd truly receive it the way you intended it to be is an experience that will change the way you appreciate making and sharing music for a living. As the world slowly returns back to normalcy, in-person festivals are coming along with it. Are you ready to start getting booked at festivals? Here are some tips to help you get there…
Research Festivals That Are Right for YOU
When it comes to booking any event, it's important to consider how you fit into the scene they have to offer. Apply to festivals based on your specific genre. If your niche is underground Euro techno, don't waste your time applying to hip-hop focused festivals. Do your research! In addition, be sure to look into festivals of all sizes; don't overlook the little guys. You never know what experiences may lead to bigger and better things.
Considering that we've just been through the height of a worldwide pandemic and it's still not quite finished yet, your local options may be limited for now. However, more and more festivals are announcing their return every day, all over the world. — To get you started, here are some festivals around the U.S. that are accepting submissions right now:
Pro Tip: It doesn't hurt to reach out to bands and artists in your area and pick their brains. They might know of some local events that are looking for an artist just like you.
Be Prepared
Applying for festivals requires your "resume" to be in tip-top shape. As an artist, your resume comes in the form of an Electronic Press Kit. In it, you should have:
A great artist bio
Your Music
Artwork
Press
Links to socials
Contact info
Festivals bookers need to see that you're a serious artist with experience to back it up. Without a great EPK, you'll be looked over again and again. However, this shouldn't be news to you. You should definitely already have one of these. Just be sure to update it as you grow throughout your career.
——
Sharpen your skills…
How to Repurpose Video Content Across Social Media Platforms
2 Email Automations To Get More People To Come To Your Next Event
Money Management Tips for Independent Musicians
6 Simple Hacks To Improve Your Instagram Reels
——
Stay Active on Socials
We've said it before and we'll say it again… DON'T SLEEP ON SOCIAL MEDIA. No matter how obscure and exclusive you want to be, it's not going to help you book shows. Plain and simple. Your fans (and possible event managers and booking agents!) want to see and interact with you. Social media is an amazing place to keep everyone up to date on what you've done, what you're working on now, and what's to come in the future.
These artists are really good at it. — Check 'em out and take note.
Hire a Booking Agent
If you've been booking your own live shows since before the pandemic, you're already aware of how difficult and time consuming it can be to do it yourself. Luckily, you don't have to. Especially for bigger festivals, it helps to have someone in your corner with connections.
This post explains exactly what they can do for you and how to find one.
In Conclusion…
Artists and fans alike are thrilled to get back in the festival game. (myself, included!) Let's face it, we all deserve it after the year we've had. As you continue to work on new music, book your next show, and plan out the upcoming year, be sure to include festivals into your game plan. After this insane year, fans are eager to attend every show they can. Playing a festival now will expose you to more fans and more opportunities than you can imagine. Now is a huge moment you absolutely don't want to miss.
Get to work!
Share on: