RETURN TO LIVE: Resources, tools for artists returning to the stage
As venues unlock their doors and tours are once again being booked, we're offering a list of helpful resources for artists as they gear up for a return to live, in-person performances.
Guest post by Timothy "timmhotep" Cornwall of Spotify for Artists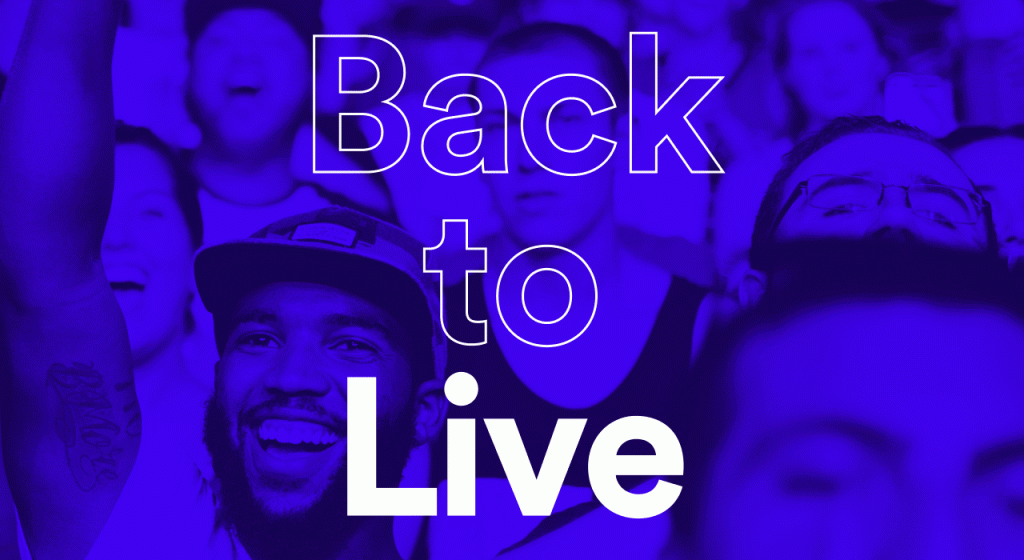 With venues starting to re-open and shows being booked again, here's a list of resources to help artists make the most of this moment.
It's impossible to overstate the impact that the COVID-19 pandemic has had on the world and the live music industry in particular. For artists, no in-person shows and no touring meant no on-the-spot merch purchases and no opportunities to have IRL interactions with the fans.
Last year, we offered support in the form of the COVID-19 Music Relief Project, which matched public donations to verified music relief organizations for a total Spotify contribution of $10 million; Artist Fundraising Pick, which allows artists to highlight fundraising destinations such as Cash App, GoFundMe, and PayPal.me on their profile pages; a $500,000 donation to the National Independent Venue Association's Save Our Stages campaign to help keep shuttered venues afloat; and better support for fans to find Virtual Events listings on artist profiles and in the Concerts Hub.
Now, with increasing vaccination rates, social distancing, and other COVID-era precautions like rapid testing and masks, things are gradually opening back up in the U.S. and shows are starting to get booked again. But people's safety and well-being are still paramount; these are precarious times, and we understand that not all artists are ready to schedule shows or hit the road again. As some artists do choose to return to the stage, we want to help them promote their shows to fans, learn from industry leaders, plan their tours, and encourage safe concert-going as they navigate the journey Back to Live.
Here are some of the first Back to Live resources, initiatives, and tools you can keep your eye out for — with more in the works over the coming months:
Fans First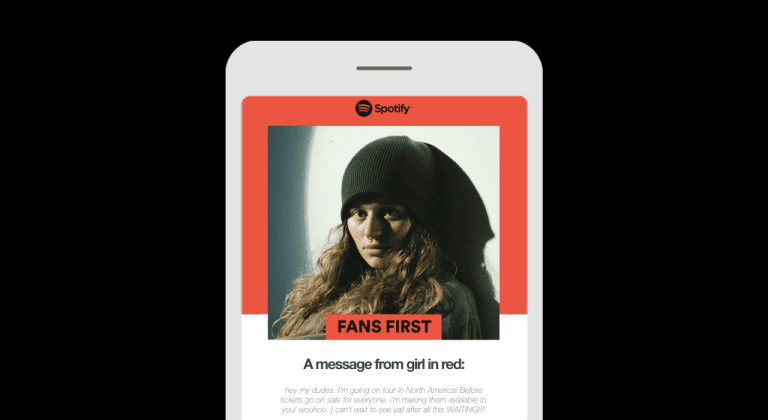 Fans First is an email marketing program that enables artists to sell unique or exclusive offers – like concert presales, merch, and more — to their very biggest fans on Spotify. Since the program started in 2017, Fans First has driven $200 million to artists in ticket and merch sales. Though we paused the Fans First live presale campaigns in March 2020, we brought it back last month and are investing in expanding the program to support more artists, now planning to run 35% more concert ticket pre-sale campaigns than the same period in 2019.
Concerts Hub
Concerts Hub is an in-app destination for personalized concert listings from their favorite artists based on listening history and location. We want to make it even easier for Spotify users to find out about these shows on the platform, so we're testing Concerts on "Home" as a way to increase awareness of shows. We're also leveraging in-app messaging to drive tens of millions of users to the Concerts Hub to provide additional visibility for live shows.
Promo Cards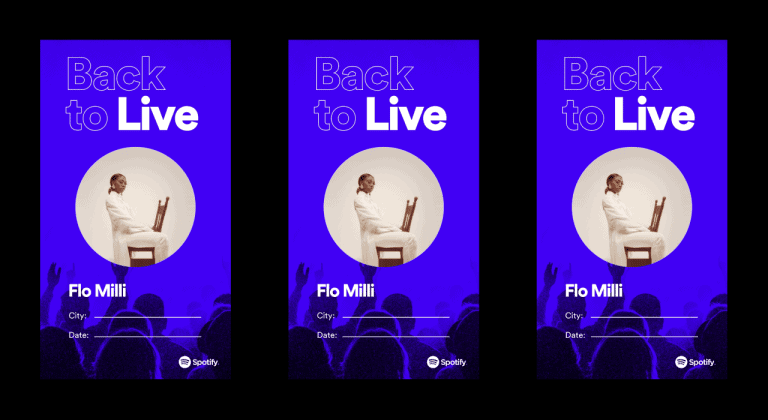 You can already use these custom assets to draw attention to your new tracks and Spotify milestones on social media, and now you can also use them to plug your tour dates and locations. Just search for your artist name on our Promo Cards site, select the "Live show" focus, download, and share your Live Promo Card to your social media Stories. Remember to fill in the city and date for your show when creating the Story, and include the link for tickets.
COVID-19 Vaccine Awareness Program
Health and safety are key concerns as live shows return, and there's no greater tool for ensuring performers' and fans' safety than vaccination. Unfortunately, vaccine hesitancy is a barrier to this. With the help and expertise of our global nonprofit and governmental partners, via everything from billboards to PSAs to in-app notifications, we'll provide the public with accurate information and empower trusted voices from the artist community to share credible information with their fans.
Co.Lab event series, videos, and podcasts
Spotify for Artists's Co.Lab series was created to facilitate artists networking their peers, getting advice, and workshopping their careers with the best in the business. We are planning a special Back to Live series this summer, where we will feature experienced touring artists and industry experts as they share insights around navigating a return to live shows and adapting to the changes of the past year. Check here for updates and timing on registration. We'll also be sharing more expert advice and perspective from industry insiders and artists on our blog and social media channels.
Tips and tricks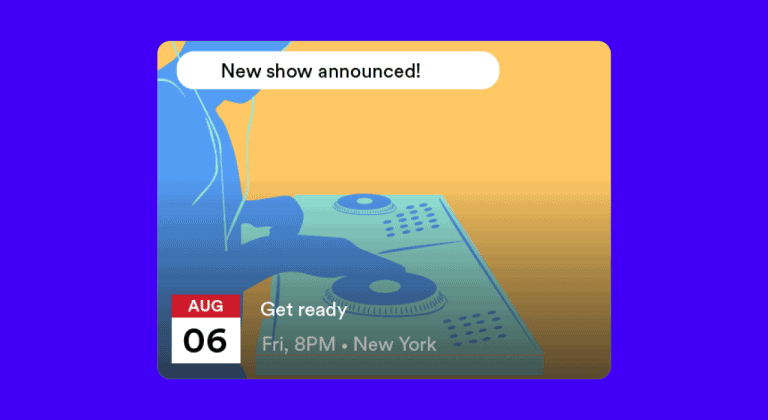 While all of that is in the works, there are also powerful ways to use existing tools as part of your touring strategy. Here are just a few ways you can use Spotify for Artists to work for you as you get Back to Live:
Are you getting ready to go Back to Live? Share your journey with us on Twitter @spotifyartists and Instagram @spotifyforartists.
Share on: