So, you want to get a job in music? Here's how you find one
While getting started in the music business can be tough, the industry is full of opportunities and potential careers, which are now more accessible than ever.
Guest post by Erica D'Aurora of Soundfly's Flypaper
When I was in college, I thought the only way I was going to work in the music industry was if I got a job at a record label.
Boy, was I wrong.
It wasn't until I started my music blog that I discovered that there was so much more to the industry than I ever even imagined. As it turns out, that blog was the avenue through which I started my career as a music publicist, which was a career I would have never even known about if I hadn't taken that first leap into the biz.
Although the music industry can be tough to break into, it's certainly not impossible, and nowadays, careers in the field have become more accessible than ever. You just have to know where to find them. Below are a few tips for how to find the opportunities that are perfect for you.
Facebook Groups
Before I entered the industry, I was never one to use social media much, and the idea of being part of a Facebook group was overwhelming to me. But once I became a publicist, I learned just how powerful Facebook groups are, and I've met a lot of cool people through them.
They're a great way to make new contacts and establish a rapport with industry professionals of all kinds. CEOs of management companies, PR agencies, producers, songwriters and so many more can be found hanging out in these groups and often post job opportunities in them, so if you can establish a positive connection with someone at the company you're interested in working for in one of these groups, that's half the battle.
Another reason why Facebook groups are so useful is that there are so many that are location-based. So if you're in NYC, or LA, or Nashville, for example, you'll find a ton of awesome groups where you'll be able to meet other industry members, and discover work opportunities, in your area.
LinkedIn
I have a love-hate relationship with LinkedIn.
There. I said it.
However, it's still an important tool to know how to use for business purposes because it's another fantastic way to make those priceless connections that could get you in the door at your dream job. A lot of times, those CEOs, hiring managers, and other gatekeepers are impossible to get in front of in real life — perhaps even more so due to the restrictions caused by COVID-19 — and that's where you can use LinkedIn to your advantage.
This platform gives you access to a ton of industry figures that you may have never been able to get in touch with otherwise, so why not make the most of it? And just like the Facebook groups, you'll often find companies post internship and job opportunities on LinkedIn.
The thing to remember with LinkedIn is that being genuine goes farther than you might think. For example, when you hit that Connect button, instead of sending that invitation as is, you'll want to spend a few minutes writing a personalized message to send along with it, so you can make a superb first impression and start a conversation with the other person. Think of how you would interact with the CEO of Sony or Universal Music in real life. You'd properly introduce yourself and make conversation, of course.
+ Learn songwriting, theory, production, composition, arranging, mixing, and more — whenever you want and wherever you are. Subscribe for unlimited access!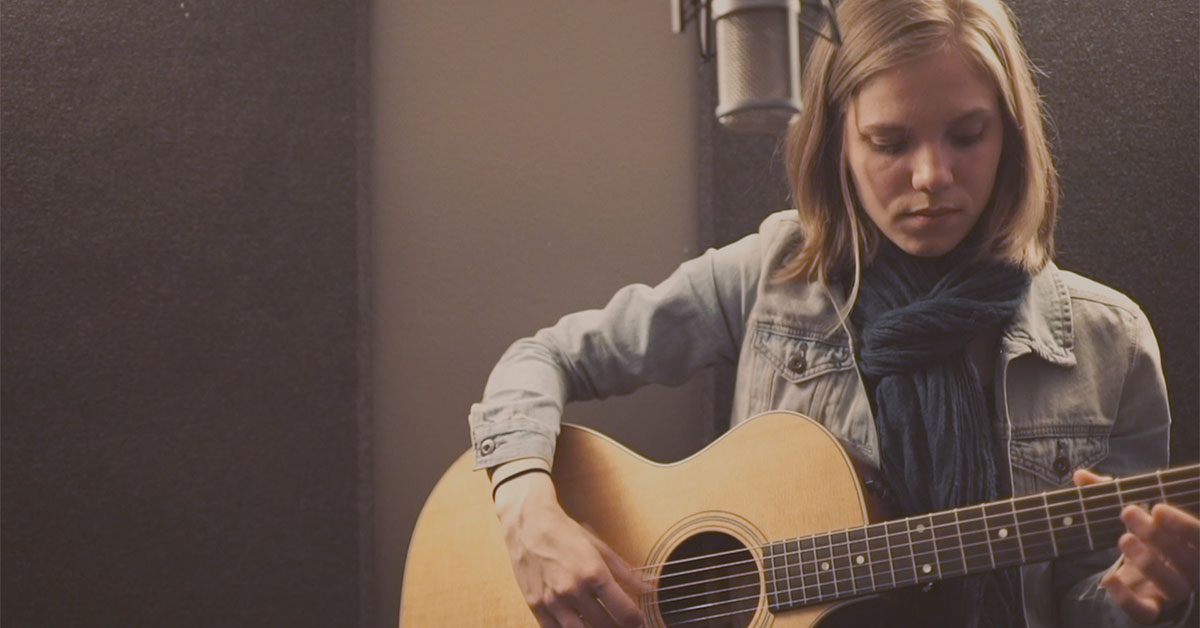 Blogging
If you're a great writer, blogging is a really fun way to get your foot in the door. It's how I scored my job as a publicist and I wouldn't have done it any other way. Once you get going, and you post regularly, you'll start meeting all kinds of people and making new connections as publicists, bands, and managers start reaching out to you for interviews and reviews.
I always hated the term networking (it's intimidating, isn't it?), but blogging made it really exciting, because it was happening naturally. As you're probably well aware, the music industry is all about relationships — creating new ones and maintaining existing ones — and I've formed some of my best and most cherished relationships and friendships in the industry because I started my blog.
If a career in journalism is what you're after, as an added benefit, your blog will also serve as a portfolio that you can use to apply to other writing positions in the industry. Not to mention, if you build a team for your blog (meaning bringing on other writers, photographers, social media mavens, and even graphic designers), it will demonstrate that you have management skills, which is incredibly valuable to prospective employers.
+ Read more on Flypaper: "The 8 Best Audio Production Blogs for Aspiring Producers."
Local Music Venues
Although live music and touring was put on hold due to pandemic restrictions, local music venues are an important piece of the puzzle when forging your path in the music business. If you already attend a lot of shows, this may be a natural path for you. Take advantage of any job opening, whether it's working the door or answering phones.
Now, you're probably thinking: "But that's not my dream job!" However, you'll be bumping elbows with a lot of people, and guess what? You'll end up winning introductions to important figures in the biz.
Start Your Own Business
If you already have some experience in the field that you're aiming to enter professionally, you can always start your own business. My boss did it, and so many other people I know have done it too. Sometimes it's best to take matters into your own hands, jump in and not look back.
Whether you have a mind for PR yourself or you know you'd make a great manager, try it out. Find a friend or two who might be willing to give you a shot and go for it. Sure, it might be scary at first, but when you have a passion for something, there's always a way to harness that love and drive into a successful business. Trust me.
Although finding a job in music can be hard, and oftentimes frustrating, it's not impossible. If being in this industry is where you're dying to be, and it's where you know you're meant to be, you'll make it happen no matter what.
Erica D'Aurora is a senior publicist at Muddy Paw PR and founder of the international music blog Musical Notes Global. She finds her greatest joy in helping artists achieve their dreams. When she's not working, you can always find her enjoying the company of her favorite artists and their latest releases.
Share on: