Meet Moody Jones, EMPIRE VP Digital & Creative
In this edition of A2IM's Featured Executive column, they're profiling the work and accomplishments of Moody Jones, the Senior Vice President of Digital and Creative for EMPIRE.
Guest post from A2IM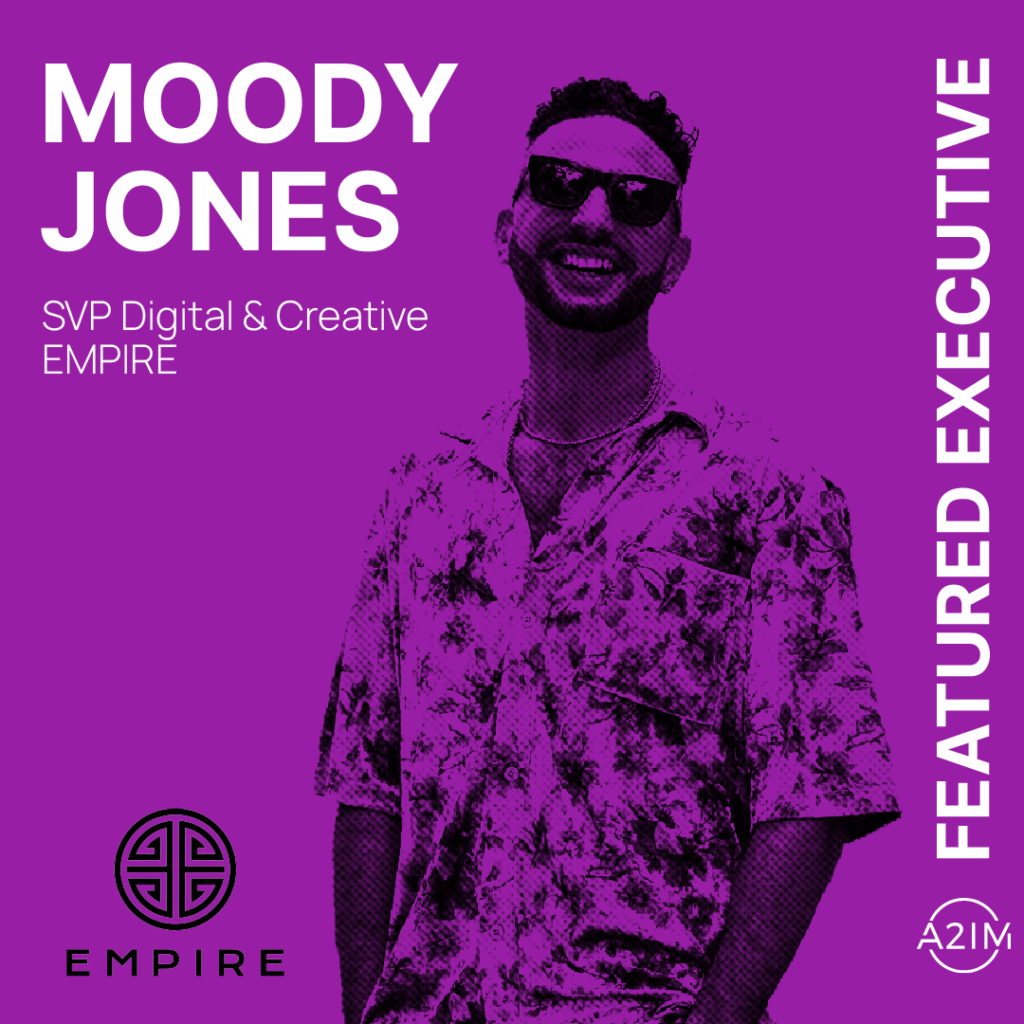 Joining EMPIRE as Director of Digital – the Distribution, Records and Publishing Company's first Digital hire – Moody Jones rose in the ranks to VP and now SVP.
Moody Jones also owns a clothing line and makes his own music. Read more about Moody's inspiring career below, and follow him on Linkedin, and Instagram.
How did Moody get his start in the music industry, and how it lead to the work he does today?
Moody Jones, SVP of Digital and Creative at EMPIRE has gained majority of his experience in the music and lifestyle industry where he has been able to work with some of today's top artists such as Tyga, Iggy Azalea, XXXtentacion, Carnage, Snoop Dogg and many more.
The combination of his digital/creative marketing and culture intelligence has aided in helping Tyga's "Taste" to reach a 6X Platinum record and over a billion views on YouTube. Dedicating his time to supporting labels, managers, and independent artists to help them get the right exposure and grow their fan base, he has been able to help artists write their story breaking them from the noise and into the top charts.
Before achieving SVP stripes, Moody was actually the first digital hire for EMPIRE. Since then, he's rose up the ranks from Director and VP and ultimately SVP and along the way he has built out the Creative, Digital and Design departments.
Also, even though he brought on a digital marketer, in order for him to scale his department , he ended up creating company wide processes in order for managers to better manage their resources and team members and built a project management system. In turn, Moody was, and is still apart, of the team that has helped EMPIRE grow to become one of the largest independent music companies that exists.
Prior to joining EMPIRE, Moody helped build two of the top marketing agencies – Wavo and Everybody Knows. He is still active at the Founder of Everybody Knows – a music, content, and marketing company.
Is there a success story or milestone that stands out in Moody's career?
A career milestone for Moody has been the recent release of Aaliyah's music to streaming services, which was a long time coming. This was a major move for EMPIRE, culture in general, and a way for Aaliyah's current fans to experience her music in new ways, as well as bring it to younger generations. Moody works on all the creative and digital rollout for that project – which is still ongoing.
What else does Moody get up to outside of work?
Moody is a strong advocate for mental health, wellbeing, and mindset. He also has a clothing line – YDOOM.com / Unisex garments made from women's burkas. He is also an artist and DJ himself.
Do you or someone you know fit the bill? Submit an executive here.
About A2IM:
A2IM is a 501(c)(6) not-for-profit trade organization headquartered in New York City that exists to support and strengthen the independent recorded music sector. Membership currently includes a broad coalition of more than 700 Independently-owned American music labels. A2IM represents these independently owned small and medium-sized enterprises' (SMEs) interests in the marketplace, in the media, on Capitol Hill, and as part of the global music community. In doing so, it supports a key segment of America's creative class that represents America's diverse musical cultural heritage. Billboard Magazine identified the Independent music label sector as 37.32 percent of the music industry's U.S. recorded music sales market in 2016 based on copyright ownership, making Independent labels collectively the largest music industry sector.
Learn more about A2IM here, and contact our team at membership@a2im.org to join now
Share on: