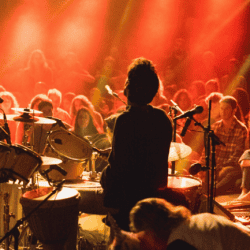 What are marketing drivers and why are they so important?
Marketing drivers are the underlying forces that compel a potential consumer to want to buy or pay for certain products/services. We break down what these are for an artist, and why you need them.
Guest post by Randi Zimmerman of the Symphonic Blog
The underlying forces that compel you to buy or pay for certain products and services are called marketing drivers. As an artist, these are the key details you want to be shared with DSP's like Spotify, Apple Music, TIDAL, YouTube, Soundcloud, Pandora, etc. to help you stand out. In this post, we'll break down everything you need to know and more.
Here's the rundown…
For artists, marketing drivers are what will help you and your release stand out above thousands of others that our partners receive every day. With these unique details, our team can help your music catch the attention of the tastemakers in the industry. The more details that you can provide, the better chance you've got of catching the eyes and ears of the people who can get you playlisted, featured, and more.
To help you out, some examples of these include:
Music videos
Social media followers and engagement
Third-party Spotify playlists
Previous DSP playlist placements and features
Advertising to be run for this release
Premieres on media outlets and general press pick-ups
Radio campaigns or plays from direct DJ relationships and other DJ support
Tour dates and other POI – "shared stages with," notable festival appearances, etc.
Charting, ie. iTunes, Billboard, etc.
Brand and media partnerships
Other marketing campaigns – wildposting, print, etc.
Pre-save and pre-sale campaign data (iTunes, Spotify, Bandcamp, etc.)
Sync and other licensing information
Other artist development POIs – management, booking agent, TV/film appearances, etc.
What do you need to do?
Providing marketing drivers is absolutely mandatory for editorial consideration. As a Symphonic client, you'll need to fill out our Marketing Drivers Submissions form. — The form is currently available in English, Spanish, and Portuguese.
If this is the first Marketing Drivers submission you've made for a track, select "new" and a series of questions will open up to answer.
Every answer you give helps us create a compelling story, but the most important questions to thoroughly detail are "WHAT'S THE STORY OF THIS RELEASE?" and "MARKETING DRIVERS (MANDATORY).
Select each area where you have a bullet to include: Confirmed Press, Upcoming Shows, Visual Asset, Advertising, Radio, Physical Product, etc.
To be considered for playlist pitching, this form must be completed and submitted no less than 4 weeks prior to release date.
Give us everything you've got!
Ready to get started? // You can also access the submission form right here.
Share on: