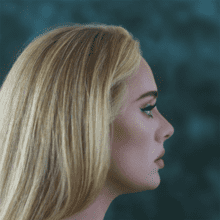 Spotify changes auto-shuffle default for ALL albums after plea from Adele
Adele says that she took great care to order the tracks on her new album "30" and was dismayed that Spotify's default album play setting is auto-shuffle.
Being Adele, she decided to do something about it.
"This was the only request I had in our ever changing industry! We don't create albums with so much care and thought into our track listing for no reason," she tweeted Saturday night. "Our art tells a story and our stories should be listened to as we intended. Thank you Spotify for listening."
Spotify quickly complied, disabling auto-shuffle as the default setting on not just her "30" album, but – at least in our random test of 10 albums on the streamer – on all albums on the service.
The option to auto-shuffle album tracks is still there, but in-order track play is now the album default.
Some mobile users report that the shuffle button has been removed entirely from the Adele "30" album page in their accounts.
Spotify has not offered any clarification beyond its tweet to Adele. We'll update you if they do.
Anything for you 🙏✨

— Spotify (@Spotify) November 21, 2021
Bruce Houghton is Founder and Editor of Hypebot and MusicThinkTank and serves as a Senior Advisor to Bandsintown which acquired both publications in 2019. He is the Founder and President of the Skyline Artists Agency and a professor for the Berklee College Of Music.
Share on: