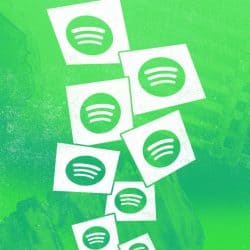 Is Spotify exploring Web3 as a new way to monetize free streaming?
Like just about every other company, Spotify is exploring Web3 opportunities – the distributed web catch all that includes the blockchain, crypto, NFTs and more.
So far Spotify has been silent about its plans.
Spotify did acquired blockchain startup Mediachain Labs back in 2017; was part of Facebook's now defunct Libra crypto scheme and advertised a 2020 payments job that required knowledge of the blockchain and cryptocurrencies, reminds Music Ally,
NOW HIRING
Now comes a new Spotify job posting on LinkedIn "looking for a dedicated backend engineer to help them build engaging new experiences to foster connections with younger audiences."
The hire will join the The Freemium R&D team within Spotify's Edison/DICE product area, which is ""responsible for driving growth through new technologies, like Web3." If hired, the applicant will work to "facilitate collaboration with product, insights, and design to uncover the next growth opportunity leveraging new technologies, like Web3."
That this new Web3 initiative is within its Freemium team may provide the biggest clue yet ad to what Spotify is planning.
Lower payments for streams on its free ad supported tier has been a top concern for artist and labels. NFTs, social tokens and other Web3 enabled offerings could mean real income for creators and help quiet Spotify's critics.
So far this is little more than an educated guess, but we promise to follow the breadcrumbs as Spotify contemplates its entry into tee world of Web3.
Bruce Houghton is Founder and Editor of Hypebot and MusicThinkTank and serves as a Senior Advisor to Bandsintown which acquired both publications in 2019. He is the Founder and President of the Skyline Artists Agency and a professor for the Berklee College Of Music.
Share on: