Bandsintown expands Big Break emerging artist program with livestreams and NFTs in collaboration with Bondly
Bandsintown is expanding its popular Big Break emerging artist program with a livestream concert series and unique NFTs in collaboration with web3 startup Bondly.
Bandsintown offers support to Big Break artists at a critical point in their careers and for the 2022 class that includes a well promoted livestream along with a unique Bondly delivered NFT. Since launching in 2017, Bandsintown Big Break has identified and offered early support to Yungblud, Omar Apollo, The Marias, Cautious Clay and dozens of others.
Artist are chosen for Big Break based on data from Bandsintown's 68 million registered music fans. That's unique among major tech and music players who often showcase "emerging" artists already signed to significant label and management deals.
"At the core of Bandsintown and Bandsintown For Artists is helping artists build sustainable futures," said Fabrice Sergent, Bandsintown co-founder and managing partner during a Twitter Spaces Wednesday announcing the Bondly colab. "So when we started to understand how web3 could be transformative and could help us achieve natively our goals of helping emerging musicians build a sustainable future and long term relationship with their fans, we got super excited."
Available only during one-time livestreams, Big Break NFTs are being created in a collaboration between each Big Break act and an emerging visual artist to create a collectible virtual tour laminate that commemorates the show. Fans will then have have proof of attendance of the artist's early show and have a vested interest in supporting their future. In turn, artists can nourish the relationship with their superfan NFT holders and all their fans using the free Bandsintown for Artists Direct To Fan messaging platform.
Bandsintown will be demoing its new free tool for artists and their teams next week at SXSW.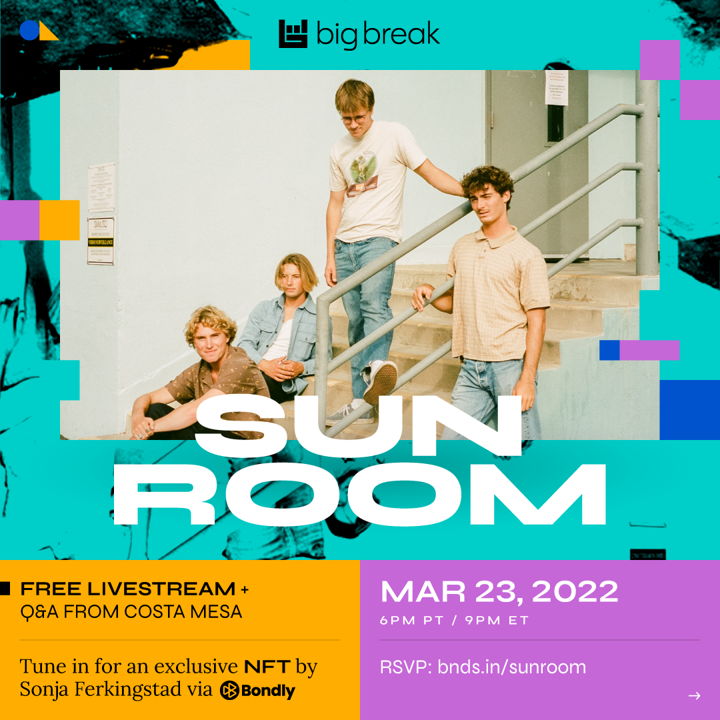 The first Big Break 2022 livestream will be on March 23 at 9pm EST / 6pm PST with surf rock band, Sun Room, who recently landed opening spots on Louis Tomlinson's U.S. tour and Inhaler's E.U. run.
The Southern California quartet have teamed with visual artist, Sonja Ferkingstad to create their virtual laminate, which will be minted and distributed by Bondly.
Additional acts and livestream show dates will be announced in the coming weeks.
Bruce Houghton is Founder and Editor of Hypebot and MusicThinkTank and serves as a Senior Advisor to Bandsintown which acquired both publications in 2019. He is the Founder and President of the Skyline Artists Agency and a professor for the Berklee College Of Music.
Share on: