IRL SXSW triggers post-covid creativity boom: Megan Thee Stallion VR, an indie soul Wind Down, Bandsintown Big Break, big ass Bunny in a big ass dome + a Music Tech Meetup
Just about everyone in the music industry marked March 2020's Friday the 13th as the beginning of the COVID crisis in America; the day SXSW was shut down.
After a virtual 2021, participants are coming back with a worldview and creative palate that never would have emerged without the worldwide isolation. The 2022 edition of SXSW is marked by the juxtaposition of togetherness and new forms that allow artists to reach fans up close and personally augmented, not hindered, by technology.
Here are four new types of experiences not to be missed by those with an innovation mindset: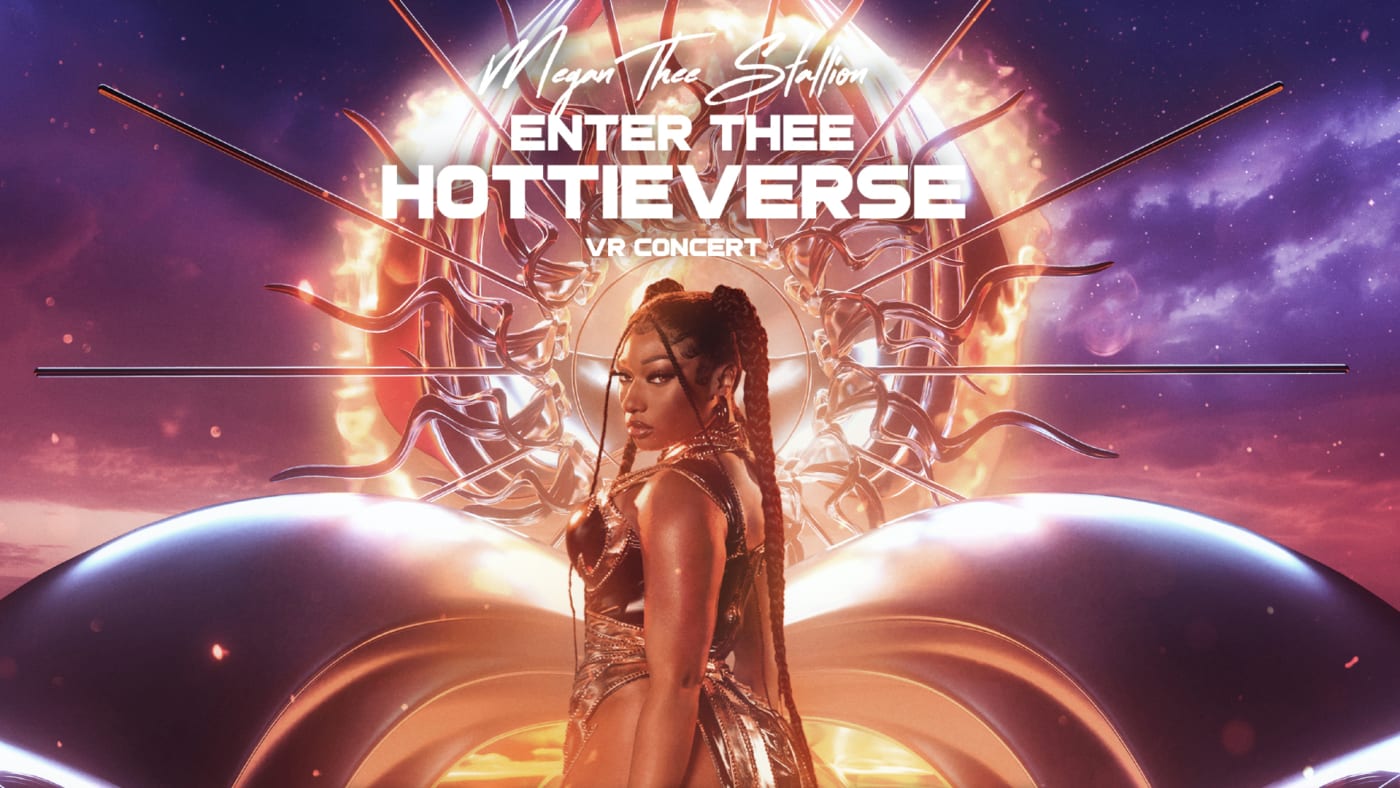 Megan Thee Stallion: Enter Thee Hottieverse—Check Out the AmazeVR Experience
AmazeVR is doing for VR what MTV did for music videos: creating an entirely new format.
Pop on a headset at SXSW and get a glimpse of something that is about to go on tour in movie theaters nationwide. What?! Yes, in ten cities you'll be able to walk into an AMC Theatre with other MTS fans. You'll be handed a Quest headset and in moments you will be so close to Megan Thee Stallion your palms will get sweaty. But as a SXSW attendee, you get a preview first,
March 13-15, 11 am – 6 pm with RSVP. Read more here and sign up here. Not convinced? Watch this MTS video to see what she has to tell you about it.
Turn Your TV into a Device for Good Not Evil – Be the First to Hear Past SXSW Indie Soul Breakout Artist Collaborate With Wellness App Endel
If you remember the 2011 Fader Fort where graffiti artists were tagging a brand new Fiat, you'll love the latest musical artist collaborating with Endel, the wellness app that creates functional experiences for focus, concentration, meditation, and sleep. In fact, this indie soul favorite is helping Endel rethink the television. For the past two years we have lost more and more sleep thanks to binge watching endless streams.
So be the first to see Endel flip the TV on its head with a partnership with Apple TV, where the glowing box is used for sleep! Their Wind Down release with said artist is meant to play for two hours before bedtime to get your mind and body in the pre-sleep state and carry on throughout the most restful night of your life. A perfect antidote for SXSW partying.
Check out their demo, music tech meetup and Wellness and Sound panel at the European Innovation House on Monday, March 14 at 12:30 pm at Innovation Bridge Europe, Wax Myrtle's, 506 San Jacinto Blvd.,, 4th Floor (within the Thompson Hotel), corner of E. 5th St..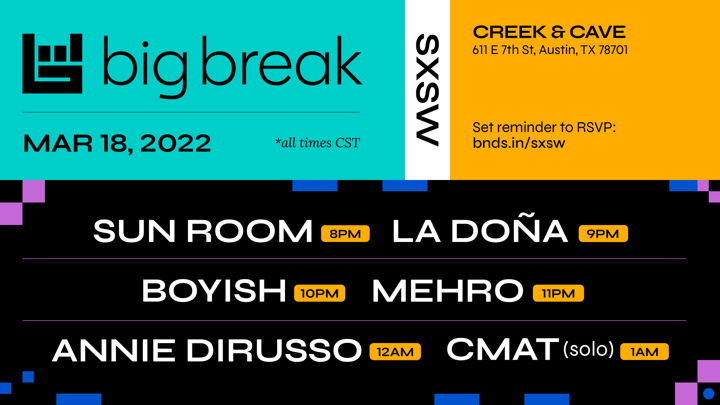 A Bandsintown Big Break Throwdown
Bandsintown is showcasing the latest discoveries for its data driven Big Break emerging artist program. Along with surf rock quartet Sun Room and reggaeton-tinged singer/songwriter/multi-instrumentalist La Doña, the lineup is rounded out by Dublin alt-country singer CMAT (solo), indie pop darling Annie DiRusso, genre-bending crooner mehro, and indie rock duo Boyish. To get a preview of what's to come next week, check out their official SXSW 2022 playlist.
It's all going down on Friday 3/18 at Creek + Cave on E 7th Street at 8pm CST. Priority entry will be given for SXSW music badge and wristband holders, but be sure to set a reminder for the show to RSVP to let them know you'll be attending.
Eight-Foot Bunny Angelbaby Plays in Big Ass Dome – The First Virtual Artist Performance at SXSW
The first ever metastar performs at SXSW as part of a unique experience taking place in giant domes like you've never seen before. If you thought NFTs were digital collectibles solely for crypto speculation, think again. Angelbaby has come to life with fully formed songs and a performance that's already packed the house from Art Basel to the Super Bowl.
Web3 record label, Hume, presents this NFT metastar showcase at FLUF Dome World (313 Red River), starring Angelbaby themselves, a towering rabbit-like being (or Fluf) with a lot to say. The showcases are set to happen from March 12-13 performing three showcases a day.
Where's the Best Music Tech Networking? The Official Meetup!
And if that fills your plate for fun, don't forget to get some business done too. The official Seismic Shift Music Tech Meetup takes a different approach than most meetups, ensuring you put faces with names and start the schmoozefest. In addition to a speed-round open mic of intros of everyone, you'll be given limited-edition Seismic Shift Trading Cards; not NFTs but actual glossy cards, that each talk about transitions happening in the music industry. Whoever matches the five new cards first, will win an Orba, by Artiphon; the grapefruit-sized musical instrument that lets you make beats on the fly or loop entire songs together. This badge-only event takes place March 16 at 11:30 am in the Austin Convention Center's Meetup Pavillion (Exhibit Hall 4). 
Bruce Houghton is Founder and Editor of Hypebot and MusicThinkTank and serves as a Senior Advisor to Bandsintown which acquired both publications in 2019. He is the Founder and President of the Skyline Artists Agency and a professor for the Berklee College Of Music.
Share on: