Surprise! In home radio ownership is in RAPID decline
In home radio ownership and use is in a rapid decline. While it comes as no real surprise, the pace of further decline is accelerating even faster than expected.
Edison Research has offered a few stats advance of its annual U.S. Infinite Dial 2022 report,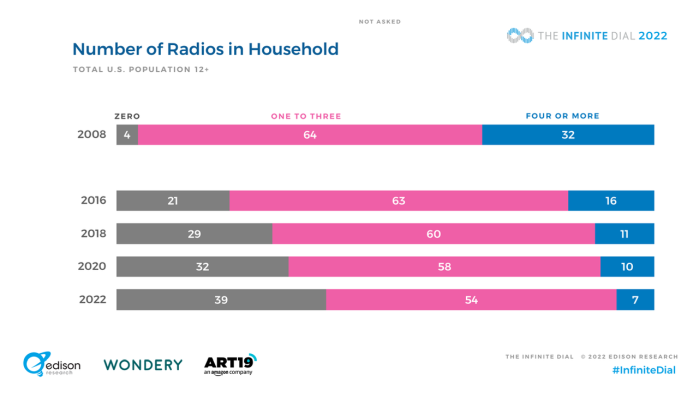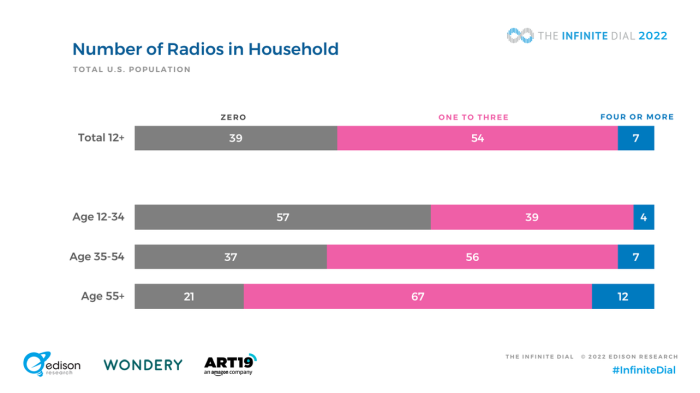 "Of course, nearly all cars have AM/FM radios easily available, and people can listen to the content of radio stations on their phones or smart speakers," said Edison Research President Larry Rosin. "However the elimination of the standard, single-use radio from so many households makes the challenge that much harder in the location that most people spend the most hours.
The impact of smart speakers and online listening will be shared when the full report is released in the coming days.
Bruce Houghton is Founder and Editor of Hypebot and MusicThinkTank and serves as a Senior Advisor to Bandsintown which acquired both publications in 2019. He is the Founder and President of the Skyline Artists Agency and a professor for the Berklee College Of Music.
H/T RAIN
Share on: