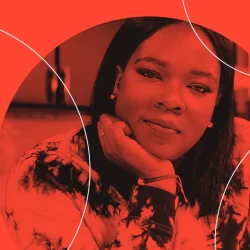 Monique Blake of Swizz Beatz Productions on building your network
The Brooklyn-based talent manager shares wisdom for artists on how investing in fans, business relationships, and your own confidence will pay dividends for a lifetime.
A guest post by Danica Daniel of Spotify For Artists.
For Monique Blake, general manager of Swizz Beatz Productions, the secret to building your network can be summed up in two words: "Be nice."
The Brooklyn-based talent manager, who also serves as a business partner to acclaimed hip-hop artist and producer Swizz Beatz, has seen firsthand how mistreating people on your way up the ladder can later make you slip back down. "Just be nice to people, because you never know," Blake said in a new episode of our Co.Lab Sessions podcast. "I've seen it with my own two eyes. I've experienced it. There were some people that weren't so nice to me when I was just getting started."
Blake, who has nearly 20 years of experience in the music industry, got her start interning at Clive Davis' J Records. It was a chance encounter during that internship that led to Blake's work with Swizz Beatz. When the budding rapper started Full Surface Records, his own subsidiary label in 2001, Blake first became his assistant and later his working partner.
That power shift made some of the folks that had treated her poorly early in her career do an about-face. Some of those same people later "asked me for a job or for a check," Blake recounts. "I could hold it against them, but I don't. So it's a real thing. Be good to people."
If You Build It, They Will Come
While there are many ways to build an audience, Blake notes that for artists, the easiest course of action is through social media. "It is your direct communication to the world," she explains.
"I've had clients that I literally had to convince to post on their socials, and I'm like, 'You do understand that when you are not posting, that audience is looking for the person that is posting.' Fans are like sponges. They consume. They want to be connected to you, and what you don't give them they are going to go and get from someone else," she continued. "What you're not sharing about yourself, people are either assuming or they're moving on to the other person who's sharing. So share… because the resources are available to you and they're free."
Don't Sink Your Relationships
In addition to working with Swizz, Blake also launched MEA Creative Management, a full-service boutique management and consulting firm specializing in high-profile talent and brand strategy. "Networking is so important for the music industry and for sustaining being in this business," she says. "Long story short, it's a relationship-based business."
As Blake explains, it's important to realize that a fellow intern today could be a gatekeeper tomorrow. "I know people that I have met 10, 15 years ago when I was interning with them and now they're presidents of companies," says Blake. "There are phone calls I can make now just because of the relationships that I made then and maintained… And people change jobs. I know people who, at one point were in one role and six years later they changed roles and they're like, 'Hey I'm here now. What can we do together?' And I'm like, 'Whatever you want.'"
It's You Versus You
"Having that 'don't quit, anything is possible' attitude is so important, because this business is tough," says Blake of persevering despite adversity. "If you don't have the stamina and the confidence to stand firm in, 'This is what I'm doing and nobody is going to talk me off this course,' they're going to chew you up."
When the Covid-19 pandemic wreaked havoc on the music industry, putting the multibillion-dollar touring business on pause and complicating countless other revenue streams for artists, Blake turned what could have been one of the darkest moments in her career into the one of brightest. She and her team helped Swizz and Timbaland launch the musical battle series Verzuz, which soon exploded to become one of music's most influential livestreams.
"You have to continuously remind yourself to not give up," says Blake of the hard work that is required to achieve your dreams. "Keep going. Where you are is where you are supposed to be. Do not talk yourself out of rooms that you worked very hard to be in. Turn those voices off… because there will be people who will try and talk you out of your dream to take your seat before they empower you."
"Be mindful and never stop."
To hear more from Monique Blake, listen to her episode of our Co.Lab Sessions podcast below, and click here to browse more episodes from the series.
Share on: