Spotify brings live audio to main app, rebrands Greenroom as Spotify Live
Spotify has rebraned its live audio Greenroom app as Spotify Live and incorporated it into the main Spotify app.
"This change reflects our belief in the future of live-audio creators and live experiences being provided to all 406 million Spotify listeners around the globe," the streamer said in a statement announcing the rebranding.
For now at least, creators are limited to select podcasters and musicians with shows and tracks on Spotify.
Listeners can to tune in to live programming via the creator's podcast or artist page, but if they want to participate in the chat or join the host onstage, they must go the seperate rebranded Spotify Live app.
Independent creators who want to also go live must still do it in the Spotify Live app.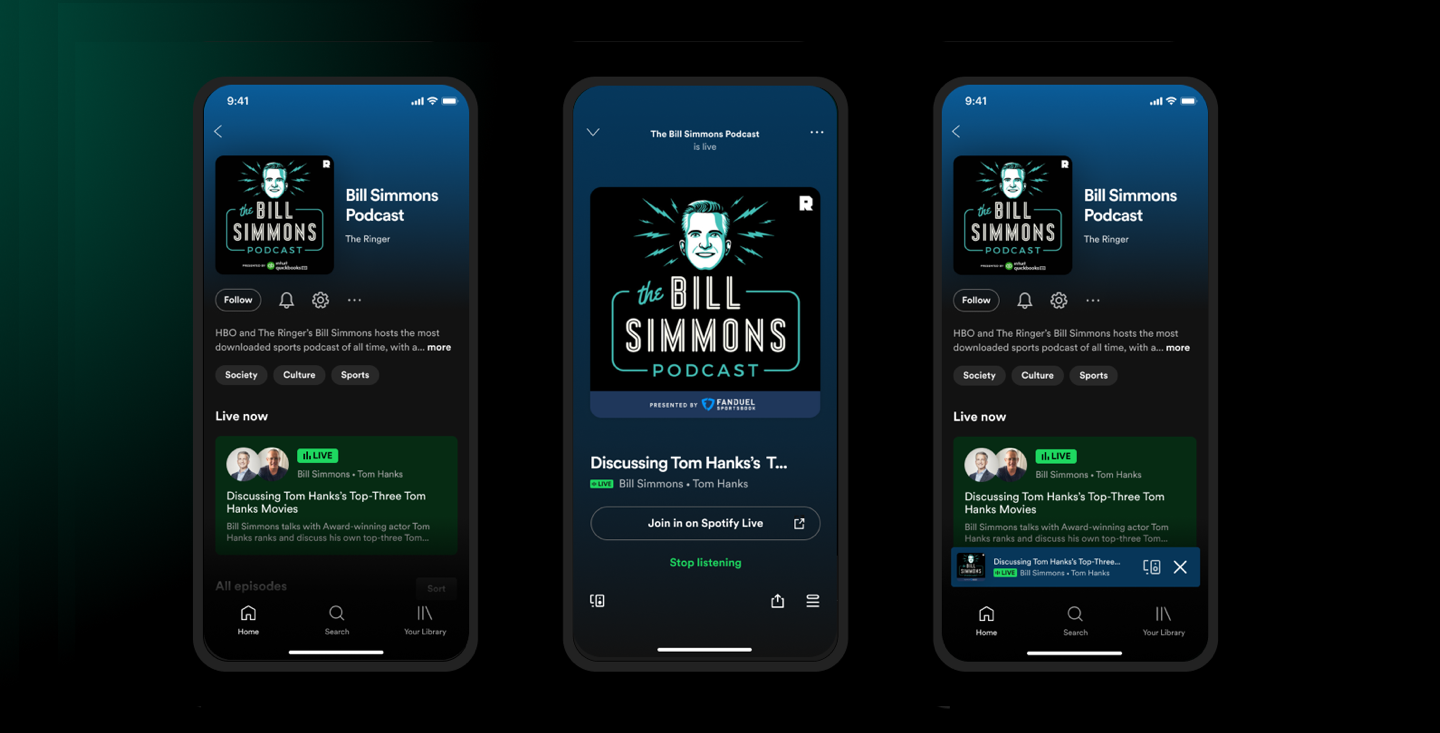 Some special programing will showcase the rebranding including:
Swedish House Mafia Paradise Again Album Release Party With Spotify Live From the Desert
"Late night on Friday, April 15, Spotify will be hosting an exclusive, first-of-its-kind event live from the desert with Swedish House Mafia. Fans in select markets will be able to tune in to the live DJ set on Swedish House Mafia's artist page as Spotify celebrates their reunion and release of their new album, Paradise Again. Don't sleep on this one because the only way you'll be able to listen is live."
DJ Akademiks's Livestream With Guest Waka Flocka Flame
DJ Akademiks is a talk show powerhouse, and now his podcast, Off the Record with DJ Akademiks, is going live on Spotify. Catch him and special guest Waka Flocka Flame April 12 at 12:30 p.m. EST as they discuss the state of music, entertainment, and culture today. And stay tuned for future live shows.
Bruce Houghton is Founder and Editor of Hypebot and MusicThinkTank and serves as a Senior Advisor to Bandsintown which acquired both publications in 2019. He is the Founder and President of the Skyline Artists Agency and a professor for the Berklee College Of Music.
Share on: