5 great music marketing tactics
For musicians young and old, here are 5 marketing tips to make your music the talk of the town.
by Angela Mastrogiacomo of Reverbnation Blog
When you think of marketing, does it fall into one of two categories? Either sixties advertising execs in fancy suits and tall buildings or slick ads that won't leave you alone (seriously, how do they know I was talking about nachos?!)
Most of the time, that's what I think of too. But then I remember the world we're living in and that marketing, while it gets a bit of a bad reputation, is actually pretty cool when used correctly. Because when done well, it doesn't have to feel pushy, or overbearing, or even sale-sy. It can simply be an introduction between you and a new set of fans who are likely to find an interest in your music. That's it. Kind of like how when you go to a party and a friend says "hey, Angela, have you met Sam? You'll like Sam a lot, they own a DIY record label and work with artists in the indie-rock genre. You love pop-punk!"
I do love pop-punk and I would instantly be inspired to meet Sam and learn more. In the case of an ad, that same scenario plays out. An introduction to you and your music to an audience that is already likely to be interested in you.
Of course, there are a lot of different ways to market—some to existing fans and others to new ones. We're going to cover a few of each here. Let's dive in!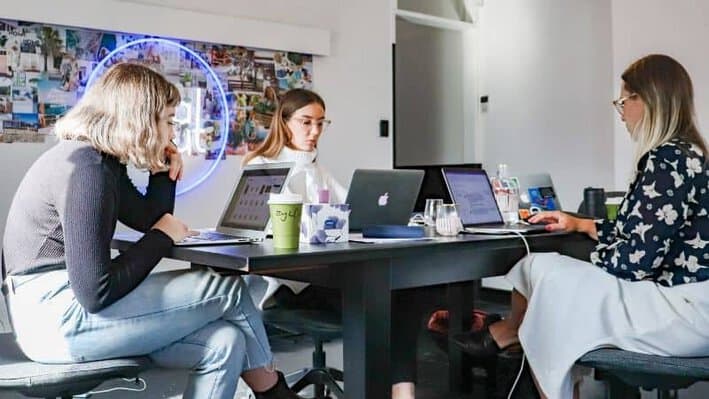 1. Create a one-of-a-kind concert experience 
This one is fun because it brings together a community of music fans into a one-of-a-kind experience that only you can give them. This can be in person or virtual (in person probably packs more of a punch but virtual reaches more people) and the goal is simple: get your existing fans together to remind them why they love you and your music as well as get in front of new fans with something other than your music.
So, that means instead of just making it a normal, run-of-the-mill concert you create a true experience. This could mean presenting a theme (like a Halloween costume party, celebrating National Cupcake Day, or making your own theme that aligns with your music or new album) and creating around it.
Let's go with the example of creating a theme around your album. Say it's a very wild, party anthem album. You want to create a party atmosphere, so that means you're going to have strobe lights and awesome music playing over the speakers when people come in, you're going to give everyone that comes in a noisemaker or confetti to throw during the show, you'll have a table with themed cupcakes or cookies and each ticket will include a drink at the bar (you can work that into the ticket price)
See how that just went from "show I might skip" to "that sounds amazing, I have to be there!"?
2. Create brand partnerships
Something that's incredibly normal in the entrepreneurial world, but doesn't pop up as much in the music industry is creating brand partnerships. You see this with major label artists sometimes (product placement in music videos is the most obvious example) but there are a lot of ways you can do this on a smaller scale as an indie artist as well.
Create a list of local businesses first that you can see creating a partnership with—coffee shops you could perform at or create a partnership where they name a latte after you. Venues you could have a residency at, a local clothing company you'd love to wear in your new music video and tag them—and then as you find success in those community roots, you can begin to branch out to non-local opportunities with brands for similar partnerships.
Search ReverbNation Opportunities for potential record labels, publications, radio plays, gigs, and much more.
3. Partner with an influencer
This is a little different than the above brand partnerships we were talking about because generally influencer marketing includes paying for the influencer's time. Micro-influencers can run as low as $100 or less (or more, if they have a huge follower count) but sometimes they're happy just to work together for exposure to each other's audience or product (like your merch or guitar lessons).
Create a list of influencers and how you think you can work together and what the benefit is to the influencer if they aren't getting paid. Then, start to reach out! This is how you start to build those connections.
4. Create a playlist with other local bands
Creating playlists is one of my favorite ways to market yourself. It starts with simply creating a playlist anchored around your most recent single and then adding songs that fit that same genre/mood/vibe. Be sure to create an experience around it. For instance, don't just call it a rock playlist, call it "Songs for when you need to workout but really don't want to". Something that is hyper-specific and people will gravitate towards (and relate to).
If you can partner with other bands to add on (and in return, ask them to share the playlist and tag you) then you instantly have more marketing power.
5. Run a (partnered) give-away
There are a ton of tools out there that are great for running giveaways that also help grow your social media following and email list. Then, partner with other brands or bands to create a partnered giveaway. Again, make it about the experience, something a fan (or future fan) will truly want. For instance, maybe you do a "Local Chicago" giveaway that includes not only some of your merch and tickets but a bag of coffee from the local cafe, chocolates from the local chocolatier, and a bottle of wine from the wine shop.
That's how you get new fans. Maybe they enter the contest for the wine and end up loving your band because you were part of the giveaway.
Which of these will you try?
Angela Mastrogiacomo is the founder and CEO of Muddy Paw PR where artists have seen placements on Spotify, Alternative Press, American Songwriter, PopWrapped, & more. She loves ice cream, reality TV, and hanging with her dog Sawyer.
Share on: