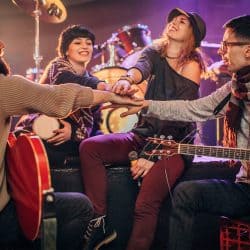 How to start a band in 9 steps
Eager to start your own band but don't know where to start? Fear not. Starting a band doesn't have to be intimidating. It just takes a lot of coordinating, communicating and (quite often) a little bit of compromise!
by DITTO MUSIC
If you're already an artist in your own right, starting a band can be a great way to gain some confidence as a musician in your field, network with other musicians, find your own inner circle and just straight up have fun!
But starting a band is no quick, slapdash job. A strong and long-lasting band is built on hard work, long hours of practice and vibe that's uniquely your guys' own.
Here are the essential things you'll need to do to get the ball rolling.
---
Step 1. Choose your band member

There's a big difference between finding some people to have a bit of a jam with and being highly selective about who you choose to start a long-term project with.
People butt heads. It happens!
But ideally, you want to try and find people who you either already have (or know you can form) a genuine connection with. You'll be spending countless hours with your bandmates, so make sure they're the kind of people you want to be around in the first place.
Personalities aside, you'll also need to think about each person's skill set and the style of music they play. The band members you choose will dictate much of your sound, profile and the genre of music you make going forward.
So if you want to form a 5-piece indie rock band there's not much use hunting down a Baroque style harpist.
Think individually but also think logistically. Which kind of people would work as members – personality, skills, and instrumentation-wise, and which wouldn't necessarily?
Here's a few ways you can start actually finding members to join your band:
– Put out flyers or posters – Displaying 'Band Member Wanted' posters around your local area is an old school but effective way of getting the feelers out around your local community of musicians.
– Word of mouth – Another way is to simply network with musicians you already know, find out if they're interested or if they have a friend (or a friend of a friend) who might be!
– Post on social media – Probably the best way to find band members is through social media. Post an Instagram Story or a status in a Facebook Group and ask people to DM you if they're interested.
---
Step 2. Find your unique groove

The key to a long-lasting and successful band is finding your own, individual groove.
And by 'groove', I don't just mean your sound and style. It's also about knowing how to build a music brand that'll make your group stand out from the crowd.
Initial jamming sessions are a great way to experiment with your new band members and find a sound that fits.
Discussing things like your musical influences, inspirations and favourite artists will also help you form a much better understanding about the kind of music you want to create and the image you want to portray.
If some of your band members have already released or written music before, it could be a good idea to craft your style around the kinds of music you're already familiar with or skilled in making.
But that's not to say you can't experiment down the line!
Plenty of well-known bands have spiced up their sounds and images over the years to keep their fans interested. Bands like Radiohead, Maroon 5 & Fleetwood Mac have all undergone some kind of sonic redefinition since their initial formation.
But at this early stage, knowing exactly who you are & what sets you apart is what's going to make you a more successful band in the longer run.
---
Step 3. Choose a memorable band name

Getting the name of your band right is actually a really important part of your band's profile and overall branding.
Once you start bouncing ideas off each other, you'll be surprised how quickly you could find the perfect fitting name.
INDUSTRY CASE STUDY #1: Boy-group Bastille got their name because the band's lead singer was born on the 14th July, which also happens to be national Bastille Day. Very fitting.
INDUSTRY CASE STUDY #2: Coldplay took their name from an anthology of children's poems called 'Child's Reflections: Cold Play'.
.
INDUSTRY CASE STUDY #3. The inspiration behind Two Door Cinema Club comes from a mispronunciation of an old theatre that was called 'Tudor Cinema Club', in one of the member's hometowns.

So yeah, there's really no limit to the scope of inspo for cultivating a band name that's unique (for one reason or another) to you and your fellow bandmates.
Make a list of some potential names and then plug them into Google to make sure they haven't already been taken. You'll probably find to your dismay that a lot of them will be (sigh) but it's better to know now than when you go to trademark your band name.
TIP: Choose a name that's searchable, i.e. don't choose something that's so super vague that it'll bring up a tonne of search results when people look it up online. For example, 'Cast Iron Cornbread' is way more unique and will give you much more online visibility than something like 'Rock Gods'.
---
Step 4. Create a 'Band Agreement'

Okay so this might sound a bit serious and corporate, but having a set of standards that outlines the process of how the band's actually going to work and function, is really quite important.
It doesn't have to be as serious as a formal ten page document that's dated, signed and sealed with a drop of each member's blood.
It can literally be an open discussion that leads to everyone agreeing on some non-negotiables to keep a happy camp.
Things you might want to consider agreeing on are…
Time commitment – How many hours a week will you commit to rehearsals, gigging, etc? Can you all meet at set times that fits with everyones individual schedules?
Responsibilities – Who will be responsible for things like PR and getting booked, communicating with promoters, bookkeeping bits and tax etc?
Ownership – Who will own the specific rights to the songs? How will this affect how you claim your publishing royalties or performance cuts?
All of these things will need to be seriously discussed and decided upon well ahead of time to avoid any sticky situations or butting of heads later in the game.
---
Step 5. Start writing your own material

If you and your group have never played before, writing your own songs might be a bit of a challenge at the beginning.
But it's okay! Your first songs don't have to be hits. You don't even have to release them if you don't want to. The point of these initial songs is to start getting used to singing and playing with each other until you're at a level where the songs are #bangermaterial.
Playing and releasing cover songs is a really easy way to start getting some material under your belt and building up a short set list that could work for a gig or performance.
Usually each band has a designated songwriter or a few, so you may need to sit down and work out who's doing what in the early stages of the writing process.
If you're still stuck, here's 10 tips on how to write a song from a songwriting pro!
Strike the right balance between having the best person for the job do most of the actual writing part, without shutting out everyone else's voices and opinions.
Collaboration is KEY.
---
Step 6. Record & release a demo

So you've had some time to play around and now the serious writing process has taken off. Hooray!
Once you've crafted a song you can be proud of, don't waste any time! Record and release your music online to platforms like Apple Music & Spotify.
Ideally you'll want to have a demo released that you can send out to venues or promoters when it comes to getting potential gigs to let them hear how you sound.
Not only that, releasing your music is the quickest way to start building a listener-base. And making your music readily available is really the only way you're going to start building that all important audience.
---
Step 7. Create an EPK

Building an EPK (Electronic Press Kit) is crucial to your success at landing gigging opps, press coverage and self-promotion – making EPKs especially important for new acts on the scene who want to get booked.
Plus, it's something you'll always need to refer back to and update as you develop and level up as an act.
An EPK should basically be a profile for your band, with all the need to know information, as well as links to your assets, music, socials, website or anything else that's relevant.
Want to learn more? Find out how to create an EPK.
---
Step 8. Busk & gig casually
Getting booked for live gigs can be tricky when you've yet to make a name for yourselves. But – performing live is probably the best exposure you can get at this early stage.
Busking and gigging casually are great options at this early stage in your band's career.
Stay local and don't expect to headline any shows right away. Casual gigs at your local pizza place, bar or college are all good ways to start.
Then once you've perfected your on-stage performance skills, you can branch out into more serious playing opportunities – for example as a support act for another group, at festivals and other live events.
---
Step 9. Spread the word
Last but not least, it's time to let people know that *insert your band name here* have ARRIVED.
Creating social media pages specifically for your band will be a huge part of your social media amrketing strategy.
Instagram, Twitter, Facebook and TikTok are all the big players – each with their own unique set of features that support engagement and interaction with fans, followers and other artists.
Ask your friends and family to share your account with their own friends and followers, and make sure you provide live audiences with your socials handles to check you out after the gig.
On top of social media, writing a music press release, pitching your music for playlists, and gaining exposure from submitting to music blogs & print, are all different ways you can really get the word out about you and your new band.
Share on: