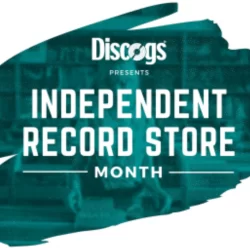 Discogs declares June Independent Record Store Month to support brick-and-mortar shops
Celebrate and support independent record stores around the world this June, with Discogs.
via A2IM
This June, Discogs launched the inaugural Independent Record Store Month, a series of virtual events that connect music fans to independent record stores around the world and showcase the importance of independent brick-and-mortar shops in the global vinyl community. Here's what Discogs is doing throughout the month-long celebration.
Certified Independent Record Store Badge
This new online storefront badge helps record stores stand out and lets buyers know which sellers in the Discogs Marketplace are a physical shop.
Record Store Directory
Discogs created a global directory of independent record stores designed to encourage music lovers to visit brick-and-mortar shops in person. Fans can browse worldwide and use filters to explore shops by country, city, and specialization. Stores can use their profiles to share details
about what makes their business unique, including photos as well as the formats and genres they carry.
Window Decal
Shops registered in the new directory will receive a window decal that signifies they are a Discogs-verified independent record store. Each decal features a QR code that customers can scan to stay connected online until their next visit.
Providing insights to the record store community
Independent Record Store Month will culminate in a virtual conference for participating store owners. Those registered will receive an invitation to the online event on July 13, 2022, as well as exclusive data and insights into the record-selling business that only Discogs can provide.
Cultivating the connection between collectors and independent shops
Discogs connects a worldwide community of fans, collectors, archivists, store owners, and more seeking an elevated relationship with music. Independent Record Store Month's new initiatives and the permanent online destination will continue to highlight unique shops, explore vinyl industry trends, and encourage fans to support independent stores in June and beyond.
Share on: