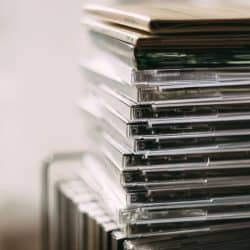 Move over vinyl, CDs are making a comeback
While no one is suggesting that streaming is on the way out, the multi-year surge in vinyl proved that physical goods still have a place in record stores, on merch tables, and certainly in the hearts of fans.
But while vinyl has been getting all of the attention, another physical format – the CD – has been growing in popularity as well.
Last year CD sales grew for the first time in 20 years. According to RIAA data, CD sales jumped to 46.6 million in 2021 – a 47.7% increase from 2020. But the number of CDs sold is likely much larger.
It seems pretty clear to me that, with most self-released CDs being sold at concerts, there is no sales tracking for the vast majority of discs sold," said Tony van Veen of leading CD manufacturer Discmakers.
Why CDs?
The theories behind the increase are many: some say it was driven by vinyl shortages while others tout the format's premium sound quality. Another major factor is cost.
At Discmakers a limited run of 100 CDs in full-color jackets can cost around $2 each. That same run of 100 vinyl records costs $20 – $25 each. While per-unit costs drop with larger orders of both formats, the savings that CDs offer the artists and labels making them as well as the fan buying them are substantial.
Music As A Souvenir
Early in the shift to digital when South Korean teens began consuming all music on their phones, the local music industry pioneered "music as a souvenir" selling millions of 45s with digital booklets attached to kids who had never seen a record player.
With a little creativity and care and with a very small investment, artists of every size can use CDs to deliver a similar hands-on experience for their fans.
Bruce Houghton is Founder and Editor of Hypebot and MusicThinkTank and serves as a Senior Advisor to Bandsintown which acquired both publications in 2019. He is the Founder and President of the Skyline Artists Agency and a professor for the Berklee College Of Music.
Share on: