Explore music in the metaverse with 4 startups defining the future
ASCAP Lab and NYC Media Lab have been mentoring four startups that are using the metaverse to explore new ways to create and experience music, express musical identity, and connect creators with fans.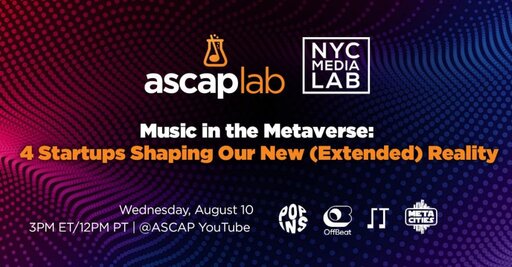 The startups shared their vision of music in the metaverse in Wednesday.
Popins, taking entertainment to the next level by delivering the artists you love to your world as photorealistic three-dimensional holograms anytime, anywhere
OffBeat, a community of music lovers that enables users to create their Music ID: a unique musical identity that serves as a music passport across the metaverse
SolTunes, which utilizes a revolutionary algorithm to turn snippets of compositions into musically-cohesive songs performed by pixel art bands, minted as NFTs, and integrated into gamified experiences
MetaCities, recreating real-world locations in the metaverse (e.g., MetaVegas) and producing custom music experiences in those spaces using avatars, holograms, and other digital technologies
Watch the replay here:
Bruce Houghton is Founder and Editor of Hypebot and MusicThinkTank and serves as a Senior Advisor to Bandsintown which acquired both publications in 2019. He is the Founder and President of the Skyline Artists Agency and a professor for the Berklee College Of Music.
Share on: